Friday the 13th hike up Mars Hill
12/13/2019
Trip Report/Photos from BillyB1976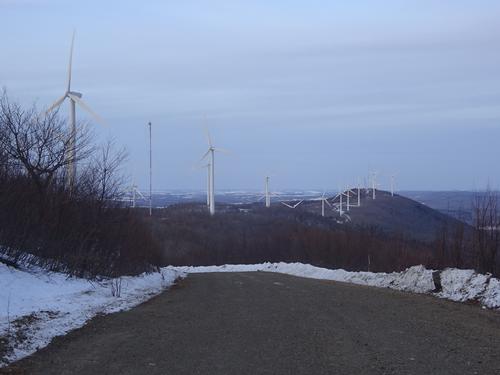 Because of recent rain and a hard freeze, I used microspikes on this hike. My hike started and ended at the parking lot of the Bigrock ski area. The ski slopes were solid. The rain created some bare spots, so the ski area was not open.
Mars Hill is steep, so it does give you a workout to get up to the ridgeline. The elevation gain going up the ski slopes is 930 feet in about 0.8 miles. I do not hike straight up the ski slope, as that is rather difficult. It took me 27 minutes to reach the top of the ski slopes.
I took a break and had a snack before continuing to the south peak. The snow was soft in a few spots on my way to the south peak, but nothing that was a problem. I left my microspikes on because I knew I'd need them going down the ski slopes.
From the start it took me 42 minutes to reach the south peak. It was a windy day, and the wind was most noticeable at the south peak. It was mostly cloudy, but I still was able to see some nice views. The temperature was around 30.
My total mileage was around 2.5 miles, with a total elevation gain of around 1,088 feet. My total time was 1 hour 20 minutes.
I was alone on the hike, but did see two guys working on the water pipes for snowmaking. There was also a group of high school kids skiing on the bunny slope when I finished my hike.
Mars Hill is really a mountain, and can be seen for miles around. The south peak is 1,748 feet. It is a prominent landmark in central Aroostook County.
Mars Hill is somewhat famous. This is from Wikipedia....
By virtue of its height and Northeast location, the summit of Mars Hill is the first place in the United States to see the sun rise for nearly half the year, from March 25 to September 18.[2] The first 50-star flag to see the sun in the U.S. was raised on July 4, 1960 at 4:33 AM. Fifty national guardsmen gave it a 50-gun salute.[citation needed]
There are 24 photos in Album (Note: Move mouse pointer over larger pic and click on NEXT for better viewing)