Snow Moon snowshoe hike
02/20/2019
Trip Report/Photos from BillyB1976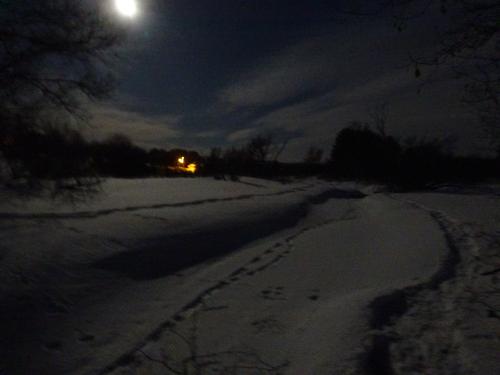 This was a good night to go out on a moonlight snowshoe hike on the trail I have here in the neighborhood.
The full moon in Feb. is called the Snow Moon, and there is plenty of that here. We are close to breaking the record for snowfall for this time of the season. We've had over 10 feet of snow this season, going back to Oct. Thank god that isn't all on the ground!!
The temperature was between -1 and -4 with no wind. I was thinking of going out the night before, but it was windy and colder.
I went over my trail twice, for a total distance of around 1.2 miles. I was out for 1 hour 20 min. I did spend a lot of time taking pictures, which is not easy when it is below zero!!! I don't have a fancy camera, but feel I did well at taking pictures.
I brought a flashlight with me, but did not need it on the hike, as the moonlight was all I needed.
Not much for animal tracks. Back in early Jan. there were all sorts of animal tracks in the area, but not anymore. Did see some snowshoe hare tracks, and tracks from something that lives in the brook. It might be an otter that lives in the brook, because you can see where it slid down the bank.
**** Correction: We've had over 11 feet of snow this season!!! Almost 136 inches so far. - see last picture - We are in second place for the snowiest winter ever (2007-2008) which had just under 200 inches for the whole season!! That is 16 feet!!!! Normal snowfall for the season is 109 inches at Caribou.
There are 27 photos in Album (Note: Move mouse pointer over larger pic and click on NEXT for better viewing)
BillyB1976
Posted Feb 21, 2019 at 8:56 PM
Woops, Zak not Zac. LOL
BillyB1976
Posted Feb 21, 2019 at 8:55 PM
Thanks Zac. I didn't even think of the moon, gloves, and tel pole pic that way. I just threw them down to take the pic. In fact the gloves slid in to that position. LOL And, I figured I might be able to get a better pic of the moon under the street light.
zak
Posted Feb 21, 2019 at 7:47 PM
Nice!! Snow Moon Ramble. Love that last pic of the corn-colored snow with the tel pole and gloves crossed like at rest! Minimalist adventure :-)