Building a snow condo in my driveway...
02/08/2019
Trip Report/Photos from BillyB1976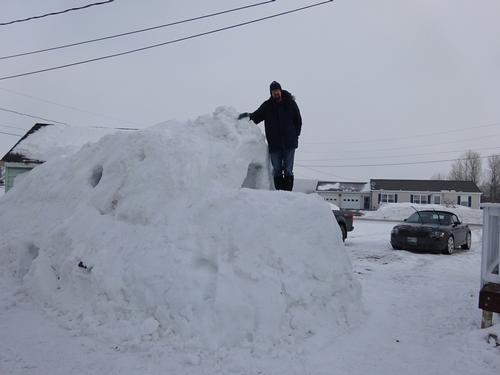 Another "hyperlocal" trip .... to the snow bank in the driveway. LOL
People might think it is odd that a 42 year old man is making a snow cave, but it got me outside -- well in the snow bank mostly -- LOL .. for several hours. And, it did give me a workout.
My goal was to create a second level to the snow cave I made back on Dec. 22. I actually have a trip report from that on GO as well.
This project occurred over 2 days. Feb. 3 and Feb. 8. Total time involved was close to 7 hours. Almost 3 hours the first day, and almost 4 hours the second day. This includes moving snow around outside, and using the snow blower to add more snow to the bank.
On Feb. 3 I managed to get some steps built to start going up over the lower level. I had to use a hatchet to break through some of the hard snow, as that has been there for several months. Once through the hard layer, it was easier.
My next day off from work was Feb. 8, and I was able to complete the project. It was 40 degrees, and I was soaked to the bone!!
My ultimate goal was to build a balcony at the end of the snow bank, and I was able to do that. Does anybody want to play Romeo & Juliet?? Or, I guess I should say Romeo & Romeo??? :) LOL
Luckily I did not break through the floor and crash through to the lower level. I did worry that might happen, but the solid layer of snow is holding my weight. I also worried that if I crashed through the floor would the entire snow bank collapse on me? That could potentially kill me!!!! :(
This did give me a workout. Luckily I don't mind being in "tight" spaces.. :) LOL But, with that being said, the tight space was a little hard on me, and I was in some pain after. I am 6'1", and there wasn't much space to move around.
When I was finished, I drove to Caribou, and went to Reno's Restaurant to get a chocolate milkshake.. :) Not counting McDonald's, Burger King and Arby's, Reno's is one of the few places I can get milkshakes during the winter.
After getting the milkshake, I drove home and took a short nap. LOL
This morning, Feb. 9, was down to 7 degrees, so most everything froze "Rock" solid!!!
-- UPDATE -- I added a sunrise through the window pic, from 2/14/19. And, no, I did not spend the night in the snow cave. LOL
There are 29 photos in Album (Note: Move mouse pointer over larger pic and click on NEXT for better viewing)
BillyB1976
Posted Feb 9, 2019 at 1:49 PM
Thanks Andy. Have to do something to keep away the winter blahs.. LOL