Having fun in my own neighborhood
01/02/2019
Trip Report/Photos from BillyB1976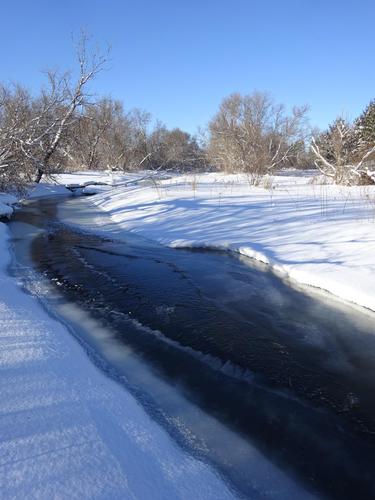 This is a local adventure, right in my neighborhood. Just cross the street and go to the left. LOL
Although I do love mountains and the awesome views, there is more to life than just mountains. I can keep myself entertained without going very far. I feel some people are missing opportunities by only wanting do something that will challenge them, when being outside doing "anything" is all that matters. I could've actually gotten more exercise walking up and down the road, but making a snowshoe trail is a lot more interesting.
I really don't like winter, but it is either get outside and deal with it, or curl up in a ball until spring!! LOL
Every winter I like to make a snowshoe trail here in the neighborhood, and I haven't had a chance to do that until today. If I'd gone out earlier in Dec., the rain would've destroyed it anyway.
I was actually out for 2 1/2 hours. The first trip through was difficult because it was hard in spots to find my route from last year. I put flagging on trees, but the snow sticking to the trees covered a lot of that up. Plus I had to maneuver through areas of alder bushes, and trees and bushes that had fallen over, or were bent over.
I made 3 passes on the trail. It is technically a loop, with the other end coming out at the end of the street next to the house. I have no way to measure my trail, but measuring the area I'm going through on Google Earth is 0.6 miles.
The temp. was between 6 and 10, with only a slight breeze from time to time.
Once the snow is set, I can walk on the trail without snowshoes. In the past I've gone out on a full moon, and walked the trail without using a flashlight, but I do bring one.
There are 19 photos in Album (Note: Move mouse pointer over larger pic and click on NEXT for better viewing)