Goodrich Rock Boulder Field
01/11/2023
Trip Report/Photos from JDNnh
This is a fantastic easy 4 mile round trip 3 hour hike to the second largest glaical erratic boulder field in NH. Glacial erratics are huge boulders dropped by the last time glaciers covered this area. Some of the boulders are house sized, others close together to make tunnels to go thru or others that intrepid rock climbers like to "free climb" with a crash pad below.
We set off on a pleasant sun drenched day at 11 am with a crisp temp of 20. Being mid week we saw no one. The trailhead has plenty of safe parking near the Waterville Valley Ski area. The hike begins with a one mile flat walk up Livermore Road to the Greely Ponds cut-off. After that it follows a brook with chickadee birds chirping and water splashing over the river rocks. It's meditative and relaxing and you'll love it when you do this.
When you hit the sign for Goodrich Rock the ascent begins! For the next quarter mile you gradually get higher and then pop out in a sun drenched isolated and very quiet hard woods forest. Your racing heart will calm down at this point! While crossing a small brook look down and notice the icicles glistening in the shimmering water.
Now you enter the boiulder field with gigantic glaciar erratics. Find the LEMON SQUEEZE - take off your pack and squeeze thru the 20 foot tunnel to the other side. It's fun and you are sure to laugh and feel like a kid again.
Soon you will see a GI-NORMUS boulder called THE SHIP. It looks like the front of the Titanic - before it sank anyways! lol
Then some magic occurs as the trail leads you up into a serene evergreen forest of pine. Up and over various rocks and crags you go till you round a bend and a 20 foot ladder beckens to be climbed. Goodrich Rock has been found and why wouldn't you want to climb to the top and have lunch or a sip of chardonnay - in warmer weather of course. Today it was hot chocolate to warm our insides with a splendid view of the ski trails at Waterville Valley.
This a fun filled make you feel good time in the woods adventure! And at only 3 hours round trip, afterwards you can then head to the Waterville Valley resort which is 10 minutes away for a brick oven cooked rustic pizza and cold beer to cap off the day!!
There are 35 photos in Album (Note: Move mouse pointer over larger pic and click on NEXT for better viewing)
sedonahikerman
Posted Jan 14, 2023 at 2:24 PM
I want to check this out the next time I'm in the area. Great photos! Does the cloud formation in the sky of photo #9 remind you of anything?? :-)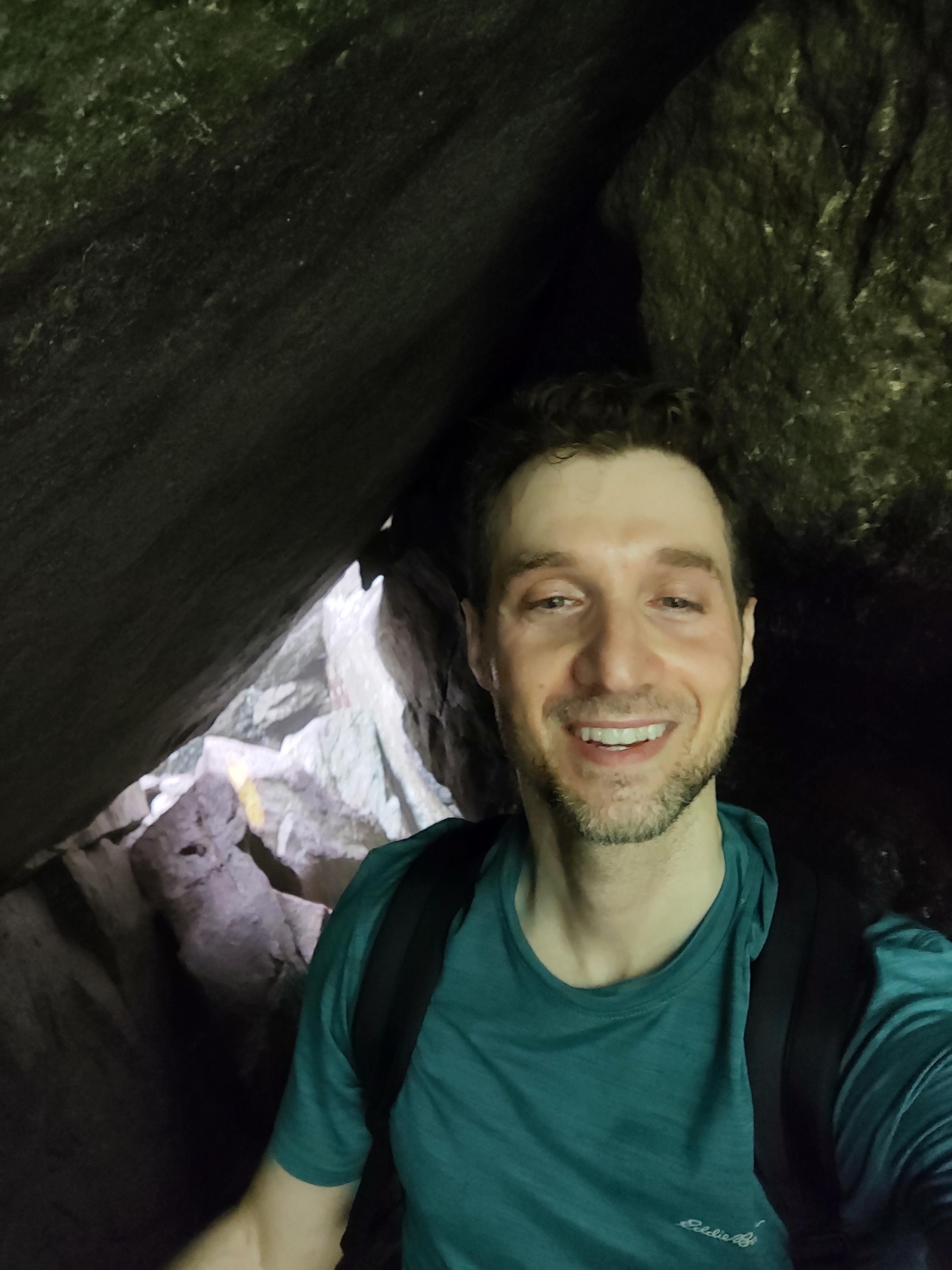 GpD
Posted Jan 14, 2023 at 12:40 PM
Looks like a real nice hike! The ladder to the top of the boulder is awesome! That's some impressive glacial erratic.