Mount Monadnock via Pumpelly Trail
04/01/2022
Trip Report/Photos from Kettric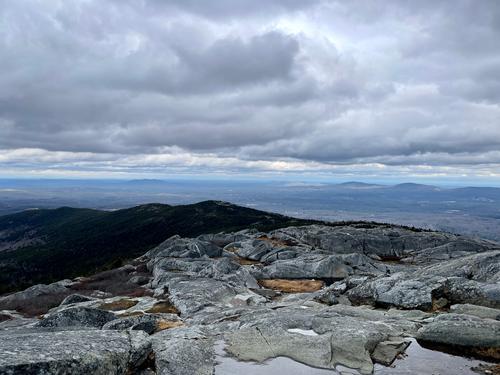 Very limited parking on the side of the road at the Pumpelly Trailhead. Remarkably dry trail conditions on the ascent with 2 miles of forest floor breaking to the second 2 miles of ledges and periodic rock scrambles for no more than 10 meters at a time. Very little ice and snow left of the trail except the falls about 1.5 miles in. Had microspikes but was easily able to navigate the 200' of icy conditions without them. Partly sunny and overcast for most of the ascent with some amazingly expansive views. Snowstorm rolled in as I was reaching the summit, prompting a quick turnaround to start my descent. Snow made the lichen and moss covered rocks a bit treacherous but was able to get back to the trailhead easily enough, and thankfully only lasted about 45 minutes before stopping. Only saw 2 trail runners all day, and still curious how they manage to run on the rocks I was sliding around on.
There are 5 photos in Album (Note: Move mouse pointer over larger pic and click on NEXT for better viewing)
GpD
Posted Jun 21, 2022 at 5:50 PM
Great report, Kettric. If you ever hike Monadnock again, let me know if you want company. It's one of the mountains I've been meaning to do for a while now.