Mount Kearsarge via Lincoln Trail
03/21/2022
Trip Report/Photos from Kettric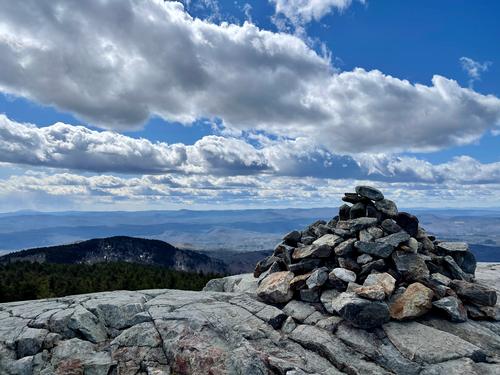 https://www.alltrails.com/explore/recording/mount-kearsarge-via-lincoln-trail-1ff1de7
Arrived at the parking area (43.35521,-71.902), a culdisack at the end of a dirt road behind the highschool. Limited parking for maybe 8 cars if people parked politely. Gleefully the only car there on a bright sunny Monday.
Headed up the Lincoln Trail off to the right of parking for about 2 solid miles of dirt roads at flat to moderate grades. Still some snow and ice, but navagatable with out microspikes if you go slow. Tons of mud, and a lot of logging activity in the area.
Reached the "trail" and took a hard left onto forest floor and easy grades up to the overlook. Some blowdowns had the blazes on them, but not difficult to find the path. Great view from the overlook.
Proceeded back to the main trail for quite a bit of forest floor and easy grades, but up and down through a number of hills and valleys full of alternating deep mud, water crossings, standing water, and some snow and ice.
Grade started to ascend more aggressively 3.4 miles into the trail and stayed that way all the way to the junction 4.4 miles in. Microspikes on an off periodically for the duration of the ascent. Missed my turn and had to turn around, the Lincoln Trail is a hard left and easy to miss in the three way intersection. Quickly becomes a very steep rock scrample for 1/3 a mile (with epic views and no ice) and returns to ledges and dense alpine forest until you reach the summit. Windy and cold, but clear crisp views in every direction. Nearly lost my phone a few times, as well as knocked over from wind once.
Not wanting to return down the rock scramble, diverted down Rollins Trail for a leasurely walk down an ice flow for half a mile (microspikes required) until you reach the parking and picnic area to rejoing the Lincoln Trail.
Egressed the rest of the trail the way I came in for my descent, less ice and snow, way more mud as the majority of it defrosted in the sun. Last two miles out the logging roads was mostly mud deep enough to suck my boot off my foot twice.
Completed trek in a hair over 5 hours round trip.
There are 6 photos in Album (Note: Move mouse pointer over larger pic and click on NEXT for better viewing)