escarpment trail
11/06/2021
Trip Report/Photos from markhoughtaling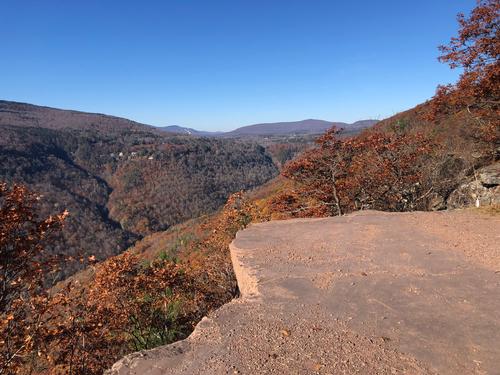 it was a perfect fall day for a walk in the woods, and now that i've completed my 3500 club challenge, i decided to do this popular trail -- a gem in my own backyard. there are many intersecting loops offering a variety of ways to explore the area. there are a couple moderate climbs and descents, but mostly this is easy hiking.
starting from the scutt road trail head, the trail climbs and descends along the catskill escarpment with multiple cliffs with stunning views of the hudson valley and beyond. with today's excellent visibility we could see mountain peaks in massachusetts and vermont.
we encountered many fellow hikers on the trail, surprising this late in the season, no doubt lured by the late season foliage and spectacular weather.
our track took us past the layman monument, boulder rock, and the former site of the catskll mountain house. we finished our hike with a loop around north-south lake, its 100+ campsites closed for the season, a pretty and peaceful way to end our day.
There are 13 photos in Album (Note: Move mouse pointer over larger pic and click on NEXT for better viewing)