SUMMER SOLSTICE HIKE
06/21/2021
Trip Report/Photos from OtisSpunkmeyer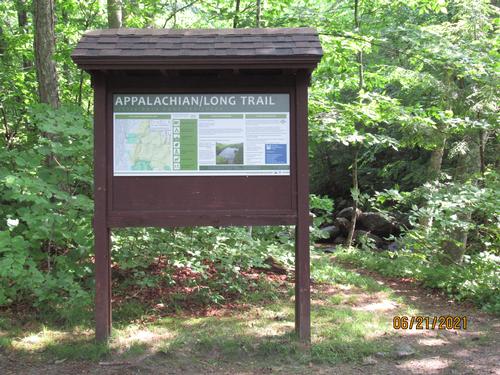 Fairly new member here, haven't had an opportunity to participate in any hikes yet or meet any GO members due to work schedule but hope to soon, Recently went on a group hike in Vermont and was undecided whether to post a trip report as it was not a GO hike, but the trip was too awesome not to share, so here it goes. It came to my attention that a naked group hike was taking place in Vermont on 6/21/21, which I understand is national naked hike day. Being an avid nudist, I couldn't pass up the opportunity, so I signed up. The trip was to start at 9:30am at the AT/Long Trail parking area 3.2 miles northeast of Danby VT. I arrived at approximately 8:45am. The parking area was good sized, held about 15-20 cars with about 6 cars there already, some occupied and some not. The direcections were not entirely accurate and I wss unsure if I was in the right place, so I waited in my car. Shortly thereafter, 2 trucks pulled in the lot with one person in 1 truck and 2 people in the other, all exited their vehicles already naked. Well I guess I had the right place afterall. I got out of my vehicle and approached the 3 people and introduced myself and verified that they were part of the group. I then went back to my car, got undressed and joint the 3 others. As the 4 of us were standing there chatting, a Sheriffs vehicle came up the road, when he got to the trailhead parking area, he slowed his vehicle to a crawl, but he never stopped, just kept on going! Gotta love VT. A few other vehicles drove by and honked and waved. By 9:30 the parking lot was full and there were now 20 people in the group. As we were crossing the road to start the hike, a pickup drove by, stopped up the road and then backed up. He stopped by the group and asked if we were nudists, to which we replied "well yeah". The hike coordinator explained to the driver the reason the hike and invited him to join the group. After a bit of hesitency, the driver said "what do I have to do, just park and get naked?" to whch we all said "well yeah". So the driver parked and joined the group, so now we were a group of 21. We started the hike shortly after 9:30 on the Green Mountain Trail. The day was georgeous, the forecast was for bright sun all day with temps in the 90's. The trail slowly meandered through the woods for about 3.0 - 3.5 miles where we encountered a few nice overlooks near the peak of Green Mountain elev 2471'. The trail was an easy hike with an elevation gain of only approximatel 1200', perfect for a hot and humid day. We had lunch one of the overlooks after which we continued our hike to the juction with the Long Trail, a part of the Appalachain Trail system. We began hiking south on the Long Trail towards Little Rock Pond which has a shelter and tenting area maintained by the AMC. There was a couple swimming the pond, and upon our arrival, I heard one of the swimmers shout "hell yeah" who then removed his shorts and throw them on the shore. We stopped at the pond and swam for about half and hour and conversed with the two swimmers there as well as the caretaker for the shelter/tent area. We then continued our journey back to the trailhead parking lot where we arrived about 4:00pm culminating our 7 mile hike We encountered numerous clothed hikers both along the trail as well as at the pond and tent/shelter area and no one neither seemed upset by the encounter or said anything negative. To the contrary, we received a receptive respone from those with whom we had an opportunity to speak with. We spent about a half hour in the trailhead parking lot discussing the awesome day and hike, then sadly we had to depart, some still naked as they drove away. I am sure all of us are already thinking about 6/21/22!
There are 2 photos in Album (Note: Move mouse pointer over larger pic and click on NEXT for better viewing)
OtisSpunkmeyer
Posted Jul 26, 2021 at 6:45 PM
Thank you for your concerns, however I would ask are two mutually exclusive or can both be enjoyed simultaneously?
vtfred
Posted Jul 25, 2021 at 11:32 AM
I fear this report is more clothing-optional tales than hiking/outdoor adventure.