Bartholomew's Cobble Reservation
LGBTQ Hike
DATE: Oct 08, 2023

END DATE: Oct 08, 2023

Hike/Event Location: Sheffield MA
Trip Leader(s)
QMoB
Great Barrington, MA United States,
mitchinthe802
READSBORO, VT United States
Meeting Time: 11:00 AM
Max # People: 25
Hike Guiding / Event Fee: No, I will not be asking participants for money
Hike Difficulty Level:
Easy to Moderate
(Do you qualify to attend with this hike difficulty rating? Click Here.)
Sign Up To This Trip/Event
You must be a least a guest member to participate. Comments such as "+1" or "bringing a friend" are NOT permitted. All participants must sign-up for the event individually.
Select your mode of transportation, make any comments and then click on button.
You are not logged in.
Please, Log In
Disclaimer: The club and its members take no responsibility and will not be held responsible for any injuries or accidents that may occur during club events. Outdoor sports are inherently dangerous and accidents will happen. By joining the club or participating in any events posted on our website you are taking responsibility for your own safety and well-being. Anyone with an internet connection can post a trip on our web site. It is your responsibility to determine if this person has the experience and competence to lead the trip. We do not certify or confirm the qualifications of any of our members to lead or participate in trips.
Summary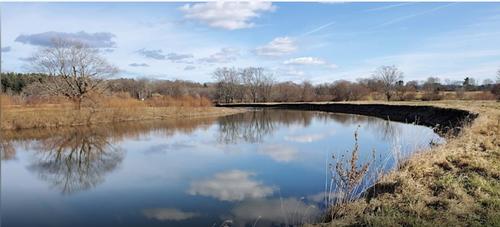 Join Q-MoB for a hike at Bartholomew's Cobble Reservation in Sheffield, MA featuring meadows along the meandering Housatonic Rivers, woodlands, and scenic vistas of the surrounding mountains.
WHAT TO BRING: Raincoat, Good hiking footwear, water, snacks, trekking poles if you use them, sunscreen. On the morning of the hike, please check the weather for the hike location before you leave home so you know current conditions and how to dress for them. Please let us know your cell phone number when you register so we can text you 2 hours before the event should an unexpected weather threat arise that causes us to have to cancel the activity.
A?FTER-HIKE LUNCH: Join us for an After-Hike lunch at Industry Kitchen & Bar in North Canaan, CT, one of the most creative fusion brunch/lunch spotsin the Berkshires with gorgeous modern/rustic ambience.
HOW TO REACH US THE DAY OF THE HIKE: If you have trouble finding us, will be late, or can't make it, please call/text Mitch 413-717-7816 or Bart at 503-734-6508.
Directions To Trailhead Parking Lot
Use your preferred mapping app to navigate to:
Bartholomew's Cobble Reservation
105 Weatogue Road
Sheffield, MA 01257
Trip Leader(s)
sustaining member
QMoB
Outdoor Fitness Level: Easy to Moderate
Great Barrington, MA
United States
Online Status: OFFLINE
Last Login: 12/06/2023 03:28 PM
Member Since: 02/21/2023
sustaining member
mitchinthe802
Outdoor Fitness Level: Strenuous
READSBORO, VT
United States
Online Status: OFFLINE
Last Login: 12/06/2023 08:15 AM
Member Since: 08/13/2023
members signed up for this event
sustaining member
rolshausenii
Outdoor Fitness Level: Moderate to Strenuous
Cambridge, MA
United States
Online Status: OFFLINE
Last Login: 10/27/2023 10:08 AM
Member Since: 06/30/2019
Driving My Own Car


(Don't Own A Car)
Discuss This Trip/Event