North & South Kinsman (NH) (two 4000 footers)
4000 Footer
DATE: Sep 17, 2023

END DATE: Sep 17, 2023

Hike/Event Location: Franconia NH
Trip Leader(s)
Helvetic Hiker
Barre Town, VT United States
Meeting Time: 10:00 AM
Max # People: 25
Hike Guiding / Event Fee: No, I will not be asking participants for money
Hike Difficulty Level:
Moderate to Strenuous
(Do you qualify to attend with this hike difficulty rating? Click Here.)
Sign Up To This Trip/Event
You must be a least a guest member to participate. Comments such as "+1" or "bringing a friend" are NOT permitted. All participants must sign-up for the event individually.
Select your mode of transportation, make any comments and then click on button.
You are not logged in.
Please, Log In
Disclaimer: The club and its members take no responsibility and will not be held responsible for any injuries or accidents that may occur during club events. Outdoor sports are inherently dangerous and accidents will happen. By joining the club or participating in any events posted on our website you are taking responsibility for your own safety and well-being. Anyone with an internet connection can post a trip on our web site. It is your responsibility to determine if this person has the experience and competence to lead the trip. We do not certify or confirm the qualifications of any of our members to lead or participate in trips.
Summary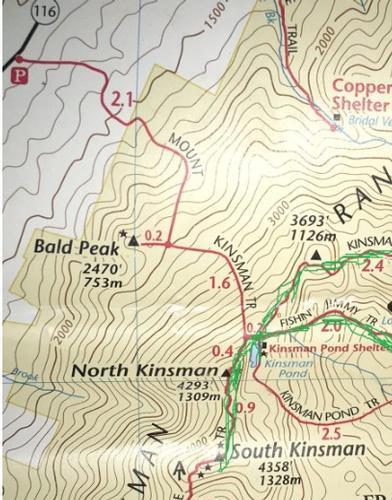 Hike is cancelled due to lack of interest. I'll table it for another time.
About the Hike:
From NH route 116 we will hike to North and South Kinsman. (both 4,000 footers). This is an out and back hike.
NOTE: this hike starts from route 116 and NOT the Lonesome Lake Trail (which can be a zoo this time of year).
"...North Kinsman Mountain (4,293') and South Kinsman Mountain (4,358') are two beautiful mountains typically hiked together. South Kinsman is the sixth most prominent mountain in the White Mountains because it is the highest point between Kinsman Notch and Franconia Notch..."
From 116 we will take the Mount Kinsman Trail (approx 3.7 miles) to the Kinsman Ridge Trail tackling North Kinsman (in 0.4 miles) first. We will then continue to South Kinsman (0.9 miles further). On the way we could add in Bald Peak - a rocky outcropping with great views (an additional 0.2 miles each way).
This is a social group. Please act accordingly and engage your fellow hikers.
Hike Type: out and back
Estimated Elevation Gain: 3200
Round Trip Distance: 10 miles (excludes 0.4 for Bald Peak)
Estimated Duration (with breaks/lunch): 6.5 hours
Directions To Trailhead Parking Lot
Use this link (just adjust the departure location):
https://www.google.com/maps/dir/Current+Location/44.16528,-71.76576
--OR--
use GPS coordinates 44.165952, -71.766186
--OR--
These directions:
The trailhead is located on NH 116 about 4.4 miles south of NH 18 in Franconia Village and 2.0 miles north of the Easton Town Hall. There is limited roadside parking, please do not block driveways.