Kayaking easy calm river
Other
DATE: Oct 01, 2023

END DATE: Oct 01, 2023

Hike/Event Location: West Groton MA
Trip Leader(s)
Twigs
Townsend, MA United States
Meeting Time: 9:00 AM
Max # People: 25
Hike Guiding / Event Fee: No, I will not be asking participants for money
Hike Difficulty Level:
Easy to Moderate
(Do you qualify to attend with this hike difficulty rating? Click Here.)
Sign Up To This Trip/Event
You must be a least a guest member to participate. Comments such as "+1" or "bringing a friend" are NOT permitted. All participants must sign-up for the event individually.
Select your mode of transportation, make any comments and then click on button.
You are not logged in.
Please, Log In
Disclaimer: The club and its members take no responsibility and will not be held responsible for any injuries or accidents that may occur during club events. Outdoor sports are inherently dangerous and accidents will happen. By joining the club or participating in any events posted on our website you are taking responsibility for your own safety and well-being. Anyone with an internet connection can post a trip on our web site. It is your responsibility to determine if this person has the experience and competence to lead the trip. We do not certify or confirm the qualifications of any of our members to lead or participate in trips.
Summary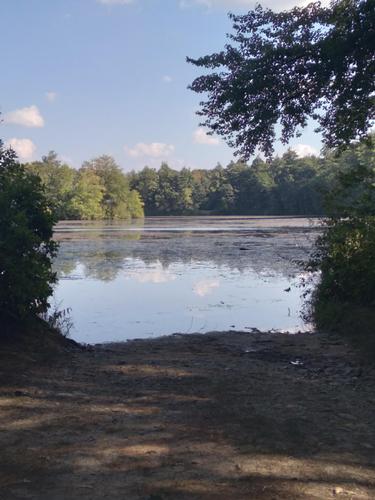 We will be dropping into the Squannacook Conservation Area and paddling up to Groton swimming hole. Here we can try to find a spot to dock along the bank, and have a lunch/snack. paddle distance to the lunch spot is 2.5miles. After lunch we will head back down stream towards the cars. For a total trip of 5 miles. There is no spot to rent kayaks. You will need to transport your own kayak, it's up to you to have your own life vest, and paddle at your own speeds. This is not a fast paddle it is a calm river and ment for a easy paddle.
Directions To Trailhead Parking Lot
There will be a balloon placed on either side of the driveway. As I always drive past it. The entrance is next door from our driveway is the West Groton Water Dept Building. For your GPS use "Squannacook Conservation Area, Shirley, MA"
Trip Leader
Twigs
Outdoor Fitness Level: Moderate
Townsend, MA
United States
Online Status: OFFLINE
Last Login: 11/16/2023 01:38 PM
Member Since: 08/18/2022
members signed up for this event
Carl_B
Outdoor Fitness Level: Strenuous
Leominster, MA
United States
Online Status: OFFLINE
Last Login: 12/05/2023 11:18 PM
Member Since: 06/21/2014
Driving My Own Car


(Willing to give guys a ride)
Russell
Outdoor Fitness Level: Strenuous
Newtonville, MA
United States
Online Status: OFFLINE
Last Login: 12/06/2023 06:15 PM
Member Since: 03/08/2021
Driving My Own Car


(Willing to give guys a ride)
Discuss This Trip/Event