Fall Foliage Bike Ride Ashuwillticook Trail
Other
DATE: Sep 30, 2023

END DATE: Sep 30, 2023

Hike/Event Location: Cheshire MA
Trip Leader(s)
QMoB
Great Barrington, MA United States
Meeting Time: 11:00 AM
Max # People: 10
Hike Guiding / Event Fee: No, I will not be asking participants for money
Hike Difficulty Level:
Easy
(Do you qualify to attend with this hike difficulty rating? Click Here.)
Sign Up To This Trip/Event
You must be a least a guest member to participate. Comments such as "+1" or "bringing a friend" are NOT permitted. All participants must sign-up for the event individually.
Select your mode of transportation, make any comments and then click on button.
You are not logged in.
Please, Log In
Disclaimer: The club and its members take no responsibility and will not be held responsible for any injuries or accidents that may occur during club events. Outdoor sports are inherently dangerous and accidents will happen. By joining the club or participating in any events posted on our website you are taking responsibility for your own safety and well-being. Anyone with an internet connection can post a trip on our web site. It is your responsibility to determine if this person has the experience and competence to lead the trip. We do not certify or confirm the qualifications of any of our members to lead or participate in trips.
Summary
W?e will have two groups, our turtle group taking its time & enjoying the fall foliage on an easy ride to lunch at Coffee Liberation Front & then they can either bus back to the start or have an easy downhill ride back to the start. The 2nd Group, our Hare Group, will zoom down to some great views of the Reservoir and then north to the Coffee Liberation Front for lunch.
WHAT TO BRING: P?lease bring rain-gear, snacks, water, a helmet, a flat repair kit, & a pump, if possible.
WEATHER: When you register, please let us know your cell phone number, so that if unexpected thunderstorms or sustained rain develops in the 2 hours before the event, we could text you if we need to cancel. Ride is rain or shine, but will be cancelled if there is more than 60% chance of thunderstorms. Please check the weather the morning before the ride so you can make sure you have the right clothing & equipment if conditions change.
CONTACTING US DAY OF: If on the day of you have trouble finding us, will be late, or can't make it, please call/text either of the co-leaders: Jared at 508-450-1427 or Bart at 503-734-6508.
Directions To Trailhead Parking Lot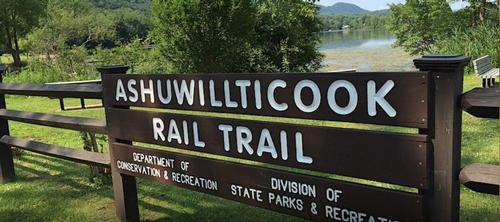 Navigate to: 50 Railroad Street Cheshire, MA 01225
Park in the designated parking area.
Trip Leader
sustaining member
QMoB
Outdoor Fitness Level: Easy to Moderate
Great Barrington, MA
United States
Online Status: OFFLINE
Last Login: 09/25/2023 04:29 PM
Member Since: 02/21/2023