Dutch Hill Early Fall Foliage
LGBTQ Hike
DATE: Sep 24, 2023

END DATE: Sep 24, 2023

Hike/Event Location: Readsboro VT
Trip Leader(s)
QMoB
Great Barrington, MA United States,
mitchinthe802
READSBORO, VT United States
Meeting Time: 11:00 AM
Max # People: 25
Hike Guiding / Event Fee: No, I will not be asking participants for money
Hike Difficulty Level:
Moderate
(Do you qualify to attend with this hike difficulty rating? Click Here.)
Sign Up To This Trip/Event
You must be a least a guest member to participate. Comments such as "+1" or "bringing a friend" are NOT permitted. All participants must sign-up for the event individually.
Select your mode of transportation, make any comments and then click on button.
You are not logged in.
Please, Log In
Disclaimer: The club and its members take no responsibility and will not be held responsible for any injuries or accidents that may occur during club events. Outdoor sports are inherently dangerous and accidents will happen. By joining the club or participating in any events posted on our website you are taking responsibility for your own safety and well-being. Anyone with an internet connection can post a trip on our web site. It is your responsibility to determine if this person has the experience and competence to lead the trip. We do not certify or confirm the qualifications of any of our members to lead or participate in trips.
Summary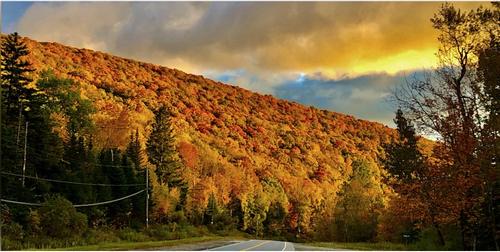 3 mile moderate (a few steep rocky parts) hike at a former ski area now part of the Green Mountain National forest, bring a picnic lunch for the view at the top
Dutch Hill is a former ski area in southern Vermont just 15 minutes up the road from North Adams, MA. Dutch Hill ceased operations as a commercial ski area in the 1980s and is now managed under a partnership between the GMNF and the Dutch Hill Alliance of Skiers & Hikers as a public recreation area for hiking & backcountry skiing.
The three mile loop has a 550 foot elevation gain.
We will meet at the parking area where there is a kiosk with a trail map.
Hike begins by crossing a small area of wetland & then enters the woods to climb. Will we stop for a picnic lunch at the summit there is an open area with lovely views of the southern green mountains. Peak fall foliage color tends to be late September or early October in this area due to elevation.
On the descent we have more views and pass through a large meadow with a variety of native plants including mountain cranberry, gentian, blueberry, and of course several native asters. Event organizer (Arik) lives near Dutch Hill & is a botany fan.
There is an option for a shorter hike (3/4 mile) just up through the woods and back via the meadow for those who prefer a shorter hike.
Bring hiking boots, water, lunch, a backpack, something to sit on like a blanket, trekking poles if you use them, sunscreen, and bug spray.
NOTE: There is not reliable cell phone service in the area around Dutch Hill, it is necessary to load directions in your preferred mapping app before heading out. Best to assume no cell service & plan accordingly.
If you have trouble finding us, will be late, or can't make it, please call/text Mitch 413-717-7816 or Bart at 503-734-6508.
Directions To Trailhead Parking Lot
The address is 910 Route 100, Readsboro, VT 05350. Program this address into your phone's mapping app where there's internet as cell service is spotty to non existent in this area.
Park in the gravel area by the kiosk on the east side of the road. There is no charge for parking.
Trip Leader(s)
sustaining member
QMoB
Outdoor Fitness Level: Easy to Moderate
Great Barrington, MA
United States
Online Status: OFFLINE
Last Login: 09/25/2023 04:29 PM
Member Since: 02/21/2023
sustaining member
mitchinthe802
Outdoor Fitness Level: Strenuous
READSBORO, VT
United States
Online Status: OFFLINE
Last Login: 09/26/2023 06:04 PM
Member Since: 08/13/2023