Camel Hump via Monroe, Alpine, Long and Dean Trail
4000 Footer
DATE: Aug 13, 2022

END DATE: Aug 13, 2022

Hike/Event Location: Duxbury VT
Trip Leader(s)
frichmon
Barre Town, VT United States
Meeting Time: 10:00 AM
Max # People: 15
Hike Guiding / Event Fee: No, I will not be asking participants for money
Hike Difficulty Level:
Moderate to Strenuous
(Do you qualify to attend with this hike difficulty rating? Click Here.)
Sign Up To This Trip/Event
You must be a least a guest member to participate. Comments such as "+1" or "bringing a friend" are NOT permitted. All participants must sign-up for the event individually.
Select your mode of transportation, make any comments and then click on button.
You are not logged in.
Please, Log In
Disclaimer: The club and its members take no responsibility and will not be held responsible for any injuries or accidents that may occur during club events. Outdoor sports are inherently dangerous and accidents will happen. By joining the club or participating in any events posted on our website you are taking responsibility for your own safety and well-being. Anyone with an internet connection can post a trip on our web site. It is your responsibility to determine if this person has the experience and competence to lead the trip. We do not certify or confirm the qualifications of any of our members to lead or participate in trips.
Summary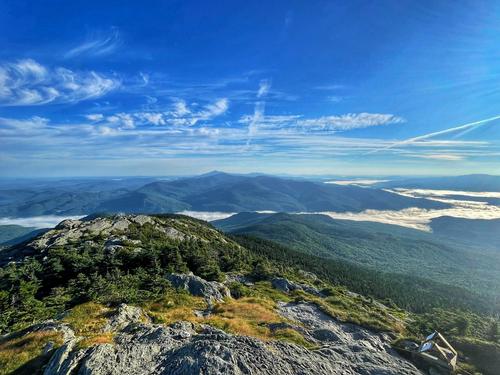 The hike narrative can be found at https://www.alltrails.com/explore/trail/us/vermont/camel-hump-via-monroe-alpine-long-and-dean-trail.
In summary, a 7.6 mile hike with a little over 3,000 ft gain. The trail is technically challenging and requires a good pair of hiking shoes. Great views at the top.
Please bring plenty of water, sunscreen, hat, Fido (on a leash at the top) and snack/sandwich.
We'll meet at 9:50 for a 10:00 sharp departure.
We'll go out for food and drinks after the hike. The place will be decided among the participants.
Directions To Trailhead Parking Lot
We'll be starting the hike from the Duxbury side. Use the followling coordinate: https://www.google.com/maps?q=44.3162,-72.8495 or this address: 3508 Camels Hump Rd, Duxbury, VT 05676
Trip Leader
sustaining member
frichmon
Outdoor Fitness Level: Very Strenuous
Barre Town, VT
United States
Online Status: OFFLINE
Last Login: 08/15/2022 01:53 PM
Member Since: 07/08/2022