Gulf Hagas - Grand Canyon of Maine
Full Day Hike
DATE: May 07, 2021

END DATE: May 07, 2021

Hike/Event Location: Katahdin Iron Works Township ME
Trip Leader(s)
BillyB1976
Fort Fairfield, ME United States
Meeting Time: 9:00 AM
Max # People: 6
Hike Guiding / Event Fee: No, I will not be asking participants for money
Hike Difficulty Level:
Moderate
(Do you qualify to attend with this hike difficulty rating? Click Here.)
Sign Up To This Trip/Event
You must be a least a guest member to participate. Comments such as "+1" or "bringing a friend" are NOT permitted. All participants must sign-up for the event individually.
Select your mode of transportation, make any comments and then click on button.
You are not logged in.
Please, Log In
Disclaimer: The club and its members take no responsibility and will not be held responsible for any injuries or accidents that may occur during club events. Outdoor sports are inherently dangerous and accidents will happen. By joining the club or participating in any events posted on our website you are taking responsibility for your own safety and well-being. Anyone with an internet connection can post a trip on our web site. It is your responsibility to determine if this person has the experience and competence to lead the trip. We do not certify or confirm the qualifications of any of our members to lead or participate in trips.
Summary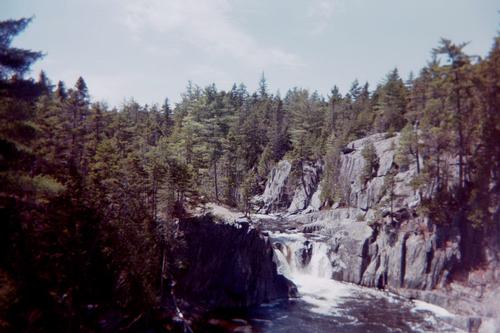 Gulf Hagas is a 3-mile long gorge created by the West Branch of the Pleasant River. There are several waterfalls along this stretch. It is located in the 100 Mile Wilderness section of the Appalachian Trail.
The trail we'll be using starts at Hay Brook. Before starting the hike to Gulf Hagas we'll take a short detour up Hay Brook to Hay Brook Falls and return to where the trail fords Hay Brook.
The trail from Hay Brook joins the Appalachian Trail at The Hermitage. This is an area of old growth pine trees. A hermit actually lived here in the 1890's.
1.7 miles into the hike the trail reaches the start of the Gulf Hagas Rim Trail. The trail fords Gulf Hagas Brook at this point. Screw Auger Falls is the first waterfall we'll see on the Rim Trail, located on Gulf Hagas Brook. The next major viewpoint is Hammond Street Pitch. This is the deepest part of the gorge, over 100 feet down to the river. A short distance beyond Hammond Street Pitch the trail follows the rim of the gorge and river for the next 2 miles. We'll see The Jaws, Buttermilk Falls, Billings Falls, and Stair Falls. After Stair Falls is the Head of the Gulf where the trail leaves the river. The trail follows an old tote road for 2.2 miles back to Gulf Hagas Brook, where we'll retrace our steps back to Hay Brook.
The entire hike is about 9.8 miles with an elevation gain of around 1,000 feet.
The route could be shortened to 6.5 miles with 2 vehicles.
Plan 6-7 hours for this hike. The Rim Trail along the gorge is rather rugged in spots. I also like to take a lot pictures. :)
Up to an inch of rain is expected between Wednesday and Thursday, so there should be plenty of water. The hike requires a ford of Hay Brook and Gulf Hagas Brook on the hike in and again on the hike out. Might be able to avoid the ford of Gulf Hagas Brook, as there is a tree there to shimmy across. There is a video on Facebook of a lady doing that back on April 13.
** A few notes on access **.
The roads to the trailhead are private logging roads and are "pass at your own risk". The landowner's and workers are not responsible for any accidents.
Hay Brook is not the typical access point to Gulf Hagas. The road to Hay Brook is best traveled with a pickup truck or SUV. -- Something with good ground clearance. Possible beaver activity 0.3 miles from the trailhead might cause an issue. I want to use this route to avoid having to ford the West Branch of the Pleasant River and because I also want to visit Hay Brook Falls.
Gulf Hagas is located within the boundaries of the Katahdin Iron Works (KI) / Jo-Mary Multiple Use Forest. Visitors are required to stop and register at a checkpoint and pay fees. Cash or checks only.
Maine resident fee is $12 per person per day.
Non-resident fee is $16 per person per day.
Under 18 and 70+ is free.
** Cell phones will not work in this area.
There are several options for overnight accommodations: There are primitive campsites close to Gulf Hags. There are AMC lodges nearby, but I don't think they are open for the season yet. There are also campgrounds in Brownville, the Millinocket area, and Greenville. There are motels in the Millinocket area and Greenville.
Directions To Trailhead Parking Lot
The meeting area will be at Katahdin Iron Works.
Directions from the south:
Take I-95 north past Bangor to Exit 199 - Alton, Lagrange, Milo - It is 43 miles from I-95 to Katahdin Iron Works. Follow Rt. 16 for 24 miles to Milo. At the stop sign in Milo turn right on to Rt. 11. Follow Rt. 11 north through Milo, Brownville and Brownville Junction. (Last store and gas in Brownville Jct.) It is 12.6 miles from the stop sign in Milo to the turnoff to Katahdin Iron Works. There should be a sign for both Gulf Hagas and Katahdin Iron Works. The turnoff is at a curve on Rt. 11. Shortly after turning left off of Rt. 11 the road turns to gravel. It is 6.5 miles to Katahdin Iron Works.
It is almost 8 miles to the trailhead at Hay Brook from Katahdin Iron Works. The last 2 miles will have some rough spots. Everyone can follow me to the trailhead.
If anybody plans on staying in the Millinocket area or Greenville, let me know and I can give directions from those locations.
I'll be driving a black Nissan Frontier pickup truck. If I'm not around my vehicle, look for me around the Iron Works property.
Trip Leader
sustaining member
BillyB1976
Outdoor Fitness Level: Moderate to Strenuous
Fort Fairfield, ME
United States
Online Status: ONLINE
Last Login: 05/09/2021 09:08 PM
Member Since: 11/28/2018