LION'S HEAD & BEAR MTN (CT)
Full Day Hike
DATE: Jun 19, 2021

END DATE: Jun 19, 2021

Hike/Event Location: Salisbury CT
Trip Leader(s)
jonathanclark
Hartford, CT United States
Meeting Time: 10:30 AM
Max # People: 10
Hike Guiding / Event Fee: No, I will not be asking participants for money
Hike Difficulty Level:
Moderate
(Do you qualify to attend with this hike difficulty rating? Click Here.)
Sign Up To This Trip/Event
You must be a least a guest member to participate. Comments such as "+1" or "bringing a friend" are NOT permitted. All participants must sign-up for the event individually.
Select your mode of transportation, make any comments and then click on button.
You are not logged in.
Please, Log In
Disclaimer: The club and its members take no responsibility and will not be held responsible for any injuries or accidents that may occur during club events. Outdoor sports are inherently dangerous and accidents will happen. By joining the club or participating in any events posted on our website you are taking responsibility for your own safety and well-being. Anyone with an internet connection can post a trip on our web site. It is your responsibility to determine if this person has the experience and competence to lead the trip. We do not certify or confirm the qualifications of any of our members to lead or participate in trips.
Summary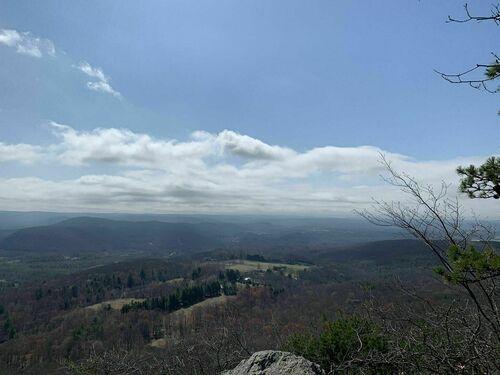 Please join me for this 9-mile RT, 1200'+ elevation gain hike in the far northwest of CT. Hopefully the mountain laurel will be in full bloom and, if so, should be spectacular. Stunning views from both Lion's Head and the summit of Bear Mtn (highest peak in CT at 2316'). Per usual, please wear sturdy hiking shoes/boots, wear clothing layers apropriate to the forecast and bring whatever snacks/lunch/water/beverages will sustain you for the hike. Raindate Sunday 20 June.
Directions To Trailhead Parking Lot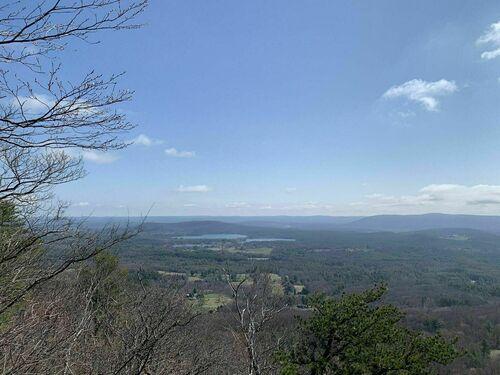 We'll be parking in the designated Hikers' Parking lot near the end of Bunker Hill Road, Salisbury CT off of Route 44. In the center of Salisbury, turn north onto Factory/Washinee Road (next to Town Hall) which become sFactory Road when it reaches Cobble Road - stay straight ahead. Keep going straight onto Bunker Hill Rd (do NOT take Mt Riga Rd). When you reach the high plateau on Bunker Hill Rd the parking lot will come up shortly on your right. Turn in and park.
Trip Leader
jonathanclark
Outdoor Fitness Level: Moderate
Hartford, CT
United States
Online Status: OFFLINE
Last Login: 07/13/2021 10:21 PM
Member Since: 10/23/2008
members signed up for this event
richardc
Outdoor Fitness Level: Moderate to Strenuous
Danbury, CT
United States
Online Status: OFFLINE
Last Login: 07/28/2021 11:25 AM
Member Since: 08/14/2004
Driving My Own Car


(Willing to give guys a ride)
Online Status: OFFLINE
Last Login: 07/25/2021 01:37 PM
Member Since: 08/10/2020
Driving My Own Car


(Possibly willing to give guys a ride)
beyoungyu
Outdoor Fitness Level: Moderate to Strenuous
Harrisburg, PA
United States
Online Status: OFFLINE
Last Login: 07/24/2021 05:27 PM
Member Since: 01/05/2002
Driving My Own Car


(Willing to give guys a ride)
dave0729
Outdoor Fitness Level: Moderate to Strenuous
Bolton, CT
United States
Online Status: OFFLINE
Last Login: 07/27/2021 08:41 PM
Member Since: 06/24/2007
Driving My Own Car


(Willing to give guys a ride)
dreamer
Outdoor Fitness Level: Easy to Moderate
Bolton, CT
United States
Online Status: OFFLINE
Last Login: 05/30/2021 03:43 PM
Member Since: 05/04/2014
Driving My Own Car


(Willing to give guys a ride)
swimfit
Outdoor Fitness Level: Moderate to Strenuous
Hartford, CT
United States
Online Status: OFFLINE
Last Login: 07/26/2021 02:06 PM
Member Since: 09/25/2013
Driving My Own Car


(Willing to give guys a ride)
damenard
Outdoor Fitness Level: Moderate to Strenuous
Kent , RI
United States
Online Status: OFFLINE
Last Login: 06/15/2021 10:10 AM
Member Since: 03/29/2005
Driving My Own Car


(Willing to give guys a ride)
mrmichang
Outdoor Fitness Level: Moderate to Strenuous
Yonkers and Binghamton, NY
United States
Online Status: OFFLINE
Last Login: 07/27/2021 05:06 PM
Member Since: 01/07/2004
Driving My Own Car


(Willing to give guys a ride)
Discuss This Trip/Event