Mt. Garfield Hike
4000 Footer
DATE: Apr 24, 2021

END DATE: Apr 24, 2021

Hike/Event Location: Lincoln NH
Trip Leader(s)
dpbyrnes
Ipswich, MA United States
Meeting Time: 7:30 AM
Max # People: 8
Hike Guiding / Event Fee: No, I will not be asking participants for money
Hike Difficulty Level:
Moderate to Strenuous
(Do you qualify to attend with this hike difficulty rating? Click Here.)
Sign Up To This Trip/Event
You must be a least a guest member to participate. Comments such as "+1" or "bringing a friend" are NOT permitted. All participants must sign-up for the event individually.
Select your mode of transportation, make any comments and then click on button.
You are not logged in.
Please, Log In
Disclaimer: The club and its members take no responsibility and will not be held responsible for any injuries or accidents that may occur during club events. Outdoor sports are inherently dangerous and accidents will happen. By joining the club or participating in any events posted on our website you are taking responsibility for your own safety and well-being. Anyone with an internet connection can post a trip on our web site. It is your responsibility to determine if this person has the experience and competence to lead the trip. We do not certify or confirm the qualifications of any of our members to lead or participate in trips.
Summary
This ledge top four thousand footer has one of the premier viewing perches in the Whites!
The round trip is 12.5 miles with 3,000' of elevation gain. If you are not in peak hiking condition (I'm not) I'd say it may feel more like a strenous than moderate hike, primarily due to the length.
Mt. Garfield, located northeast of Mt. Lafayette and Franconia Ridge in New Hampshire's White Mountains in the 14th highest among the 4,000 foot peaks. What makes this mountain stand out from many of the other White Mountains in the relative ease of the hike to top via the Garfield Trail from the Gale River Loop Road [off Route 3] and the grand view from the top looking at the Pemigewasset Wilderness towards the south! The last .2 mile on Garfield Ridge Trail is the only steep section to the magnificent 360-degree views from the 4500' summit.
We'll be using the Mt. Garfield Trail, an old tractor road, hence the grades are easy and the footing is good. There are a few brook crossings. While there are no views along the trail, the views from the summit are excellent. If this is the first time on this peak, you climb in the forest, emerge over a ridge and then you'll get WOWED with the view of the Pemigewasset Wilderness!
The White Mountains can have unpredictable and extreme weather changes year-round so April is definitely worth paying attention to. We will be hiking in late winter conditions at a moderate pace. There will be ice and snow. Light tracking devices are mandatory and (although unlikely) we may need snowshoes if there was a recent snowstorm. Trail conditions will be emailed mid week prior to the hiking day. Light traction can be either Kahtoola MicroSpikes or Hillsounds Crampons. Please have the appropriate gear/clothing to hike this time of year and the appropriate amount of layers to keep your core body warm. We recommend winter hiking boots, wool hat, gloves, hand warmers, rain/wind gear, sunscreen, warm layers, headlamp and NO COTTON. Carry at least 2 liters of water, lunch and snacks.
Covid – Please bring a mask or face covering for the parking area and to use when in close proximity to others (i.e.,when passing others on the trail).
Total Distance and Elevation Gain: 12.5 miles (10 miles with an additional 2.5 miles due to the parking location) with approximately 3000 feet in accumulative elevation gain.
Total Time: Approximately 7-8 hours depending on breaks and group's speed.
Event Coordinators: David Byrnes
Directions To Trailhead Parking Lot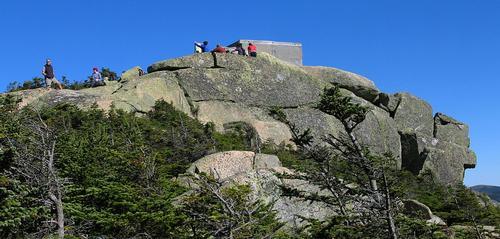 Drive north through Franconia Notch on the parkway. As this scenic route becomes I-93, take exit 35 onto US 3 North towards Twin Mountain/Lancaster. Drive 4.9 miles on US 3 (past Gale River Loop Road) to the intersection of U.S. Route 3 and Trudeau Road known as Five Corners – the parking location for winter/spring hikes.
We will hike up the Gale River Loop Road to the Mt. Garfield Trailhead where the hike "officially" begins.
Trip Leader
dpbyrnes
Outdoor Fitness Level: Moderate to Strenuous
Ipswich, MA
United States
Online Status: OFFLINE
Last Login: 04/12/2021 09:05 AM
Member Since: 01/24/2009
members signed up for this event
Napo
Outdoor Fitness Level: Moderate to Strenuous
Boston, MA
United States
Online Status: OFFLINE
Last Login: 04/06/2021 07:35 AM
Member Since: 05/24/2020
Driving My Own Car


(Possibly willing to give guys a ride)
jmahoney
Outdoor Fitness Level: Moderate to Strenuous
Boston, MA
United States
Online Status: OFFLINE
Last Login: 04/18/2021 09:08 AM
Member Since: 07/19/2018
Driving My Own Car


(Willing to give guys a ride)
PRclimber
Outdoor Fitness Level: Strenuous
Ciudad de Mexico, OT
Mexico
Online Status: OFFLINE
Last Login: 04/12/2021 07:42 AM
Member Since: 01/13/2011
Driving My Own Car


(Willing to give guys a ride)
Discuss This Trip/Event