The Carters!
Hiking/Walk
DATE: Mar 23, 2019 Saturday

END DATE: Mar 23, 2019 Saturday

Trip/Event Location: Gorham NH
Trip Leader(s)
Robert.L
Spencer, MA United States
Meeting Time: 9:00 AM
Max # People: 8
Trip Guiding / Event Fee: No, I will not be asking participants for money
Difficulty Level:
Strenuous
(Do you qualify to attend with this trip difficulty rating? Click Here.)
Region: New England
JOIN OUR NEW MEETUP GROUP to increase our exposure and have more guys sign up for our trips: click here to join our MeetUp Group. This trip may be posted at our MeetUp so you can sign up either there or here.
Sign Up To This Trip/Event
You must be a least a guest member to participate. Comments such as "+1" or "bringing a friend" are NOT permitted. All participants must sign-up for the event individually.
Select your mode of transportation, make any comments and then click on button.
You are not logged in.
Please, Log In
Trip Leaders can click here to edit or delete this activity.
Disclaimer: The club and its members take no responsibility and will not be held responsible for any injuries or accidents that may occur during club events. Outdoor sports are inherently dangerous and accidents will happen. By joining the club or participating in any events posted on the GayOutdoors web page you are taking responsibility for your own safety and well-being. Anyone with an internet connection can post a trip on the GayOutdoors web site. It is your responsibility to determine if this person has the experience and competence to lead the trip. GayOutdoors does not certify or confirm the qualifications of any of its members to lead or participate in trips.
Be Prepared: Please be prepared to be self-sufficient. Have your own provisions such as first aid kit, food, water, extra clothing for unplanned weather, etc. Have your EMERGENCY CONTACT SHEET completed and in your backpack; it may save your life, and help reach someone who greatly cares!
Pace: There may be activities when the group is either slower or faster than your current ability. Please know that because this is a group activity, it's hard to accommodate everyone's pace perfectly. Our desire is not to leave anyone, however there have been times when it is in the best interest of all to split up. Please do your part by knowing your own abilities, communicating with the organizer head of time if you would like to start early and have us catch up or fine with finishing on your own.
Summary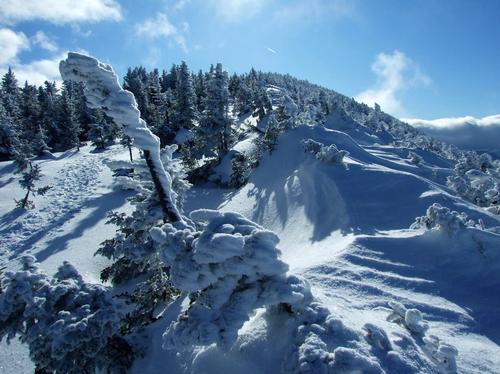 I am wired for winter – the beauty of a snow fall, the crispness of the air, the bright blue sky shining on a snowy landscape – I just can't get enough. Thankfully the White Mountains give us the opportunity to extend winter a bit into spring. Join me for a celebratory vernal equinox hike on Saturday, March 23rd for a traverse across the carters. (The actual equinox is March 20).
This winter Carter Dome is reputed to have significant snow pack – so much snow pack that we score views from the dome which is quite remarkable. With a little luck – the temps will remain cool, a few additional snow falls will occur – and we'll experience what others have this winter.
We will meet at the 19 Mile Brook trail head for 9:00am. We'll hike up to 19 Mile Brook trail (1.9 miles) and go up the Carter Dome Trail (1.9 miles). Once on the Carter Moriah trail we'll bang a hard right via Zeta Pass to tag Carter Dome (4,832') and scoot backward to Mt. Hight (4,675'), then skittle down back to the ridge and carry on across the Carter Moriah trail to tag South Carter (4,430') and Middle Carter (4,610'). We'll then carry down the Imp Trail where towards the base we can do (a) a modest bushwhack to get back to the trail head for 19 Mile Brook Trail or (b) emerge at the Imp Trail and do a short road walk back to the trail head. Total mileage for this day will be approximately 14 miles. The hardest part of the day will be the initial ascent – once on the ridge – it's a stunning stretch of views and typical ups and downs of walking a ridge line. This is always a great hike – it will not disappoint.
What is needed: FULL WINTER REGALIA – it might be meteorological spring but conditions will be very much winter. Dress in layers – no cotton. Snow shoes, micro spikes or crampons are required. Given the snow pack and the varying possibility for warmer than colder temps, snow shoes will offer greater stability in soft snow conditions. We won't know until the day of. I've hiked some very warm march days and some very cold March days – be prepared for both. We may sport both snow shoes and spikes at varying points during the day. Two liters of water, snacks, lunch and anything you need for your comfort is essential. Everything you bring should fit into your day pack.
Driving directions to the location and spot to meet at:
The 19 Mile Brook trail is located off of route 16 accessible from the north or south depending on where you are driving from. It is near the stretch of Pinkham Notch Visitor Center/Toll Road for Mt. Washington/Wildcat Ski Area. A good tour of Googlemaps will guide you correctly. I will be driving a gray Honda CRV.
Trip Leader
Robert.L
Outdoor Fitness Level: Strenuous
Spencer, MA
United States
Online Status: OFFLINE
Last Login: 03/17/2019 11:03 AM
Member Since: 09/07/2014
members signed up for this event
DaveNorthEast
Outdoor Fitness Level: Moderate to Strenuous
Raynham, MA
United States
Online Status: OFFLINE
Last Login: 03/10/2019 04:15 PM
Member Since: 02/06/2016
Driving My Own Car


(Possibly willing to give guys a ride)
dpbyrnes
Outdoor Fitness Level: Moderate to Strenuous
Ipswich, MA
United States
Online Status: OFFLINE
Last Login: 03/14/2019 07:55 PM
Member Since: 01/24/2009
Driving My Own Car


(Willing to give guys a ride)

guest member
jmahoney
Outdoor Fitness Level: Moderate to Strenuous
Boston, MA
United States
Online Status: OFFLINE
Last Login: 03/16/2019 06:59 AM
Member Since: 07/19/2018
Driving My Own Car


(Willing to give guys a ride)
Discuss This Trip/Event