Mt Jefferson (via Castle Trail & Caps Ridge Trail )
Full Day Hike
DATE: Jul 03, 2022

END DATE: Jul 03, 2022

Hike/Event Location: Jefferson NH
Trip Leader(s)
Bobcat
Upton, MA United States
Meeting Time: 9:00 AM
Max # People: 12
Hike Guiding / Event Fee: No, I will not be asking participants for money
Hike Difficulty Level:
Strenuous
(Do you qualify to attend with this hike difficulty rating? Click Here.)
Sign Up To This Trip/Event
You must be a least a guest member to participate. Comments such as "+1" or "bringing a friend" are NOT permitted. All participants must sign-up for the event individually.
Select your mode of transportation, make any comments and then click on button.
You are not logged in.
Please, Log In
Disclaimer: The club and its members take no responsibility and will not be held responsible for any injuries or accidents that may occur during club events. Outdoor sports are inherently dangerous and accidents will happen. By joining the club or participating in any events posted on our website you are taking responsibility for your own safety and well-being. Anyone with an internet connection can post a trip on our web site. It is your responsibility to determine if this person has the experience and competence to lead the trip. We do not certify or confirm the qualifications of any of our members to lead or participate in trips.
Summary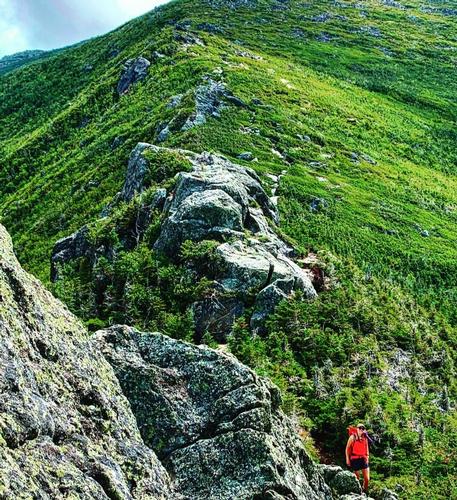 Join me for a hike up the Castle Trail to the summit of Mt. Jefferson and descending via the Caps Ridge Trail. The hike is about 7.5 miles with an elevation gain of about 4000ft. The hike will take about 7-8 hours including lunch on the summit. We will spot a car at the Caps Ridge trailhead before the hike. We will begin hiking at 9AM from the Castle Trail Parking Lot (off Route 2).
Optional: Pre-hike "Carbo-Load" Potluck dinner on Saturday evening and Post-hike Happy Hour/Barbeque Potluck dinner on Sunday evening at my house at Sugar Hill, NH (about 40 minutes from the Mt. Jefferson trailhead). Free lodging, camping, swimming and hot showers available at the house on Saturday and/or Sunday. Please let me know if you are planning to attend the potluck(s) or will be staying overnight on Saturday and/or Sunday.
Directions To Trailhead Parking Lot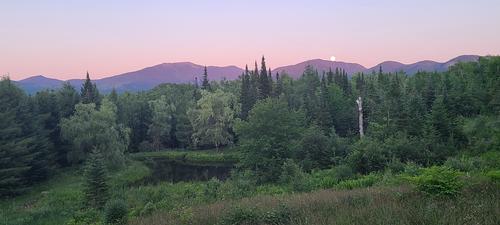 The Trailhead for the Castle Trail is located on US Route 2 about 4 miles east of the intersection of Rt.115 and Rt 2 in Jefferson, NH. Please email me for directions/ address of the house at Sugar Hill, NH.
Trip Leader
Bobcat
Outdoor Fitness Level: Strenuous
Upton, MA
United States
Online Status: OFFLINE
Last Login: 08/18/2022 08:02 PM
Member Since: 12/16/2008
members signed up for this event
Ricardo
Outdoor Fitness Level: Moderate to Strenuous
Boston, MA
United States
Online Status: OFFLINE
Last Login: 08/18/2022 10:13 PM
Member Since: 05/24/2020
Driving My Own Car


(Possibly willing to give guys a ride)
Richardg
Outdoor Fitness Level: Strenuous
NYC/Hudson Valley, NY
United States
Online Status: OFFLINE
Last Login: 08/18/2022 09:34 PM
Member Since: 09/23/2013
Driving My Own Car


(Willing to give guys a ride)
Russell
Outdoor Fitness Level: Strenuous
Newtonville, MA
United States
Online Status: OFFLINE
Last Login: 08/19/2022 07:04 PM
Member Since: 03/08/2021
Driving My Own Car


(Willing to give guys a ride)
mecyclingrunner
Outdoor Fitness Level: Moderate to Strenuous
LEWISTON, ME
United States
Online Status: OFFLINE
Last Login: 08/16/2022 02:49 PM
Member Since: 07/22/2018
Driving My Own Car


(Possibly willing to give guys a ride)
mtrunner
Outdoor Fitness Level: Strenuous
Madison, NH
United States
Online Status: OFFLINE
Last Login: 08/19/2022 05:15 PM
Member Since: 08/23/2021
Driving My Own Car


(Possibly willing to give guys a ride)
alex4mts
Outdoor Fitness Level: Very Strenuous
Lexington, MA
United States
Online Status: OFFLINE
Last Login: 07/06/2022 05:56 PM
Member Since: 12/07/2007
Driving My Own Car


(Willing to give guys a ride)
Comment: Would be delighted to join you guys for Jefferson and get caught up. Competing commitments probably will mean I can't come Saturday or stay long after the hike on Sunday,
Carl_B
Outdoor Fitness Level: Moderate to Strenuous
Leominster, MA
United States
Online Status: OFFLINE
Last Login: 08/20/2022 12:25 AM
Member Since: 06/21/2014
Driving My Own Car


(Willing to give guys a ride)
jmahoney
Outdoor Fitness Level: Strenuous
Boston, MA
United States
Online Status: OFFLINE
Last Login: 07/26/2022 10:34 AM
Member Since: 07/19/2018
Driving My Own Car


(Willing to give guys a ride)
Discuss This Trip/Event