Whiteface and Passaconaway Loop Hike
Hiking/Walk DATE: 07/23/2017 - 07/23/2017
Trip/Event Location: Wonalancet, NH
US
Trip Leader(s): shep5
Max # People: 10
Trip Guiding / Event Fee: No, I will not be asking participants for money
Difficulty Level: Strenuous
Join me for this 11.5-mile hike over the summits of Mts. Whiteface (4020') and Passaconaway (4043'). While these peaks are rather low on the 4000-footer list they offer ample views in... Driving directions to the location and spot to meet at:
From Route I-93, take Exit 24 for US-3/NH-25 towards Ashland/Holderness. In about 4.5 miles turn left onto NH-113. Continue for 11.7 miles. Turn left onto NH-113 E and proceed for another 3.7 miles. Continue onto NH-113A W/N (Sandwich Road) for 6.7 miles. Here there will be a right-handed bend in the road...DO NOT CONTINUE...Instead turn left onto Ferncroft Road and the marked trailhead parking lot will be on your right. This is about 30 miles (44 minutes) from I-93. Look for a gray Hyundai Elantra.
For GPS Users: Ferncroft Road, Tamworth, NH (43.913584,-71.357972).
Trip Report/Photos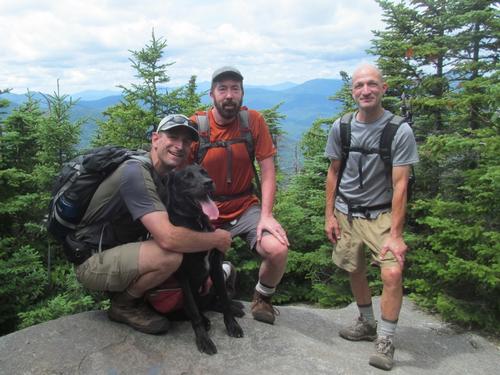 On Sunday, July 23rd, Tom and his dog (Bailey), Mo and myself met up in Wonalancet at just before 8:30AM. We got ready and started up the Ferncroft Road. It was mostly sunny and warm.
We reached the Blueberry Ledge Trail by 8:40 and we headed into the woods. Initially, the trail had only a slight grade, but after about half a mile, it began to steepen somewhat up to the trail junction with the cutoff trail, which we passed at 9:30. There was a partial southward view here. The trail continued through the woods for another mile or so before the trail started an aggressive and persistent climb. Part way up there was a small ledge with a view out towards the Ossipees and the Lakes Region. We reached the open ledge below the cliff face at 10:30. This ledge had wonderful views towards Sandwich Dome and southward to the Lakes Region. A few minutes past this point the real fun began...a steep series of ledges that took some effort to climb. They were particularly challenging for Bailey and Tom who had to lift him up these! As we climbed one after another, we were treated to beautiful views over to Mount Passaconaway and Mount Chocorua. We reached the top of these at the open ledge at the junction with the McCrillis Trail. We took a short break before continuing on. The trail descended a bit into a col, where we passed the junction with the Kate Sleeper Trail. After climbing a short distance again we were at the unremarkable summit of Mount Whiteface (4020')...it was treed and only noted by a small cairn. We descended the ridge and began the trek over to Passaconaway. Along the way, there were a few small open ledges with views over to Mt. Passaconaway and as we got further along the ridge, the views were more prominently of Mt. Whiteface. At about noon, we stopped at one of these ledges and had our lunch.
After about 25 minutes we continued Rollins Trail and by 1PM we reached the junction with the Dicey's Mill Trail. Here we headed up. This portion of the trail started out modestly with some flat sections and some switch-backing. As we got close to the top, the trail had a short aggressive scramble to the ledge view, a short distance from the actual summit. We reached this ledge at 1:30. There were great views toward the Tripyramids and northward towards the Hancocks, the Captain and Carrigain. After taking in the views and getting another hiker to take a group picture, we headed into the woods, where the Mt. Passaconaway summit was on a short spur trail...and noted only with a very small cairn (4043'). After taking a break and chatting with some other hikers at the summit while we were there, we turned around and descended back the way we had climbed. We reached the Dicey's Mill/Rollins Trail junction at about 2:30. We continued down the Dicey's Mill Trail for our return. This was a moderately steep descend for awhile and then the trail moderated as it more or less meandered through the woods on its way back to the Ferncroft Road. At 3PM we crossed a branch of the Wonalancet River and by 3:45 we were exiting the Sandwich Range Wilderness and out onto the end of Ferncroft Road, where there were several houses. By 4PM we were back at our cars. We said our goodbyes and called it a day.
Another great hiking day to cap off the weekend! Thanks to Mo and Tom for making this a great hike. This was Mo's first GO hike and it was great to meet and get to know him. Hopefully he'll return for many more adventures in the future. Also, another two peaks in the bag for Tom and Bailey...these were numbers 35 and 36! Bailey was a real trouper for enduring another tough dog hike, particularly after the Osceola slide the day before!
There are 40 photos in Album (Note: Move mouse pointer over larger pic and click on NEXT for better viewing)
Members That Participated
shep5
Outdoor Fitness Level: Very Strenuous
Jaffrey, NH
United States
Online Status: OFFLINE
Last Login: 07/11/2018 10:54 PM
Member Since: 10/30/2001
maineskier
Outdoor Fitness Level: Moderate to Strenuous
Freeport, ME
United States
Online Status: OFFLINE
Last Login: 07/01/2018 04:26 PM
Member Since: 06/18/2014
MO
Outdoor Fitness Level: Moderate to Strenuous
Scarborough, ME
United States
Online Status: OFFLINE
Last Login: 07/17/2018 08:32 AM
Member Since: 12/06/2016
MO
Jul 26, 2017 at 6:32 PM
What a great hike - with varied terrain and spectacular views !!! It was my first GO hike and am hoping for many, many more. It was great meeting Stephen, Tom and Bailey - hoping to see you guys on future hikes.
Gandalf
Jul 25, 2017 at 7:11 PM
Good pics, thanks
<