Hiking Richmond James River Trails
Hiking/Walk DATE: 04/30/2017 - 04/30/2017
Trip/Event Location: Richmond, VA
US
Trip Leader(s): TrailGuyEric
Max # People: 10
Trip Guiding / Event Fee: No, I will not be asking participants for money
Difficulty Level: Moderate
Are you looking for the sounds of rapids; hiking over 27 bridges (no trolls) and streams? Looking for beautiful vistas and history? Trains and train tracks? Then, this is your trip.
Driving directions to the location and spot to meet at:
Meet at 8:30 a.m., meet at North Bank Trail head off Pump House Drive, Richmond VA. It is the FIRST gravel parking lot on your left when you get at the bottom of the hill, on Pump House Drive (approximately 0.2 mi from Park Drive)
https://www.google.com/maps/place/Pump+House+Parking+Lot/@37.5353356,-77.4831263,17z/data=!4m13!1m7!3m6!1s0x89b1116505827823:0x942285eda928c23b!2sNorth+Bank+Trail,+Richmond,+VA+23220!3b1!8m2!3d37.5314219!4d-77.4605783!3m4!1s0x0:0x3593da88afd58bad!8m2!3d37.5352109!4d-77.4829573?hl=en
Trip Report/Photos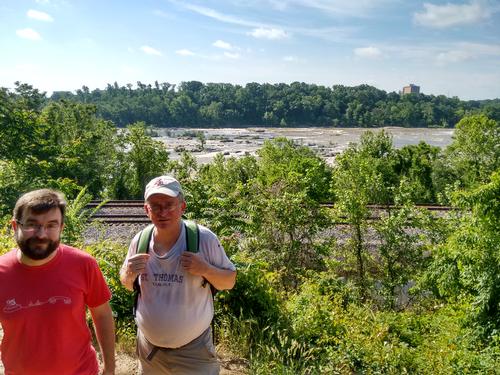 The Full North Bank Trail, Buttermilk Trail and Belle Island Trip (a 9 mile hike)
0845am 30 April 2017. The three of us started off at the Pump House Road trailhead and headed downstream, underneath the nickel bridge, also known as Boulevard Bridge, and then along a fence line that separates the North Bank Trail from Maymont Park, crossed a bridge and travelled along the old Kanawha Canal (canal project was begun in 1785, and half completed by 1851). At the end of the border with Maymont Park, we climbed up the steep hill to the top and arrived at a temporary break in the trail, travelled along Kansas Ave for 4 blocks to Texas Ave, and back on to the North Bank Trail which is the resumption point for the trail. We travelled across many streams and bridges and rejoined the Kanawha canal for a while before the trail headed back up to a ridge by Riverview Cemetery before dropping back down to the canal just below Hollywood Cemetery.
We next stopped for a rest on Bubba's Bench and enjoyed the sounds of the rapids and cool breezes, and then we continued on towards the end of the North Bank Trail. We passed huge clumps of Spiderwort (Tradescantia virginiana) flowers which were in full bloom covering a hill with their bright blue flowers.
We continued on another mile or so an the trail ended so we walked under the big steel train trestle to go cross over to Belle Isle, but found a shaded bench and rested in the shade just above the river (mile 4.4). After a short rest, we took the suspension bridge over to Belle Island, hiked around to the backside of the island and then took another bridge over to the South Bank of the river and picked up the Buttermilk Trail.
The Buttermilk trail is noted for the many streams and springs, deep shade & rolling trails and is my favorite with bridges, cool damp spots, and lush vegetation. We crossed quite a few streams and many bridges. We slowly worked our way to the Nickle Bridge and where we started at the North Bank Trailhead.
There are 6 photos in Album (Note: Move mouse pointer over larger pic and click on NEXT for better viewing)
Members That Participated
sustaining member
TrailGuyEric
Outdoor Fitness Level: Moderate to Strenuous
Richmond, VA
United States
Online Status: OFFLINE
Last Login: 05/18/2018 06:40 PM
Member Since: 01/08/2003
guest member
Jahn
Outdoor Fitness Level: Easy to Moderate
Richmond, VA
United States
Online Status: OFFLINE
Last Login: 05/06/2018 06:55 AM
Member Since: 12/31/2013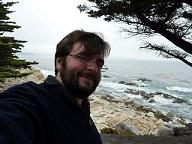 guest member
Logan
Outdoor Fitness Level: Moderate
Richmond, VA
United States
Online Status: OFFLINE
Last Login: 05/15/2018 11:04 AM
Member Since: 03/25/2016
Gandalf
May 6, 2017 at 3:26 PM
Sounds like you guys had a great time!
<