Percy Peaks Adventure
Hiking/Walk
DATE: Aug 09, 2020

END DATE: Aug 09, 2020

Hike/Event Location: Stratford NH
Trip Leader(s)
alex4mts
Lexington, MA United States,
outsider
hanover, MA United States
Meeting Time: 10:00 AM
Max # People: 6
Hike Guiding / Event Fee: No, I will not be asking participants for money
Hike Difficulty Level:
Moderate to Strenuous
(Do you qualify to attend with this hike difficulty rating? Click Here.)
Sign Up To This Trip/Event
You must be a least a guest member to participate. Comments such as "+1" or "bringing a friend" are NOT permitted. All participants must sign-up for the event individually.
Select your mode of transportation, make any comments and then click on button.
You are not logged in.
Please, Log In
Hike Leaders can CLICK HERE to edit or delete this hike/event.
Disclaimer: The club and its members take no responsibility and will not be held responsible for any injuries or accidents that may occur during club events. Outdoor sports are inherently dangerous and accidents will happen. By joining the club or participating in any events posted on our website you are taking responsibility for your own safety and well-being. Anyone with an internet connection can post a trip on our web site. It is your responsibility to determine if this person has the experience and competence to lead the trip. We do not certify or confirm the qualifications of any of our members to lead or participate in trips.
Summary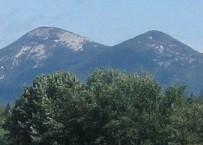 As our GO team took in the views on the recent Shelburne Moriah hike, there was curiosity about a pair of bold, conical peaks that featured prominently to our north: North and South Percy Mt, a.k.a. the Percy Peaks. Sounded like a trip idea to me, so let's hike them! The Percy Peaks are renowned for their sweeping views, as well as for their stretches of steep, open granite slabs. To that latter point, CAUTION: if you are not a big fan of exposure and heights, note that these peaks have earned their rightful spot on the Terrifying 25 list!
At a moderate pace, we will access the peaks from the north, starting with the Percy Peaks Trail. The trail begins moderately, but steepens and begins to get scrambly about halfway in. From the col between them, we will access South Percy up and back, followed by North Percy up and back. We will then have our choice of descending the way we came up or looping out on the more gradual and interesting Percy Loop Trail. Depending on our exit choice, we will hike a total of either 4.5 miles or 6 miles, and gain approximately 2500' of elevation. Depending on how much time we spend enjoying the views, our plan is to complete this hike in 4-6 hours, and optionally to stop for some outdoor eats enroute home.
For our outing to be both safe and fun against the COVID backdrop, we are limiting our group size to 8, and require that you wear a mask both as you emerge from your car for our trailhead meetup, as well as anytime it is not possible to be at least 6' away from other hikers. Be sure to bring at least two quarts of water, plenty of energy food, grippy shoes, raincoat, appropriate clothing layers, and working flashlight/headlamp with spare batteries.
Directions To Trailhead Parking Lot
We will meet up at the Percy Peaks Trail parking lot on Nash Stream Road in Stratford, NH. GPS coordinates [44.66572, -71.45760] or in Google Maps, search on "Percy Peaks Trail". The trailhead is approximately 2.5 hours from Concord, NH. Please add time for necessary pit stops, fueling, unforeseen delays, etc.
Directions:
From MA and southern NH, head north on I-93. After you're through Franconia Notch, take exit 35 for US-3 N toward Lancaster/Twin Mountain. You'll go through a traffic circle in 28 miles. 9.0 miles after the circle, turn R onto Rt.110 East. In 2.6 miles, turn L onto Emerson Rd, continuing straight onto Northside Rd for another 0.7 miles. Where the road takes a sharp right-hand bend, go L onto Nash Stream Rd. In 2.7 miles the small parking area will be on your right, 50 yards short of the trailhead itself.
Trip Leader(s)
alex4mts
Outdoor Fitness Level: Very Strenuous
Lexington, MA
United States
Online Status: OFFLINE
Last Login: 08/09/2020 06:04 AM
Member Since: 12/07/2007
outsider
Outdoor Fitness Level: Moderate to Strenuous
hanover, MA
United States
Online Status: OFFLINE
Last Login: 08/09/2020 06:17 AM
Member Since: 09/01/2009
members signed up for this event
sustaining member
MO
Outdoor Fitness Level: Moderate to Strenuous
Scarborough, ME
United States
Online Status: OFFLINE
Last Login: 08/11/2020 04:03 PM
Member Since: 12/06/2016
Driving My Own Car


(Willing to give guys a ride)
Comment: I vote for the 6 mile loop.
baezfred
Outdoor Fitness Level: Moderate to Strenuous
Scarborough, ME
United States
Online Status: OFFLINE
Last Login: 08/04/2020 07:34 AM
Member Since: 02/18/2018
Driving My Own Car


(Willing to give guys a ride)
Discuss This Trip/Event