Pack Monadnock
Hiking/Walk
DATE: Mar 10, 2018 Saturday

END DATE: Mar 10, 2018 Saturday

Trip/Event Location: Peterborough NH
Trip Leader(s)
Robert.L
Spencer, MA United States
Meeting Time: 9:00 AM
Max # People: 10
Trip Guiding / Event Fee: No, I will not be asking participants for money
Difficulty Level:
Easy to Moderate
(Do you qualify to attend with this trip difficulty rating? Click Here.)
Region: New England
JOIN OUR NEW MEETUP GROUP to increase our exposure and have more guys sign up for our trips: click here to join our MeetUp Group. This trip may be posted at our MeetUp so you can sign up either there or here.
Sign Up To This Trip/Event
You must be a least a guest member to participate. Comments such as "+1" or "bringing a friend" are NOT permitted. All participants must sign-up for the event individually.
Select your mode of transportation, make any comments and then click on button.
You are not logged in.
Please, Log In
Trip Leaders can click here to edit or delete this activity.
Disclaimer: The club and its members take no responsibility and will not be held responsible for any injuries or accidents that may occur during club events. Outdoor sports are inherently dangerous and accidents will happen. By joining the club or participating in any events posted on the GayOutdoors web page you are taking responsibility for your own safety and well-being. Anyone with an internet connection can post a trip on the GayOutdoors web site. It is your responsibility to determine if this person has the experience and competence to lead the trip. GayOutdoors does not certify or confirm the qualifications of any of its members to lead or participate in trips.
Be Prepared: Please be prepared to be self-sufficient. Have your own provisions such as first aid kit, food, water, extra clothing for unplanned weather, etc. Have your EMERGENCY CONTACT SHEET completed and in your backpack; it may save your life, and help reach someone who greatly cares!
Pace: There may be activities when the group is either slower or faster than your current ability. Please know that because this is a group activity, it's hard to accommodate everyone's pace perfectly. Our desire is not to leave anyone, however there have been times when it is in the best interest of all to split up. Please do your part by knowing your own abilities, communicating with the organizer head of time if you would like to start early and have us catch up or fine with finishing on your own.
Summary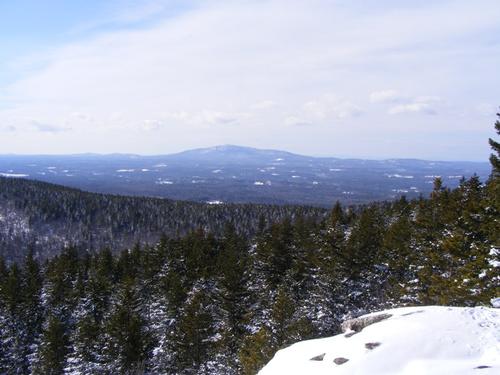 Join me Saturday, March 10th, for a day of fun easy to moderate hiking at Miller State Park, Pack Monadnock.
I've hiked this little journey many times with and without a group. It is a fun and peaceful hike between the summits – always a little busier with potential for a small crowd at the peaks. On a clear day we can see through to Boston and a view to Mt. Monadnock.
The park gates are closed in winter but open to hiking and outdoor recreational use all winter. We will assemble at the gate, hike up the Wapack Trail, 1.4 miles to Pack Monadnock at 2,290' for a total elevation gain of 840'. From the summit we will continue on 2.3 Miles to North Pack at 2,200'. We'll return to Pack Monadnock and connect with the Marion Davis Trail for a 1.4 mile steady descent back to the parking area.
It is hard to believe – but meteorological winter is almost over – so sad!! At present I am anticipating a bare boot hike with maybe a little bit of mud tossed in. If you have them, bring your micro spikes just in case – ice can loom in the hidden troughs of a trail. Unless nature takes a dramatic swing for one last winter punch, no snow shoes required.
For more information about the park and a brief history, go to: http://www.nhstateparks.com/miller.html
This trail climbs at a reasonable pace with no rock scrambles and levels out in places. The forest is pristine and the trails are well marked with blazes. We will be taking short breaks as needed and lunch along the way, probably at the North Pack summit. Have hand warmers as a backup in case your hands get cold.
It's March, temps will vary so check the forecast the day preceding the hike. Layers will likely be needed but with a little luck Mother Nature will give us a blue bird day in the 40's. Bring a lunch, snacks and two liters of water. Make sure your pack is big enough to store all your clothing.
Driving directions to the location and spot to meet at:
Directions: Park Address is 13 Miller Park Road (Route 101), Peterborough, NH 03458. We'll meet at the gate for 9:00am. Parking is along the roadway. Google or MapQuest directions from where you are coming from.
I've not been charged in the winter, but in the summer the entrance fee is $4 – have singles just in case.
Trip Leader
Robert.L
Outdoor Fitness Level: Strenuous
Spencer, MA
United States
Online Status: OFFLINE
Last Login: 12/13/2018 08:43 PM
Member Since: 09/07/2014
members signed up for this event
Gandalf
Outdoor Fitness Level: Very Strenuous
Campton, NH
United States
Online Status: OFFLINE
Last Login: 12/10/2018 07:47 PM
Member Since: 08/20/2001
Driving My Own Car


(Willing to give guys a ride)
Comment: Looking forward to spring time conditions on the trails!
richardc
Outdoor Fitness Level: Moderate to Strenuous
Danbury, CT
United States
Online Status: OFFLINE
Last Login: 12/02/2018 09:02 AM
Member Since: 08/14/2004
Driving My Own Car


(Willing to give guys a ride)
JDNnh
Outdoor Fitness Level: Very Strenuous
Manchester, NH
United States
Online Status: OFFLINE
Last Login: 12/09/2018 12:47 PM
Member Since: 10/30/2001
Driving My Own Car


(Willing to give guys a ride)
Comment: There is now a mid-week Nor'Easter storm with snow on the way! Bring your micro-spikes for traction as there be snow on the trails. Winter is not over yet in New England.
sustaining member
jrenren
Outdoor Fitness Level: Moderate to Strenuous
amherst, MA
United States
Online Status: OFFLINE
Last Login: 09/12/2018 10:13 AM
Member Since: 11/25/2013
Driving My Own Car


(Willing to give guys a ride)
Discuss This Trip/Event
richardc
Posted Mar 6, 2018 at 2:15 PM
I'll bring my snowshoes, too, just in case.