Tuckerman Ravine Hike and Sled
Hiking/Walk
DATE: Feb 24, 2018 Saturday

END DATE: Feb 24, 2018 Saturday

Trip/Event Location: Pinkham Notch NH
Trip Leader(s)
Gandalf
Campton, NH United States,
JDNnh
Manchester, NH United States
Meeting Time: 10:00 AM
Max # People: 15
Trip Guiding / Event Fee: No, I will not be asking participants for money
Difficulty Level:
Moderate to Strenuous
(Do you qualify to attend with this trip difficulty rating? Click Here.)
Region: New England
JOIN OUR NEW MEETUP GROUP to increase our exposure and have more guys sign up for our trips: click here to join our MeetUp Group. This trip may be posted at our MeetUp so you can sign up either there or here.
Sign Up To This Trip/Event
You must be a least a guest member to participate. Comments such as "+1" or "bringing a friend" are NOT permitted. All participants must sign-up for the event individually.
Select your mode of transportation, make any comments and then click on button.
You are not logged in.
Please, Log In
Trip Leaders can click here to edit or delete this activity.
Disclaimer: The club and its members take no responsibility and will not be held responsible for any injuries or accidents that may occur during club events. Outdoor sports are inherently dangerous and accidents will happen. By joining the club or participating in any events posted on the GayOutdoors web page you are taking responsibility for your own safety and well-being. Anyone with an internet connection can post a trip on the GayOutdoors web site. It is your responsibility to determine if this person has the experience and competence to lead the trip. GayOutdoors does not certify or confirm the qualifications of any of its members to lead or participate in trips.
Be Prepared: Please be prepared to be self-sufficient. Have your own provisions such as first aid kit, food, water, extra clothing for unplanned weather, etc. Have your EMERGENCY CONTACT SHEET completed and in your backpack; it may save your life, and help reach someone who greatly cares!
Pace: There may be activities when the group is either slower or faster than your current ability. Please know that because this is a group activity, it's hard to accommodate everyone's pace perfectly. Our desire is not to leave anyone, however there have been times when it is in the best interest of all to split up. Please do your part by knowing your own abilities, communicating with the organizer head of time if you would like to start early and have us catch up or fine with finishing on your own.
Summary
If you have never sledded, you may have not experienced fun! We did this two years ago and vowed we would repeat it again someday. We'll have a magical climb to Tuckerman's Snow Arch and then sled down Shelburne Ski Trail! We will start at the base of Mt. Washington from Pinkham Notch and hike up the wide tractor path called Tuckerman's Ravine Trail. After two miles we'll reach Ho Jo's where we'll get our first view of the Tuckerman Ravine Bowl. If the avalanche conditions are safe, we'll climb .75 mile to the headwall and the Snow Arch. We'll have lunch here. We'll then start sledding down the Shelburne Ski Trail. It's more fun that a barrel of snow Monkies!!
Here's our pictures from the last we did this – check it out
Bring one of those large plastic sleds that you see in one of our pictures and use a bungee cord to attach it to your pack. You can buy these for $10 at WalMart but don't wait until the last minute because they sell out. The hike will be 2.75 miles with a 2,300' elevation gain.
This trail is always packed so all we'll need is traction, i.e., Micro Spikes. Bring hand warmers for your gloves. Wear winter-insulated boots on your feet, warm socks, dress in layers [no cotton], gloves [mittens are best], warm hat and headlamp/flashlight. Some guys like to have a scarf/neck gaiter to keep their neck warm, gaiters for their boots to keep snow off their boots, ski poles and small thermos for something hot to drink. Don't forget water, lunch and snacks.
After Hike Fun: Everyone is welcome to join us for an early dinner at the Red Fox Grill in Jackson, NH.
Lodging Option: We have 8 bunks available at our house near Waterville Valley, NH for Friday and/or Saturday night at $25 per night. Coffee/bagels each morning and linen/blankets/towels are provided. We have limited space in the fridge to store your beverages/food so it's best to bring a small cooler. Space is limited so email us ASAP to reserve a bunk!
Driving directions to the location and spot to meet at: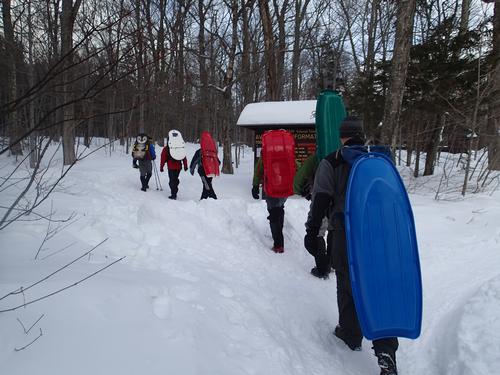 The AMC's Pinkham Notch Visitor Center is west off NH 16, about 11 miles north of the junction of NH 16 and US 302 in Glen and about 10.5 miles south of the junction of NH 16 and US 2 in Gorham. Turn in and park in the long parking strip. We'll meet you on the porch of the Visitor Center and Mike will be wearing his Patriots hat.
Trip Leader(s)
Gandalf
Outdoor Fitness Level: Very Strenuous
Campton, NH
United States
Online Status: OFFLINE
Last Login: 01/17/2019 08:27 PM
Member Since: 08/20/2001
JDNnh
Outdoor Fitness Level: Very Strenuous
Manchester, NH
United States
Online Status: OFFLINE
Last Login: 01/06/2019 03:15 PM
Member Since: 10/30/2001
members signed up for this event
Robert.L
Outdoor Fitness Level: Strenuous
Spencer, MA
United States
Online Status: OFFLINE
Last Login: 01/13/2019 09:33 PM
Member Since: 09/07/2014
Driving My Own Car


(Willing to give guys a ride)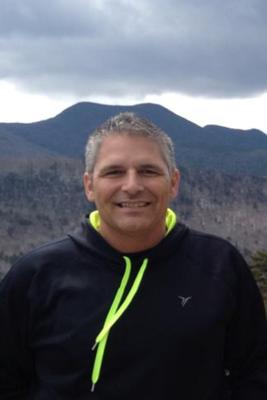 guest member
SylvainMtl
Outdoor Fitness Level: Moderate
Montreal, QC
Canada
Online Status: OFFLINE
Last Login: 02/25/2018 05:49 PM
Member Since: 11/29/2015
Driving My Own Car


(Possibly willing to give guys a ride)
Comment: Hello Mike and Jon, I am in!!! I would love a bunk for Friday and Saturday please.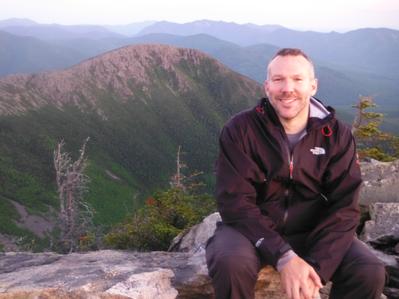 guest member
Stephinmtl
Outdoor Fitness Level: Moderate to Strenuous
Montreal, QC
Canada
Online Status: OFFLINE
Last Login: 01/12/2019 02:46 PM
Member Since: 11/18/2012
Driving My Own Car


(Possibly willing to give guys a ride)
Comment: Howdy Mike and Jon, Hope all is well... That looks so much fun and I would love to stay with you on both nights (Friday and Saturday) s'il vous plait!!! ;)
Discuss This Trip/Event
Gandalf
Posted Feb 18, 2018 at 8:29 AM
We have our sleds too! It looks like we are going to have spring conditions with this warm up!
Stephinmtl
Posted Feb 17, 2018 at 5:57 PM
Sylvain and I just bought our sleds today. Looking forward to next week end!!!