2nd Annual GO Booth @ Boston Pride
Other
DATE: Jun 10, 2017 Saturday

END DATE: Jun 10, 2017 Saturday

Trip/Event Location: Boston MA
Trip Leader(s)
kayakhike
Manchester, NH United States,
Pipester
Chichester, NH United States
Meeting Time: 10:00 AM
Max # People: 12
Trip Guiding / Event Fee: No, I will not be asking participants for money
Difficulty Level:
Easy
(Do you qualify to attend with this trip difficulty rating? Click Here.)
Region: New England
Sign Up To This Trip/Event
You must be a least a guest member to participate. Comments such as "+1" or "bringing a friend" are NOT permitted. All participants must sign-up for the event individually.
Select your mode of transportation, make any comments and then click on button.
You are not logged in.
Please, Log In
Trip Leaders can click here to edit or delete this activity.
Disclaimer: The club and its members take no responsibility and will not be held responsible for any injuries or accidents that may occur during club events. Outdoor sports are inherently dangerous and accidents will happen. By joining the club or participating in any events posted on the GayOutdoors web page you are taking responsibility for your own safety and well-being. Anyone with an internet connection can post a trip on the GayOutdoors web site. It is your responsibility to determine if this person has the experience and competence to lead the trip. GayOutdoors does not certify or confirm the qualifications of any of its members to lead or participate in trips.
Be Prepared: Please be prepared to be self-sufficient. Have your own provisions such as first aid kit, food, water, extra clothing for unplanned weather, etc. Have your EMERGENCY CONTACT SHEET completed and in your backpack; it may save your life, and help reach someone who greatly cares!
Pace: There may be activities when the group is either slower or faster than your current ability. Please know that because this is a group activity, it's hard to accommodate everyone's pace perfectly. Our desire is not to leave anyone, however there have been times when it is in the best interest of all to split up. Please do your part by knowing your own abilities, communicating with the organizer head of time if you would like to start early and have us catch up or fine with finishing on your own.
Summary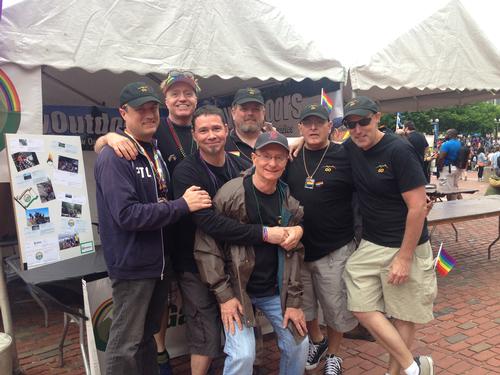 Join us for our second annual GO booth at Boston Pride. Volunteers are needed to help man the booth, sign up new Pride goers for our newsletter and spread the fun and camaraderie of GayOutdoors! Like last year, we will be offering tickets to our free raffle to people who sign up for the newsletter and to current GO members who stop by and say hi. We have many different prizes from a $200 gift certificate towards a stay at Frog Meadow B&B in Vermont to a free two-night stay at Branch Brook Campground to books on hiking. Plan to arrive at 10:00 am at Government Center in Boston, MA and the day ends around 4:00 pm. You can stay for as long or as little as you like. Last year the booth was a great success, we had 8 volunteers, signed up 147 new newsletter recipients and gave out over 300 GayOutdoors business cards. It was great time and a great way to promote GayOutdoors! Plus, if you volunteer, you will be given a GO t-shirt to wear during the event and to enjoy after!
Driving directions to the location and spot to meet at: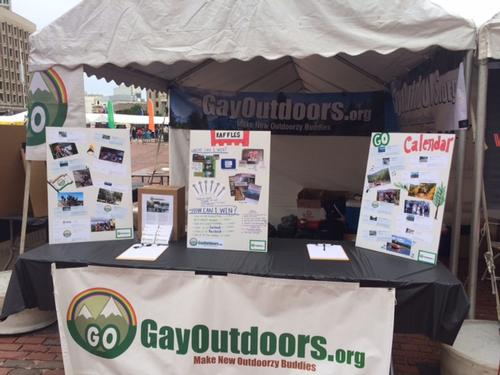 Our booth will be located at City Hall Plaza at Government Center. Go to http://www.bostonpride.org/parade/ for route and directions.
Trip Leader(s)
kayakhike
Outdoor Fitness Level: Moderate
Manchester, NH
United States
Online Status: OFFLINE
Last Login: 06/18/2018 09:28 PM
Member Since: 01/29/2012
Pipester
Outdoor Fitness Level: Easy
Chichester, NH
United States
Online Status: OFFLINE
Last Login: 05/02/2018 04:58 PM
Member Since: 04/03/2015
members signed up for this event
outsider
Outdoor Fitness Level: Moderate to Strenuous
hanover, MA
United States
Online Status: OFFLINE
Last Login: 06/11/2018 06:27 PM
Member Since: 09/01/2009
Driving My Own Car


(Yes - possibly willing to give guys a ride)
guest member
Happy Trail
Outdoor Fitness Level: Moderate to Strenuous
Manchester , NH
United States
Online Status: OFFLINE
Last Login: 04/02/2018 11:56 AM
Member Since: 07/12/2010
Driving My Own Car


(Possibly willing to give guys a ride)
NHGuy1028
Outdoor Fitness Level: Moderate
Merrimack, NH
United States
Online Status: OFFLINE
Last Login: 06/17/2018 09:15 PM
Member Since: 05/06/2014
Driving My Own Car


(Willing to give guys a ride)
Discuss This Trip/Event