Winter Hiking/Snowshoeing Clinic
Hiking/Walk
DATE: Mar 18, 2017 Saturday

END DATE: Mar 18, 2017 Saturday

Trip/Event Location: Waterville Valley NH
Trip Leader(s)
Gandalf
Campton, NH United States
Meeting Time: 9:00 AM
Max # People: 15
Trip Guiding / Event Fee: No, I will not be asking participants for money
Difficulty Level:
Moderate
(Do you qualify to attend with this trip difficulty rating? Click Here.)
Region: New England
Sign Up To This Trip/Event
You must be a least a guest member to participate. Comments such as "+1" or "bringing a friend" are NOT permitted. All participants must sign-up for the event individually.
Select your mode of transportation, make any comments and then click on button.
You are not logged in.
Please, Log In
Trip Leaders can click here to edit or delete this activity.
Disclaimer: The club and its members take no responsibility and will not be held responsible for any injuries or accidents that may occur during club events. Outdoor sports are inherently dangerous and accidents will happen. By joining the club or participating in any events posted on the GayOutdoors web page you are taking responsibility for your own safety and well-being. Anyone with an internet connection can post a trip on the GayOutdoors web site. It is your responsibility to determine if this person has the experience and competence to lead the trip. GayOutdoors does not certify or confirm the qualifications of any of its members to lead or participate in trips.
Be Prepared: Please be prepared to be self-sufficient. Have your own provisions such as first aid kit, food, water, extra clothing for unplanned weather, etc. Have your EMERGENCY CONTACT SHEET completed and in your backpack; it may save your life, and help reach someone who greatly cares!
Pace: There may be activities when the group is either slower or faster than your current ability. Please know that because this is a group activity, it's hard to accommodate everyone's pace perfectly. Our desire is not to leave anyone, however there have been times when it is in the best interest of all to split up. Please do your part by knowing your own abilities, communicating with the organizer head of time if you would like to start early and have us catch up or fine with finishing on your own.
Summary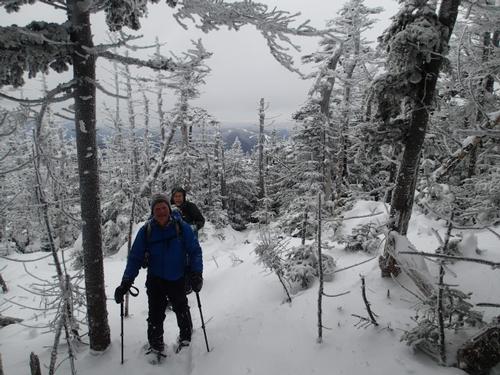 This workshop session is intended for individuals with limited experience in the New England outdoors who would like to start winter activities safely! Our focus is on below treeline travel...above treeline travel would be an entirely different clinic.
There is a terrible misconception: some folks think winter is a cold and dreary time. They complain of feeling cold all the time; even indoors with the heat cranked. The reality is the problem isn't winter. It's a lack of activity. To enjoy winter one must stay active. That's where this course comes in: it prepares one for being active in winter (with a decidedly hiking and snowshoeing slant, we admit).
Learn how to prepare to be outdoors for extended periods. Learn how to remain comfortable. What to wear, what to eat, how to manage your gear, and how to manage yourself. We also teach you how to be prepared if you become inactive — as the case might be if one were to be injured, for example. Instruction includes an introduction to snowshoeing outdoors and practice winter route finding skills.
The course starts indoors at 9 AM inside the Sandwich Dome Lodge. Feel free to wear your street clothes for the morning session to be comfortable.
We'll spend the morning indoors reviewing the basics, have lunch indoors and then venture out to beautiful Atwood Pond to practice using snowshoes, breaking trail, and route finding. It will be about a 3-mile loop hike on an abandoned trail to Atwood Pond that is rarely used. There is little elevation gain. If you have any specific interests or needs that you feel should be covered, please let us know.
Snowshoes are required to attend this clinic. If you need to rent a pair, we'll take time at the end of the morning session for you to pick up a pair to rent from nearby Ski Fanatics, but we highly recommend you call them to reserve a pair at 603-726-4327.
What to Bring
DAY PACK: Big enough so if you take clothes off as you warm up, they can fit inside.
COTTON CLOTHING: Synthetic clothing dries quickly and is the best choice for outdoor pursuits. Please do not wear cotton clothing including blue jeans. When wet, cotton rapidly robs the heat from your body and takes a long time to dry. We also recommend you dress in multiple layers, allowing you more flexibility to comfortably respond to the weather conditions and your level of exertion.
THINK LAYERS: Start with a base layer synthetic/wool long underwear tops and bottoms, rain/nylon pants that goes over your underwear bottoms, a middle layer of fleece/wool/down sweater and a rain jacket. Ski jackets are too hot for winter hiking.
BRING MORE than you think you need. Mountain weather can be very tricky and unpredictable. While it may be nice in town, the mountains are different. Being prepared can save your life.
HAT AND GLOVES/MITTENS, will help you stay warm. We like hand warmers to put inside our gloves.
FOR FOOTWEAR, wear proper, insulated winter hiking boots with wool or synthetic socks.
WATER: One-quart water bottle [no hydration systems; lines freeze up]
SNACKS
SNOWSHOES
MICROSPIKES [if you have them]
OPTIONAL FOR THIS CLINIC: Headlamp with spare batteries, whistle, tarp/bivy, lightweight emergency sleeping pad
We don't want you to spend a whole lot of money on clothing/gear to attend this clinic so if you want to discuss options, please contact us!
LODGING
Weekend lodging [Friday and Saturday night] at the Sandwich Dome Lodge for 8 guys with Saturday night dinner is available for $60 while space lasts. Please be sure you will definitely be attending when you sign up…we don't want anyone who is tentative to limit any sort of waiting list. If we run out of space, we can recommend options.
SATURDAY NIGHT
Once we get back indoors from our snowshoeing trip, we'll change back into our lodge clothes, start up the fireplace, and enjoy snacks/appetizers and drinks. It's BYOB and please bring some snacks/appetizers to share. Jon will be preparing a delicious dinner.
If you are not lodging with us and would like to join, please let us know so we have enough food for everyone. The cost will be $10 to cover our expenses.
Driving directions to the location and spot to meet at:
Take I-93 and use Exit 28. At the end of the ramp take right onto Rte 49 East for 3.5 miles and take a left on Burbank Hill Road.
During this 3.5 miles, you'll pass a traffic light where there is a dam on your right, then pass a White Mountain National Forest campground and then see a restaurant for sale on your left. About a mile after the restaurant, you'll see Burbank Hill Road on the left (Goose Hollow Campground sign). If you cross the Mad River on the bridge, you just missed the left turn.
Take a left onto steep Burbank Hill Road and you'll quickly reach the top of the hill where you take your first right onto Upper Mad River Road (Hiking Sign). The road will soon turn into gravel, you'll pass two apartments on your right and then a house. My property begins right after this house and after about 200 yards you'll see a mailbox with "676" which is our house. The house is not very visible from the road. Our address is 676 Upper Mad River Road, Thornton, NH 03285.
PARK AT THE TOP OF THE DRIVEWAY. DO NOT DRIVE DOWN TO THE HOUSE.
If you cannot find the house, call us at 603-726-7558.
Trip Leader
Gandalf
Outdoor Fitness Level: Very Strenuous
Campton, NH
United States
Online Status: OFFLINE
Last Login: 05/17/2018 10:42 PM
Member Since: 08/20/2001
members signed up for this event
JDNnh
Outdoor Fitness Level: Very Strenuous
Manchester, NH
United States
Online Status: OFFLINE
Last Login: 04/20/2018 09:34 AM
Member Since: 10/30/2001
danf291
Outdoor Fitness Level: Moderate
Nashua, NH
United States
Online Status: OFFLINE
Last Login: 05/18/2018 09:14 PM
Member Since: 05/31/2016
Driving My Own Car


(Possibly willing to give guys a ride)
Comment: FYI: You have the region listed as California/Hawaii.
Philip
Outdoor Fitness Level: Moderate
Tuftonboro, NH
United States
Online Status: OFFLINE
Last Login: 05/17/2018 11:19 AM
Member Since: 02/08/2016
Driving My Own Car


(Willing to give guys a ride)
guest member
northernexposure
Outdoor Fitness Level: Moderate to Strenuous
Littleton, NH
United States
Online Status: OFFLINE
Last Login: 02/19/2018 08:13 PM
Member Since: 07/09/2016
Driving My Own Car


(Possibly willing to give guys a ride)
Discuss This Trip/Event
SandwichMan
Posted Mar 5, 2017 at 6:15 PM
Sorry for the interruption. Testing new site feature soon to be launched!
Gandalf
Posted Jan 31, 2017 at 8:39 PM
If you need to rent snowshoes from Ski Fanatics, reserving them a week in advance is ample time.