Mt. Liberty Winter Hike
Hiking/Walk
DATE: Feb 26, 2017 Sunday

END DATE: Feb 26, 2017 Sunday

Trip/Event Location: Lincoln NH
Trip Leader(s)
Gandalf
Campton, NH United States
Meeting Time: 9:00 AM
Max # People: 15
Trip Guiding / Event Fee: No, I will not be asking participants for money
Difficulty Level:
Strenuous
(Do you qualify to attend with this trip difficulty rating? Click Here.)
Region: New England
Sign Up To This Trip/Event
You must be a least a guest member to participate. Comments such as "+1" or "bringing a friend" are NOT permitted. All participants must sign-up for the event individually.
Select your mode of transportation, make any comments and then click on button.
You are not logged in.
Please, Log In
Trip Leaders can click here to edit or delete this activity.
Disclaimer: The club and its members take no responsibility and will not be held responsible for any injuries or accidents that may occur during club events. Outdoor sports are inherently dangerous and accidents will happen. By joining the club or participating in any events posted on the GayOutdoors web page you are taking responsibility for your own safety and well-being. Anyone with an internet connection can post a trip on the GayOutdoors web site. It is your responsibility to determine if this person has the experience and competence to lead the trip. GayOutdoors does not certify or confirm the qualifications of any of its members to lead or participate in trips.
Be Prepared: Please be prepared to be self-sufficient. Have your own provisions such as first aid kit, food, water, extra clothing for unplanned weather, etc. Have your EMERGENCY CONTACT SHEET completed and in your backpack; it may save your life, and help reach someone who greatly cares!
Pace: There may be activities when the group is either slower or faster than your current ability. Please know that because this is a group activity, it's hard to accommodate everyone's pace perfectly. Our desire is not to leave anyone, however there have been times when it is in the best interest of all to split up. Please do your part by knowing your own abilities, communicating with the organizer head of time if you would like to start early and have us catch up or fine with finishing on your own.
Summary
At 4459 feet, Liberty is the 18th highest mountain in New Hampshire. If the Old Bridle Path and Falling Waters Trail in Franconia Notch, New Hampshire, have a younger sibling, the type eager to prove it's every bit as sweat inducing with equally dazzling views, then without question the Liberty Springs Trail is it. Almost literally in the shadows of its 5,000+ foot neighbors Mt. Lafayette and Mt. Lincoln, Mt. Liberty might not measure up to its bigger siblings, but it's no slouch of a mountain either at 4,459 feet.
It sits at the southern end of the Franconia Ridge Trail and affords terrific 360 degree views of the Notch to the West and into the Pemi to the East.
We will park just north of the Flume Visitor Center and hike the connecting Whitehouse Trail over to the start of the Liberty Spring Trail. After about .8 of a mile, the Liberty Spring Trail will begin right, off the Franconia Notch bike path. The Liberty Springs Trail, which is also part of the Appalachian Trail, offers a challenging climb with a reward at the end well worth the effort in all seasons. The trail climbs steadily and moderately up using trails and old logging roads.
At .6 miles from the start of the Liberty Spring Trail, the Flume Slide Trail begins right. The LST bears left and climbs steadily via switchbacks up to the site of the Liberty Spring Campsite at about 2.6 miles [there is a steep and rough section]. At 3.2 miles we reach the summit and the terrific view.
Round trip distance: 8 miles
Vertical feet: 3250
Approximate time: 6.5 hours
What to wear/bring: Wear warm clothing suitable for the hike in layers...no cotton or blue jeans. Wear a warm hat and gloves and bring hand warmers as a precaution. Bring along plenty of water (at least 2 liters), lunch, snacks and anything else you may require for a day hike. Make sure your pack is big enough to place your jacket and excess clothing into it as you warm up. For footwear, have winter insulated boots and MicroSpikes in case we encounter icy trails. We may need snowshoes if we had a snowstorm just prior to the hike…we'll let you know a few days before. Contact us if you have any questions.
Boston Area Carpooling: Save money by sharing gas/toll expenses and get to know fellow GO members better! Don't by shy...contact other Bostonians to find a convenient location for you to meet such as a T-Stop, Commuter Line Stop, or a parking lot of a store familiar to you all! Don't forget to tip the driver!
Afterwards: Everyone is welcome to join us back at our house in Waterville Valley to relax by our fireplace [BYOB and bring snacks] followed by one of Jon's delicious dinners. We ask $10 per person to help pay for our food costs. Showers are available so bring a change of clothing to make your visit with us more comfortable.
Lodging Option: Bunk beds are available at our house [with Wi Fi] near Waterville Valley, NH for Friday and/or Saturday nights. It's $25 for Friday night, $35 for Saturday that includes dinner or $60 for the weekend. Coffee/bagels each morning and linen/blankets/towels are provided. Space is limited so email ASAP to reserve a bunk!
Driving directions to the location and spot to meet at:
Liberty Springs trailhead is accessible by the Whitehorse trailhead parking lot off Interstate 93 Northbound on the western side of the mountain. Get off Exit 33 onto US 3 and head past the Whale's Tale Waterpark, Indian Head Resort, the sign marking the entrance into Franconia Notch and the Flume Visitors Center. Continue past the Flume Visitors Center and you'll soon see signs that will say "Trailhead Parking" on the right. We'll be driving a blue Toyota Tacoma truck.
Trip Leader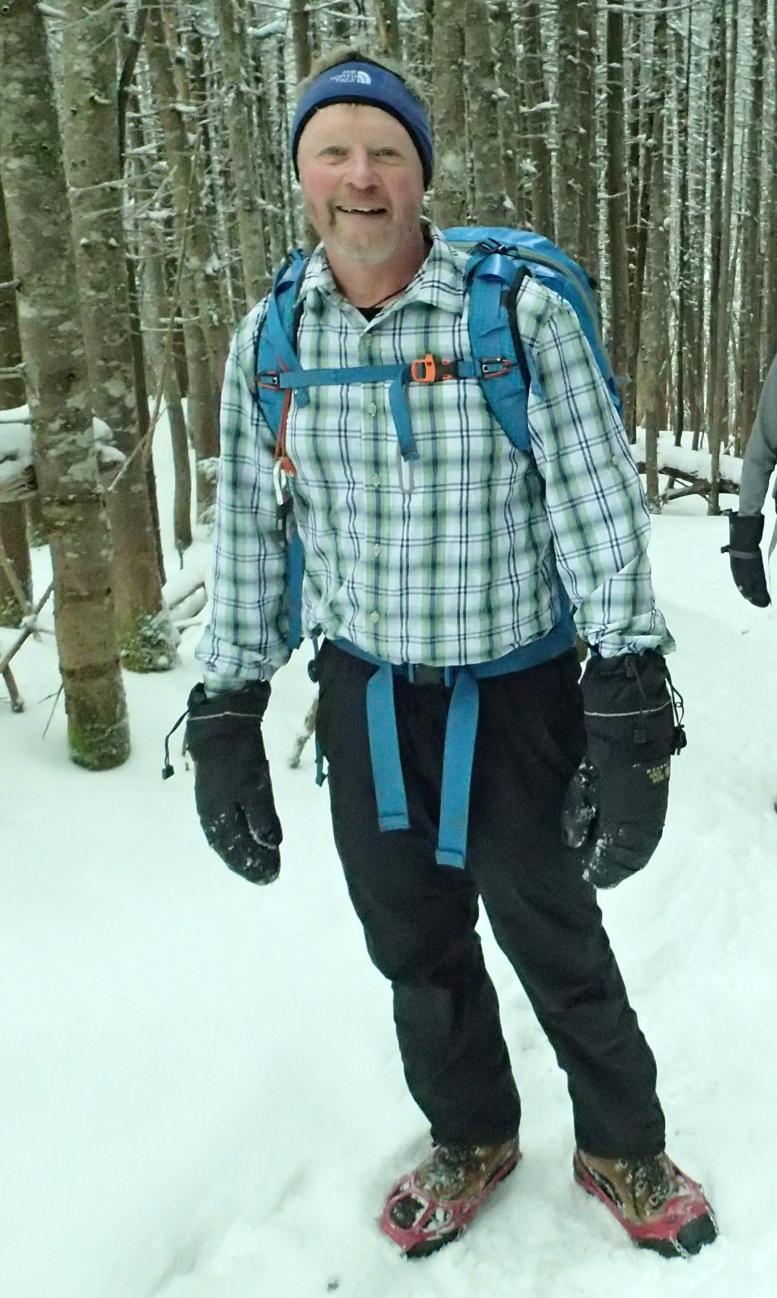 sustaining member
Gandalf
Outdoor Fitness Level: Very Strenuous
Campton, NH
United States
Online Status: OFFLINE
Last Login: 04/23/2018 07:14 AM
Member Since: 08/20/2001
members signed up for this event
guest member
mbrunner1982
Outdoor Fitness Level: Strenuous
Jamaica Plain, MA
United States
Online Status: OFFLINE
Last Login: 08/28/2017 09:54 PM
Member Since: 08/30/2016
sustaining member
jrenren
Outdoor Fitness Level: Moderate to Strenuous
amherst, MA
United States
Online Status: OFFLINE
Last Login: 03/30/2018 10:29 AM
Member Since: 11/25/2013
Driving My Own Car


(Willing to give guys a ride)
Discuss This Trip/Event
Scorpione
Posted Jan 26, 2017 at 12:58 PM
Mike's e-m is fine. As per his sound encouragement to people living in the Boston area to carpool:: I would prefer to be a passenger and share expenses; if not, I plan to go anyway and drive Friday afternoon before rush hour return Sunday mrng. and could take 1 or 2 passengers from Boston. I also reserve the right to cancel if I must. Thank You. L