Pocosin Trail
Hiking/Walk DATE: 07/29/2018 - 07/29/2018
Trip/Event Location: Shenadoah National Park, VA
US
Trip Leader(s): TrailGuyEric
Max # People: 15
Trip Guiding / Event Fee: No, I will not be asking participants for money
Difficulty Level: Easy
HIke down the Pocosin Fire Road, cross over the Appalachian Trail, and continue down to the cabin ruins and old foundation of a church. Hike is easy, about 2.2 miles and 2-3 hours. Wear... Driving directions to the location and spot to meet at:
Locate the trailhead by driving to mile marker 59.5, Skyline Drive, Shenandoah National Park. Turn left onto Pocosin Fire Road on the east side of the dirve. Park near the chain blocking the road. Look for a burgundy 2018 Honda Ridgeline.
Trip Report/Photos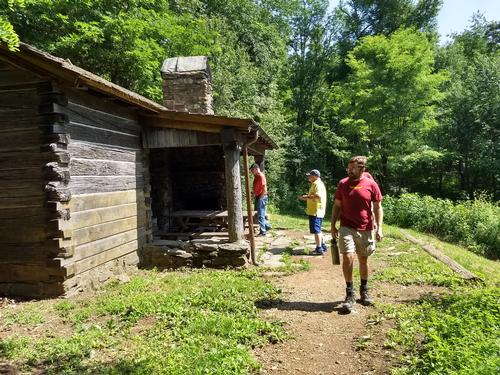 This was a great hike to end the weekend--full of interesting sights, fairly good old, but rarely used fireroad (with a few bad washouts) and rather short (1.5 hours total).
We found the entrance to the fireroad and drove down 50 yards to the parking area and headed down. About 0.2 miles, we came upon the Potomac Appalachian Trail Club cabin (main picture) and took a look at its sturdy wood construction with hefty stone chimney. We continued on down the fireroad which had traces of asphalt in a few places but hadn't held up too well with this year's heavy rain storms where a few areas were missing a couple of feet of soil and rocks.
After a mile+ we came to the second fire road which marked the location of the old, 1905 Episcopal Mission cabin and church (just the foundation and stairs remain) which has been gone for a good long time as the entire church is now a forest. We took a good look around and headed up, winded from a long weekend of hikes and walking around. A great end to the weekend, meeting new friends and planning for future, return trips to Shenandoah.
There are 12 photos in Album (Note: Move mouse pointer over larger pic and click on NEXT for better viewing)
Members That Participated
sustaining member
TrailGuyEric
Outdoor Fitness Level: Moderate to Strenuous
Chesterfield, VA
United States
Online Status: OFFLINE
Last Login: 03/15/2019 06:56 PM
Member Since: 01/08/2003
sustaining member
Jahn
Outdoor Fitness Level: Easy to Moderate
Richmond, VA
United States
Online Status: OFFLINE
Last Login: 03/04/2019 05:08 PM
Member Since: 12/31/2013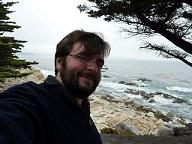 guest member
Logan
Outdoor Fitness Level: Moderate
Richmond, VA
United States
Online Status: OFFLINE
Last Login: 02/04/2019 12:12 PM
Member Since: 03/25/2016
sustaining member
mnmd410
Outdoor Fitness Level: Easy to Moderate
Towson, MD
United States
Online Status: OFFLINE
Last Login: 07/25/2018 07:54 PM
Member Since: 09/07/2006
Driving My Own Car


(Willing to give guys a ride)

Comment: Pp
<