Hazel Falls and Cave
Hiking/Walk DATE: 07/28/2018 - 07/28/2018
Trip/Event Location: Shenandoah National Park, VA
US
Trip Leader(s): TrailGuyEric
Max # People: 15
Trip Guiding / Event Fee: No, I will not be asking participants for money
Difficulty Level: Moderate
(One guidebook took us down the wrong trail last time)
Join us for a nice hike down to Hazel Falls and the two caves that are there. Mile Marker 33.5 (There is a parking lot right t... Driving directions to the location and spot to meet at:
Look for a burgundy 2018 Honda Ridgeline. Skyline Drive, Shenandoah National Park, Mile Marker 33.5
Trip Report/Photos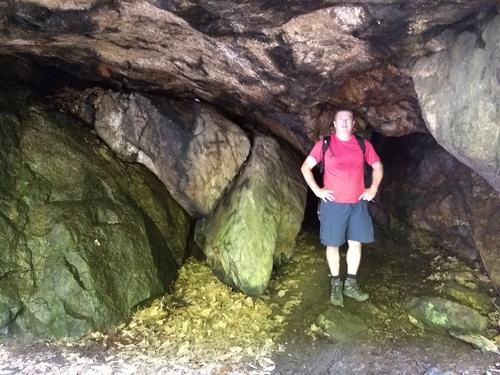 This is a funny story and a good thing to point out that not all trails listed in books are CORRECT and they take you down a wrong, but very worthwhile, alternate trail (even though one member, last month, fell in the water).
Being a determined trail guide I checked another guidebook (of which I have many) and found out that we were at the correct starting point and parking lot, but supposed to take the main trail down instead of taking an immediately left. Having read the description of the trail down to Hazel Falls and Caves I could tell within a minute that this new trail was THE correct trail. We took the trail down and at the third cement guidepost we turned left and continued down until we got to the very steep and stony path down to the falls and caves. We spotted a group having a sit-down and reading so we headed upstream to the cave and had a look around, lunch, and then two of us hit the cold water (I was only willing to wade thigh-deep whereas another ambitious hiker swam around).
We relaxed a bit and began or slog back up the hill, which strangely fell like a shorter distance than coming down. We got back to the main trail and headed down to the river (which feeds Hazel Falls) and some of us took a quasi-nap rest on a rock. Then we headed back to our starting point and found the amount of cars had doubled (emphasizing early starts are important).
There are 44 photos in Album (Note: Move mouse pointer over larger pic and click on NEXT for better viewing)
Members That Participated
TrailGuyEric
Outdoor Fitness Level: Moderate to Strenuous
Chesterfield, VA
United States
Online Status: OFFLINE
Last Login: 03/15/2019 06:56 PM
Member Since: 01/08/2003
Jahn
Outdoor Fitness Level: Easy to Moderate
Richmond, VA
United States
Online Status: OFFLINE
Last Login: 03/04/2019 05:08 PM
Member Since: 12/31/2013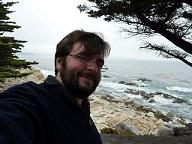 guest member
Logan
Outdoor Fitness Level: Moderate
Richmond, VA
United States
Online Status: OFFLINE
Last Login: 02/04/2019 12:12 PM
Member Since: 03/25/2016
TJinCville
Outdoor Fitness Level: Easy to Moderate
Charlottesville, VA
United States
Online Status: OFFLINE
Last Login: 03/17/2019 11:46 AM
Member Since: 02/08/2018
sustaining member
mnmd410
Outdoor Fitness Level: Easy to Moderate
Towson, MD
United States
Online Status: OFFLINE
Last Login: 07/25/2018 07:54 PM
Member Since: 09/07/2006
<