The Pemi Loop
Hiking/Walk DATE: 07/06/2018 - 07/08/2018
Trip/Event Location: Lincoln, NH
US
Trip Leader(s): Robert.L
Max # People: 8
Trip Guiding / Event Fee: No, I will not be asking participants for money
Difficulty Level: Very Strenuous
Join me for one of the White Mountains most picturesque loop hikes – the Pemi Loop. This trip will be incredibly rewarding but it will not be without effort. The hike will take us... Driving directions to the location and spot to meet at:
The Lincoln Woods trail head is located at the Lincoln Woods Visitor Center off of route 112 also known as the Kancamagus Highway. From route 93 North or Southbound take exit 32 and travel east. The center is a few miles beyond Loon Mountain Ski Resort. While this parking lot tends to fill up fast on weekends I am hoping for ample space. There is a fee for parking so bring singles. Last known fee was $3 per day so a flat $10 will cover you and you'll have donated an extra buck to the upkeep of the National Forests.
Trip Report/Photos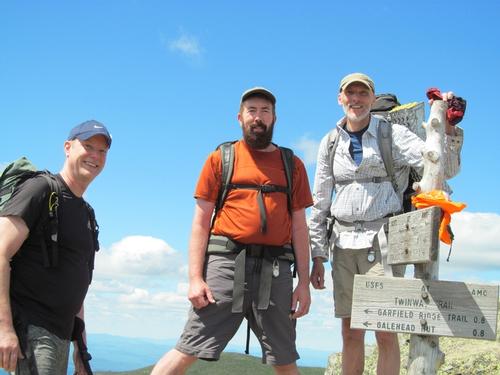 Triumphant. I was driving home Sunday evening wondering how I might describe this journey while reflecting back on such an incredible experience. We worked hard for this achievement and then it popped into my head – Triumphant!
With perfection we all arrived at the Lincoln Woods trail head for 4pm and like a chorus of well rehearsed musicians we were headed up the trail eager to begin the journey. However, it was not before I discovered my camera was absent its memory card, grrr. Fear not – our most experienced compatriot, Stephen, had his as I know he likes to document his adventures as well.
Stephen had gotten there a little earlier and chatted up the rangers. It seems people have gotten a touch lazy about their food and the valley floor of the Pemi – and those camping there – have been waking up to missing food! Hanging your bear bag, they say, was not effective. The ranger suggested we hike up a bit from the valley floor and so we obliged.
I'd say we hiked in roughly six miles on Friday night. We finished hiking at 6:30pm, set up camp and settled in. Stephen and Dan had dinner while we chatted. I ate around 3pm while driving. Having a meal so close to hiker midnight doesn't allow me a good night's sleep. By 9pm we were hunkered down and I was out. It was a stunning sleeping night. The weeks temperatures leading up to this hike hovered near 100, humidity was in the 75-85% range and the dew point – the real culprit – never sank below 70%. As forecasters predicted, Friday evening the weather turned clear, dry and it fell to 50 degrees for the overnight – damn that was cold, lol.
Several folks have asked why I was leading the Pemi Loop from the Bondcliff Trail. The answer is simple. The hike in to the trail junction is long (5+ miles), flat, full of historic railroad ties, and quite frankly, boring. Plus, there is something to be said to arrive at the cars – or nearest too – when exiting the trail. The Osseo trail, from the summit of Flume which is the last peak, is beautiful, gentle, and easy on the feet and absent the typical rough stone, tangled roots and excruciating elevations. Rather, this trail drops quickly from the summit, levels off nicely, drops off again by a series of steps, and then meanders down via long and level switch backs to the final trail junction leaving only 1.5 miles (approximately) from the cars – much nicer way to finish.
Saturday morning came – by 5:30am we were up and cooking breakfast. Bear bags intact, no food missing. I like my morning time and I was able to indulge in that precious hour of sipping coffee and letting life and energy breathe into your soul. We started to see hikers heading up to Bondcliff as well – some do start early. By 7:30am we were packed up and on the trail – the journey continues.
I love the Bondcliff trail. It's a nice way to ascend the summit. It is not particularly steep; it's easy on the knees and truly a beautiful walk in the woods. We passed a few campers on the lower end and were passed by one or two hikers on the way up but by 9:30am we were atop Bondcliff. Stunning. The weather was pristine. We had a nice cool breeze and I'd say temps were somewhere between 55 and 65 – hard to say with a constant cool wind. Views were 360 as far as the eye could see and that my friends, laid the foundation for the rest of the day.
We carried on… we tackled Mt. Bond, West Bond and then had lunch. We moved on to the Guyot tent site to replenish water. I tagged Mt. Guyot (Dan and Stephen passed) and soon found ourselves atop South Twin. The trails were busy this fine day – we passed and were passed – by many a hiker – some were looping all in a day. The afternoon highlight for me was recognizing a woman from a winter hike I'd done with Stephen and Dave. She had lost her dog during her hike and the dog spent the night in the wilderness. Happy endings prevail and the next day "Sasha" was found and reunited with her. I was happy to see them hiking together again.
From South Twin we scrambled down to Galehead Hut. Dan stayed back to have soup and replenish snacks while Stephen and I tagged Galehead. Stephen needed that peak for July for his grid – congrats sir! One more down.
By this time our energy levels were mixed. The plan was the Garfield tent site but as we would soon learn, the site was more than full (30+ overnighters). We hoisted our packs, gave ourselves a pep talk and dug in – we only had 2.7 miles left to the base of the summit of Mt. Garfield – but it might well have been ten, lol, we earned those 2.7 miles over ups and downs and ups and downs. We camped less than a quarter mile below the tent site. We were at the base of a col next to a small stream, "ruisseau", as we say in French. Goal achieved – the time was now 6:30pm. We quickly set up camp and hung food bags. By this point I was ready to scrub my body clean. The stream was hardly big enough to dip into but I brought a small cloth – and so I set about getting comfy for the night. Clean pants, t-shirt, socks and fleece, I was cozy.
Shortly after starting dinner hiker Erik asked if this was the Garfield tent site – he had been looping in the same direction as us. We delivered the news, tent site full, but we welcomed him to our enclave. He settled in. Erik is 22, on break from college, up in New England from his home state, Florida, just banging out adventures. Good for him. We had a small camp fire, I had a little wine and Dan had a little whiskey and we enjoyed a brilliant evening. By 9pm I was ready for lights out. Dan and Stephen stayed up longer with Erik – I think by 10pm they had all turned in but I was fast asleep by then.
At 5am the next morning we were rousing awake. I slept like a log. It was, however, pretty clear our energy levels were mixed. Stephen did not sleep well and Dan was slowly coming to life. We set about our morning routine. The group wanted an earlier start than the posted 8:30am – I was happy to oblige – but only after I had my precious hour of morning coffee – mornings are special. By 7:40am we were packed and on the trail. Hiker Erik departed a few minutes before us.
Our day began by summiting Mt. Garfield. That was a tough way to start the hike and a tough way to really wake up. We pit stopped at the tent site spring to replenish water and eventually reached the summit. Stunning. Once again, mild temps, slightly warmer than Saturday, a cool breeze and 360 degree views as far as the eye could say – yet again – the foundation of a brilliant day of hiking. We started down; pit stopped at Garfield Pond and then started our way to the summit of Mt. Lafayette. About half way there Dan indicated he had a goal of 4pm as a finish time. I had no time table and Stephen was short some energy so it was decided to bid adieu to Dan as we knew he had a long drive back to Pennsylvania split between Sunday evening and early Monday morning. We carried on. The approach to Mt. Lafayette from this side was new for me and just stunning. All the while – you could see the ridge we crossed, Mt. Washington in the distance, Greenleaf Hut below us, Cannon Mountain and its sheer cliffs, the Bonds, the Twins, Mt. Garfield now behind us – truly breathtaking. At the summit of Mt. Lafayette we did reconnect with Dan for lunch but that was the last time our paths crossed. I kept tabs on his progress until Little Haystack and then he fell out of view. Stephen and I enjoyed the day and a long leisurely hike along the ridge, over Mt. Lincoln, Little Haystack, then over to Mt. Liberty.
Between Little Haystack and Mt. Liberty I got a dog bite – thankfully it was not serious – just a scruffy fella that thought my thigh might taste good. I wasn't amused. This part of the trail is narrow and has a few blind corners. I clearly startled the dog rounding the bend but it also didn't hesitate to lunge. It was off leash as many dogs are. It happened so fast I didn't have a moment to react. Thankfully it was very minor in the end. I traded contact info with the owner while I dressed up the scratch. I'm already on the mend. I can't say I'm a fan of canine bruise marks on my thigh though – looks much worse than it is!!
From there we carried on to the final summits of the day, Mt. Liberty, then Mt. Flume. Score, Stephen got two more July summits for his grid. Flume was special – we had a perfect view of the circular ridges we had just traversed over two days and one early evening of hiking. Triumphant!
Every journey must come to an end. I hated starting the descent but there wasn't going to be a 3rd night of camping, nor another ridge to cross or a mountain to summit. We had to descend the Osseo trail 4.1 miles to intersect with the Lincoln Woods Trail and carry on 1.5 miles to the cars. Stephen and I finished at 7pm on the dot while Dan emerged sometime around 5:30pm. It was a brilliant adventure with the best mother nature could give – we certainly got rewarded for our efforts.
A massive thank you for Stephen and Dan joining this hike. These adventures are best experienced by two or more though I know this fell into the "very strenuous" category and may not have been for everyone. Over the course of 2.25 days we hiked 34 miles over the Bond, Twin and Franconia Ridges, 11 peaks, two 12 hour hiking days, two sweet nights of camping, one late Sunday evening skinny dip all the while racking up 9,500-10,000 feet of elevation gain – Triumphant!!
There are 80 photos in Album (Note: Move mouse pointer over larger pic and click on NEXT for better viewing)
Members That Participated
Robert.L
Outdoor Fitness Level: Strenuous
Spencer, MA
United States
Online Status: OFFLINE
Last Login: 03/17/2019 11:03 AM
Member Since: 09/07/2014
shep5
Outdoor Fitness Level: Very Strenuous
Jaffrey, NH
United States
Online Status: OFFLINE
Last Login: 03/15/2019 09:41 AM
Member Since: 10/30/2001
beyoungyu
Outdoor Fitness Level: Moderate to Strenuous
Harrisburg, PA
United States
Online Status: OFFLINE
Last Login: 03/16/2019 08:41 PM
Member Since: 01/05/2002
Stephinmtl
Jul 12, 2018 at 10:32 AM
Pictures are fantastic! thats a tough one. Congrats!!!!
shep5
Jul 9, 2018 at 7:53 PM
What an awesome weekend hiking the Pemi Loop! I've wanted to do this classic, challenging hike for awhile and I was elated to venture out with Robert and Dan on this adventure. There were a couple of trail sections, which were new to me and in particular, the Lafayette ascent from Garfield was like climbing an entirely new mountain...truly awesome! The weather and views through the entire weekend were just phenomenal. Thanks, Rob, for the exceptional planning, leadership and patience!
rocketmandan
Jul 9, 2018 at 3:30 PM
Looks like an amazing trip guys! Congratulations on completing it!
<