Midweek Adventure
Social Event DATE: 07/11/2018 - 07/11/2018
Trip/Event Location: Worcester, MA
US
Trip Leader(s): Robert.L , shep5
Max # People: 15
Trip Guiding / Event Fee: No, I will not be asking participants for money
Difficulty Level: Easy
What is better than a rugged ascent up one of New Hampshire's famed 5,000 foot mountains? What is better than a hot summer's day hiking across a ridge line with views as far as th... Driving directions to the location and spot to meet at:
Birchtree Bread Company
http://www.birchtreebreadcompany.com/
138 Green Street
Worcester, MA 01604
This is pretty easy to find as it is immediately off of Route 290 North or Southbound. Google maps and/or Mapquest will get you there. Parking is on street and may possible involve pay meters - bring coins!!
Trip Report/Photos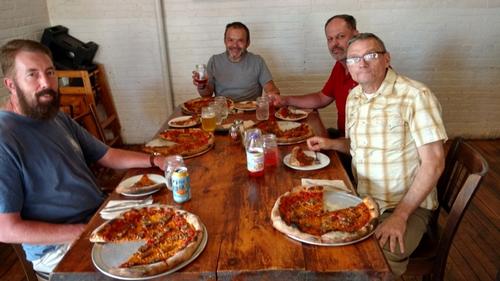 George, James, David, Stephen and me all met up at the designated location for Pizza and Beer. We all did introductions and settled in for a hearty meal of freshly made pizza and locally brewed beer. Over the course of two hours we talked about camping, running, hiking (easy to very strenous adventures) and what the group might find of interest.
We learned that this is a fun way for new folks to get to know members and it will make easier for them to join future activities. We also learned that interests vary and while Stephen and I enjoy hiking, perhaps I should say "strenuous" hiking, some might enjoy a lighter endeavor. Running and camping were also of interest. Camping varied from back country backpack to more luxurious car camping with more contemporary accessories. All around we had a great evening. We arrived at 6pm and wrapped up the evening by 8:15pm. The live music was very good - a bluesy/jazz mix with piano. While we enjoyed the music, it was a bit loud and so it made conversation a bit harder. Regardless - we'd like to do this again so stay tuned... we'll find a new place. Thanks to everyone for a sweet mid-week outing - cheers!!
- The Trip Has No Photos -
Members That Participated
Robert.L
Outdoor Fitness Level: Strenuous
Spencer, MA
United States
Online Status: OFFLINE
Last Login: 03/17/2019 11:03 AM
Member Since: 09/07/2014
shep5
Outdoor Fitness Level: Very Strenuous
Jaffrey, NH
United States
Online Status: OFFLINE
Last Login: 03/15/2019 09:41 AM
Member Since: 10/30/2001
dpl59497
Outdoor Fitness Level: Moderate
Worcester, MA
United States
Online Status: OFFLINE
Last Login: 07/08/2018 10:20 AM
Member Since: 09/21/2014
Driving My Own Car


(Willing to give guys a ride)

Comment: I live in Worcester-looking to become active in the group so looking forward to this event!
Up4itBos
Outdoor Fitness Level: Moderate
Amherst (Beaver Lake), MA
United States
Online Status: OFFLINE
Last Login: 11/05/2018 02:25 PM
Member Since: 08/01/2013
jstrbck
Outdoor Fitness Level: Moderate to Strenuous
Worcester, MA
United States
Online Status: OFFLINE
Last Login: 01/06/2019 04:17 PM
Member Since: 05/10/2018
Massiveb
Outdoor Fitness Level: Moderate
Boston , MA
United States
Online Status: OFFLINE
Last Login: 09/18/2018 08:20 PM
Member Since: 06/13/2016
<