Shenandoah Spring Hike
Hiking/Walk DATE: 03/31/2018 - 03/31/2018
Trip/Event Location: Luray, VA
US
Trip Leader(s): Robert.L
Max # People: 12
Trip Guiding / Event Fee: No, I will not be asking participants for money
Difficulty Level: Moderate to Strenuous
Driving directions to the location and spot to meet at:
Trip Report/Photos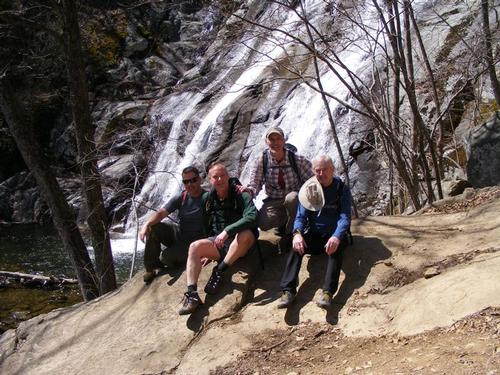 Shenandoah – I got a taste – and I want more!! A huge thanks to Nate, Ed and Dan for making this day fun, enriching and pure joy!!
Sometimes…. trips…. the planning… the timing… you think you have it down. On this fine blue bird Saturday morning we were slightly off. We managed to get word to Ed that we'd be arriving a little bit later than 9:30am. A quick jaunt over to the Metro to pick up Dan and by 8:15am we were on our way west to Shenandoah.
We arrived under partly cloudy skies at about 10:15am – just a touch later than anticipated. We greeted Ed, did introductions and by 10:30 were headed down the Cedar Run Trail. Yep – down. This hike was going to be different…. you see in New Hampshire we hike up mountains, in Virginia, we hike down, lol. The trail head started at the highest point of the day, around 3,300' – that was pretty cool – but it also meant we'd be hiking up to hike out and that was something new. Out lowest elevation was somewhere around 1,150'.
Interestingly I just finished reading Lost on the Appalachian Trail by Kyle Rohrig. I got his interpretation of Shenandoah and now I was getting to experience what he wrote about. I totally got it – super sweet. If you like hiking stories, his is a must read. He's my new "Man Crush" but I digress… let's get back to our hike.
Winter on the east coast has held its grip through most of March and while we anticipated a lot of spring activity we really were on the very edge of the big explosion. Temps were in the 60's, the skies cleared to a picture perfect blue sky and you could make out the faint color of buds on the trees – those little red and lime green dots just needed a few days to pop. That said, we got a slew of wild flowers – the earliest signs of spring and that was a treat.
The trail descended at a moderate pace. It was never particularly steep nor incredibly rocky. I enjoyed the terrain quite a bit – a nice change from up north. Along the way we passed many sweet swimming holes but the temperatures just didn't hold up for me so I never took a dip. Lots of simple water crossings, many beautiful waterfalls – all quite stunning. Over the course of our descent we encountered other hikers but it seemed the trail was reasonably quiet. We'd seen several deer as we entered the park and throughout our journey down to the lowest elevation we saw not a single bear, but gosh I was hoping otherwise. As we neared the bottom of the ravine we began to see the wild flowers – many of them and we were quite happy because that is a sure sign of spring. We saw Blood Root, Spring Beauty and the greens of Trout Lilly – the Trout Lilly were not yet in bloom here.
We took many breaks, chatted along the way and ultimately decided to have lunch after having taken the link trail to the junction of Cedar Run and White Oak Canyon. We had a nice resting spot – enjoyed the sunshine – bantered a bit – and it was here we realized we were being "trailed" by a special guest. You have to look closely. The special guest is not in every picture but gosh darn, he was cute as could be. It being Easter weekend, I had mini Cadbury eggs to share.
The White Oak Canyon Trail was 10 times busier than the trail we just left – it is easy to understand why. It was early afternoon when we departed from lunch and we started to ascend and that's where the really beautiful waterfalls started to appear. As an avid swimmer – so too did the swimming holes. There was a group of young women who braved the chilly waters – it was obvious they hiked in to take a dip.
After we passed the first few set of falls many folks turned back and the trail grew more quiet. We leaped frogged a handful of folks but by all accounts were enjoying a peaceful ascent. I'll say the trail was busier than I expected for a holiday weekend – Passover and Easter in the same space of time for sure left me thinking we'd have the forest to ourselves! We soon arrived at the largest of all the waterfalls where we took our group shot. Once again we found ourselves staring at our special guest – I mean how much better can it get!! Stunning creature I tell you, pure beauty.
Ah yes… after all the staring we had to carry on. We continued the ascent along a series of switchbacks – Shenandoah believes in switchbacks – I loved them. It made the ascent more moderate and less rugged. It was really nice. We soon arrived at the junction of the Fire Road. Here we took a brief break and made a decision. We could lengthen the hike by continuing along the White Oak Canyon Trail and loop back to the parking along a section of the AT or stick with our original plan and wiggle back across the top of the ravine along the fire road which doubles as a horse trail. We opted for the latter as we wanted to pit stop along Skyline Drive at a handful of viewpoints to take in the views and snap a few photos. We reached the cars a little after 4pm, well rested. Despite the reputation of the park for viewing wildlife, we did not see any bears. I'm guessing maybe, just maybe, it was still a little bit too early.
I know I'm on the trails week over week but overall I'd characterize this hike as moderate, moderate to strenuous for those who hike less often. We looped it counter clockwise and if you want a moderate ascent that is what I'd recommend. With temps in the 60's we could enjoy a nice hike, not overheat and had no need to layer our clothing – a perfect Spring hike.
Doubling back along Skyline Drive we stopped at a handful of viewing spots and made our way out of the park. We carried on to Sperryville where we stopped at the Thornton River Grille to have a beer. The restaurant was fully booked and the appetizer menu didn't seem very filling so we opted for craft beer on tap and enjoyed a final hour of joint companionship before we parted. We had another day of hiking ahead of us – this time an "Urban Hike" – and so the day drew to a close.
I can't thank Nate, Ed, and Dan enough for this day – thank you gentlemen for a brilliant hike!! I will be back to Shenandoah – the park captured my spirit. I look forward to seeing you on the trails!!
Ah yes… a special note about our trail buddy. The first person to e-mail me with who it is earns a Lindt Milk Chocolate Bar. The catch is you have to join one of my hikes to receive the it!! Cheers!!
Trip Report: Rob L.
Trip Photos: Rob L. Contributions by Ed and Nate
There are 82 photos in Album (Note: Move mouse pointer over larger pic and click on NEXT for better viewing)
Members That Participated
Robert.L
Outdoor Fitness Level: Strenuous
Spencer, MA
United States
Online Status: OFFLINE
Last Login: 03/25/2019 12:51 PM
Member Since: 09/07/2014
Eupatorium
Outdoor Fitness Level: Strenuous
Alexandria, VA
United States
Online Status: OFFLINE
Last Login: 03/10/2019 10:11 PM
Member Since: 01/01/2011
EddiePPT
Outdoor Fitness Level: Moderate to Strenuous
Cincinnati, OH
United States
Online Status: OFFLINE
Last Login: 03/25/2019 01:13 PM
Member Since: 03/05/2018
Driving My Own Car


(Willing to give guys a ride)

Comment: I will be glad to drive my car. I have a pass to the park. Ed Nolan
beyoungyu
Outdoor Fitness Level: Moderate to Strenuous
Harrisburg, PA
United States
Online Status: OFFLINE
Last Login: 03/19/2019 09:57 AM
Member Since: 01/05/2002
<