First Sunday Hike
Hiking/Walk DATE: 09/03/2017 - 09/03/2017
Trip/Event Location: Richmond, VA
US
Trip Leader(s): TrailGuyEric
Max # People: 10
Trip Guiding / Event Fee: No, I will not be asking participants for money
Difficulty Level: Moderate
We'll have breakfast at McLean's Restaurant at 830a.m. before proceeding to the trailhead.
Driving directions to the location and spot to meet at:
We'll meet at 900 AM at the parking area at the Northbank Trail Head (James River Park System) called the Pump House Parking Lot, off Pump House Drive, Richmond, VA and walk over to the other side.
https://www.google.com/maps/place/Pump+House+Parking+Lot/@37.534442,-77.4879376,15z/data=!4m8!1m2!2m1!1sPump+House+Parking+Lot,+Richmond,+VA!3m4!1s0x89b113c5205d8115:0x3593da88afd58bad!8m2!3d37.5352109!4d-77.4829566
Trip Report/Photos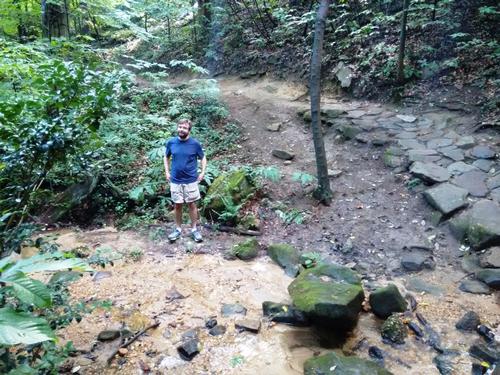 We began the day with a breakfast at McLean's, a local restaurant that has been around for decades. After breakfast we headed to the trailhead.
It was another sunny Sunday morning, after several days of rainy, and damp conditions. We parked as close to the trail head as possible, but due to a race that morning there were a few more cars than usual. We walked across the Boulevard bridge (https://en.wikipedia.org/wiki/Boulevard_Bridge) and about halfway down, I spotted a 2-1/2' long Longnose gar lazily swimming around the rocks, 100' feet below. https://en.wikipedia.org/wiki/Longnose_gar
We continued our walk across the bridge and hooked up to the Buttermilk trail and passed a dozen runners racing along. We walked about 2.25 miles, crossed the railroad tracks on the elevated walkway, and took the concrete stairs (bunker style) down to the gravel trail path along the river (as opposed to the buttermilk trail which mostly is above the river in the hills and ravines of the surrounding area). We continued our walk back and in short order were back at the bridge, although well below it. We crossed the train tracks and up the hill to the bridge sidewalk and returned to our cars. The day was sunny, cool to start, and with a hint of fall. A really good morning hike.
There are 1 photos in Album (Note: Move mouse pointer over larger pic and click on NEXT for better viewing)
Members That Participated
sustaining member
TrailGuyEric
Outdoor Fitness Level: Moderate to Strenuous
Richmond, VA
United States
Online Status: OFFLINE
Last Login: 07/13/2018 07:03 PM
Member Since: 01/08/2003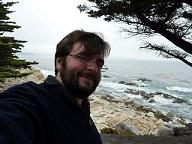 guest member
Logan
Outdoor Fitness Level: Moderate
Richmond, VA
United States
Online Status: OFFLINE
Last Login: 07/13/2018 10:24 PM
Member Since: 03/25/2016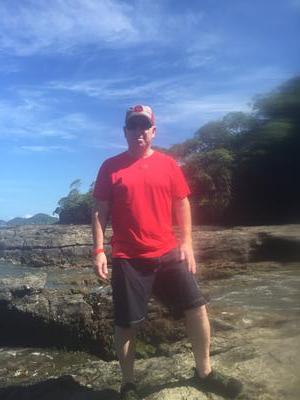 sustaining member
abnguy30
Outdoor Fitness Level: Moderate
Fayetteville, NC
United States
Online Status: OFFLINE
Last Login: 06/18/2018 09:48 AM
Member Since: 09/26/2016
<