Second Leg of the South Bartram Trail
Hiking/Walk DATE: 07/28/2017 - 07/28/2017
Trip/Event Location: Clayton, GA
US
Trip Leader(s): dnaturist
Max # People: 8
Trip Guiding / Event Fee: No, I will not be asking participants for money
Difficulty Level: Easy to Moderate
This hike will follow the Bartram Trail from Warwomen Dell to Sandy Ford Road. It will be a walk from the northwest to the southeast for 9.5 miles. The hike will require an auto shuttle, as this wi... Driving directions to the location and spot to meet at:
We shall be meeting at the Burger King located in Clayton.
The location of Burger King is 73 Rickman Road in Clayton, Georgia 30525.
We will be leaving the Burger King at 8:00 Am sharp. So, please arrive earlier of meeting and breakfast.
Trip Report/Photos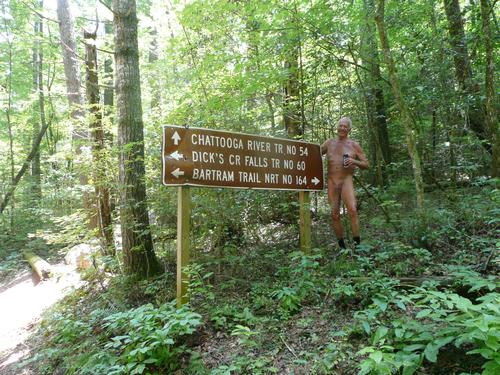 This hike was a north to south hike and was easy to moderate as it had some elevation gains and losses. The day was warm and muggy as the humidity was very high, and we were very wet.. The last two miles of the hike were walked in a continuous rainstorm. So, we got wetter, but much cooler.
The hike had knats throughout, but not as bad as the day before.
There are 2 photos in Album (Note: Move mouse pointer over larger pic and click on NEXT for better viewing)
Members That Participated
guest member
dnaturist
Outdoor Fitness Level: Moderate to Strenuous
Jacksonville, FL
United States
Online Status: OFFLINE
Last Login: 07/01/2018 01:08 PM
Member Since: 11/12/2013
sustaining member
edfarthing
Outdoor Fitness Level: Moderate
Hickory, NC
United States
Online Status: OFFLINE
Last Login: 07/06/2018 09:39 AM
Member Since: 10/20/2015
<