Bartram Trail Hike
Hiking/Walk DATE: 07/27/2017 - 07/27/2017
Trip/Event Location: Clayton, GA
US
Trip Leader(s): dnaturist
Max # People: 8
Trip Guiding / Event Fee: No, I will not be asking participants for money
Difficulty Level: Easy to Moderate
This hike will be listed as easy, with only one relatively short rise that would be rated as moderate. A relatively flat trail. The hike will be 9.5 miles in length and will require a car shuttle, ... Driving directions to the location and spot to meet at:
The meeting location for this hike will be at the Burger King in Clayton. We plan to leave the Burger King at precisely 8:00 AM. So, plan on being there earlier for meeting and breakfast.
The Burger King is located at 73 Rickman Rd. in Clayton, Georgia 30525.
Trip Report/Photos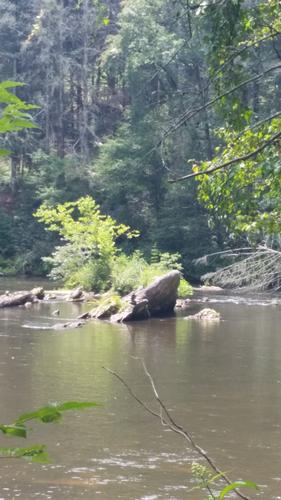 This was an easy hike, south to north. This hike ran concurrent with the Chattooga River Trail for about 7 miles. We did see some wild life on the trail, one deer crossed our path, one box turtle on the path, and one angry, biting horse fly. This hike had the most knats so far this season.
The trail did drop down along creeks and the Chattooga River on occasion, but it was mostly a walk through the hills and valleys.
The trail was well maintained except between miles 2 and 3. This part of the trail was mostly overgrown. The bridges and boardwalks were all well maintained.
There are 1 photos in Album (Note: Move mouse pointer over larger pic and click on NEXT for better viewing)
Members That Participated
guest member
dnaturist
Outdoor Fitness Level: Moderate to Strenuous
Jacksonville, FL
United States
Online Status: OFFLINE
Last Login: 07/01/2018 01:08 PM
Member Since: 11/12/2013
sustaining member
edfarthing
Outdoor Fitness Level: Moderate
Hickory, NC
United States
Online Status: OFFLINE
Last Login: 07/06/2018 09:39 AM
Member Since: 10/20/2015
edfarthing
Jul 27, 2017 at 8:46 PM
Sweet hike - tired so I'll post more and a pic or two in a day or two after tomorrow's hike
<