Give you a thrill on this Blueberry Hill
Mountain Biking DATE: 06/27/2017 - 06/27/2017
Trip/Event Location: Chesterfield, VA
US
Trip Leader(s): TrailGuyEric
Max # People: 10
Trip Guiding / Event Fee: No, I will not be asking participants for money
Difficulty Level: Moderate
Pack a snack or two and plenty of drinking water. The total time including snack break should be around 1-1.5 hours
This is somewha... Driving directions to the location and spot to meet at:
We'll meet at 5:45 PM at the parking area Near Ledo Pizza, 7052 Commons Plaza, Chesterfield, VA, 23832, and then drive to Pocahontas State Park and the Swift Creek Lake Boat Launch.
I'll have a white 2000 Honda Accord 4-DR with my bike on back.
Pack a snack or two and plenty of drinking water. The total time including snack break should be around 1-1.5 hours
Trip Report/Photos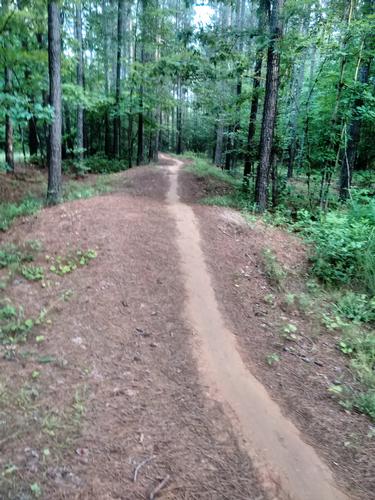 Trip Report
Pocahontas State Park Mountain Bike Ride
Blueberry Hill and Trail (Intermediate Level)
Tuesday 6/27/2017
We met at Ledo's Pizza and went to the park in my car.
The trip began a little later than expected, but we started at the boat ramp parking lot. We biked over the bridge and veered right to take the gravel path up about 75' until we hit the start of the Blueberry Hill Trail, which is a circuitous and rolling trail with climbs, followed by cooling downhill sections to turn back to a slow gradual grind uphill, followed by another cooling, rolling downhill section, banked curves, dry stream beds, and sandy plateaus. After 2.25 miles we were at the top of the hill, so we took a rest.
At the top, we began the very rolling trail called the Bell Lap trail with countless trail humps that gave a rollercoaster effect on this gradual downhill trail which is a lot of fun especially as fast as you dare to go. But once at the bottom, you have to "pay for your fun" and work to get back to the top of the hill, heading up a pretty good ascent and then a good section to rest and pick up speed for the next advance up, always alternating with a flat or down section until the end which is somewhat of a grind the last ¼ mile until you reach the top which is the end to the Bell Lap trail and time for a good rest.
After our rest the fun part going back awaited with twists and turns, rolling humps, and sandy flats. This downhill section was made for speed!
The ride took just 60 minutes and it was a perfect end to a perfect day being about 75F and very low humidity as we rode past rising fireflies readying for their nighttime display.
There are 6 photos in Album (Note: Move mouse pointer over larger pic and click on NEXT for better viewing)
Members That Participated
sustaining member
TrailGuyEric
Outdoor Fitness Level: Moderate to Strenuous
Richmond, VA
United States
Online Status: OFFLINE
Last Login: 05/18/2018 06:40 PM
Member Since: 01/08/2003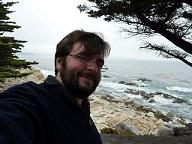 guest member
Logan
Outdoor Fitness Level: Moderate
Richmond, VA
United States
Online Status: OFFLINE
Last Login: 05/15/2018 11:04 AM
Member Since: 03/25/2016
<