Chattooga Wild and Scenic River Ramble
Hiking/Walk DATE: 06/28/2017 - 06/28/2017
Trip/Event Location: Clayton, GA
US
Trip Leader(s): dnaturist
Max # People: 8
Trip Guiding / Event Fee: No, I will not be asking participants for money
Difficulty Level: Moderate to Strenuous
This is a about a 14 mile hike and will take about 8 hours. It will be a south to north hike on the Georgia side of the Chattooga River.
The hike begins on the Chat... Driving directions to the location and spot to meet at:
We will be meeting at the Burger King in Clayton, Georgia. The address for the Burger King is: 73 Rickman Street Clayton, Georgia 30525.
We will leaving the Burger King at 8:00 AM sharp. So, plan on being at the Burger King earlier to meet and eat.
Trip Report/Photos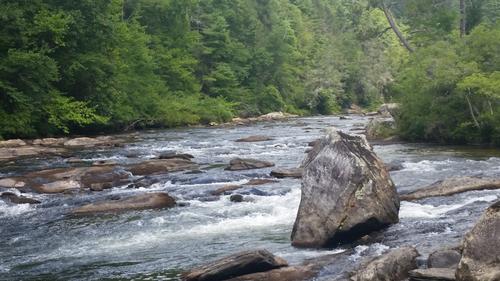 Nice hike along the Chattooga River Trail. Trail only dropped to the river three times though. The mountain laural were blooming on this hike.
Three of us did this slightly modified hike. We rerouted a little. The hike went north to south, from Sandy Ford Road to the bridge at Georiga Hwy 76.
There are 3 photos in Album (Note: Move mouse pointer over larger pic and click on NEXT for better viewing)


Members That Participated
guest member
dnaturist
Outdoor Fitness Level: Moderate to Strenuous
Jacksonville, FL
United States
Online Status: OFFLINE
Last Login: 05/20/2018 12:46 PM
Member Since: 11/12/2013
sustaining member
edfarthing
Outdoor Fitness Level: Moderate to Strenuous
Hickory, NC
United States
Online Status: OFFLINE
Last Login: 05/19/2018 03:56 PM
Member Since: 10/20/2015
edfarthing
Jun 30, 2017 at 9:07 AM
This was a fun hike along the Chattooga River where Deliverance was filmed - a few times the trail comes down to the river but it is mostly up on the ridge - too bad we did not have banjos :)
<