Appalachian Trail Hike - 7.9 miles
Hiking/Walk DATE: 04/13/2017 - 04/13/2017
Trip/Event Location: Franklin, NC
US
Trip Leader(s): dnaturist
Max # People: 8
Trip Guiding / Event Fee: No, I will not be asking participants for money
Difficulty Level: Moderate to Strenuous
This will a moderate to strenuous 7.9 mile hike on the Appalachian Trail, in the Nantahala National Forest. The hike will be a one-way hike, from Tellico Gap to Wesser, and will require a shuttle.<... Driving directions to the location and spot to meet at:
We will be meeting at 8:00 AM at the Burger King in Franklin, NC. The address is 130 Westgate Plaza Road. It is located on the west side of Franklin, just off of Highway US 64.
We will be LEAVING the Burger King at 8:30 AM sharp.
Trip Report/Photos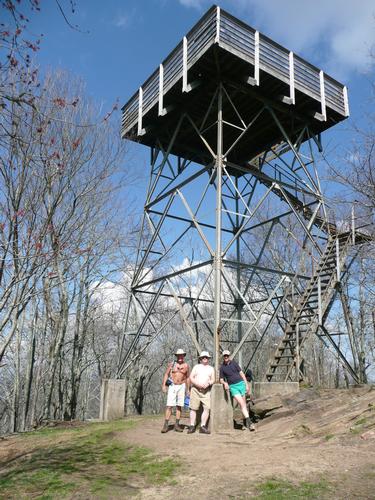 David, Ric, Richard and I enjoyed a hike on the Appalachian Trail through an area almost toally involved in the Tellico Fire - at the very end of the hike as we approached the Nantahala Outdoor Center did we notice we were no longer in a burn area, which I guess is why NOC was the emergency shelter for folks who had to evacuate - and if I remember correctly even though the fire covered as huge area, not a single structure was lost - we could see that driving up to Tellico Gap in that fire burned throughout the area but not a single house was burned. The Tellico Fire Tower excaped unharmed and I have attached several pics from up there as well as a section of trail on one of the ridges
There are 3 photos in Album (Note: Move mouse pointer over larger pic and click on NEXT for better viewing)



Members That Participated
guest member
dnaturist
Outdoor Fitness Level: Moderate to Strenuous
Jacksonville, FL
United States
Online Status: OFFLINE
Last Login: 05/24/2018 08:27 PM
Member Since: 11/12/2013
sustaining member
edfarthing
Outdoor Fitness Level: Moderate to Strenuous
Hickory, NC
United States
Online Status: OFFLINE
Last Login: 05/21/2018 01:36 PM
Member Since: 10/20/2015
<