Appalachian Trail Hike - 9.3 miles
Hiking/Walk DATE: 04/12/2017 - 04/12/2017
Trip/Event Location: Franklin, NC
US
Trip Leader(s): dnaturist
Max # People: 8
Trip Guiding / Event Fee: No, I will not be asking participants for money
Difficulty Level: Moderate
This hike will be approximatly 6 hours in length at a moderate pace. The hike will begin at its highest elevation (5342 ft.) and begin with a decent of 1400 ft. There will be two ascents on the tra... Driving directions to the location and spot to meet at:
Meeting place in the morning will be at the Burger King in Franklin. The address is 130 Westgate Plaza Road, Franklin, NC, 28734. It is located just off of Highway US 64, on the west side of Frankllin.
Trip Report/Photos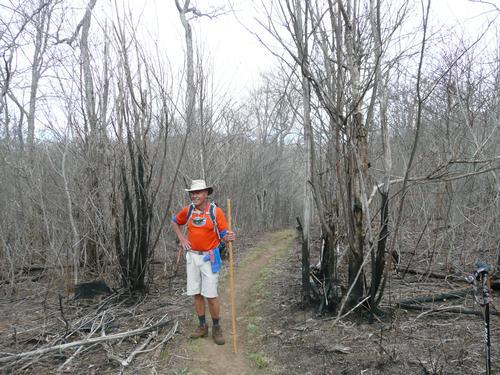 David and I had a great hike on the Appalachian Trail. We were in the area where the Tellico fire was last fall and the hike started at the Wayah Bald Observation Tower which was constructed by the CCC during the Depression - the roof was burned off but the tower itself is fine - this was mainly a ground fire that only occasionally reached the canopy. The AT is primarily a ridge trail and it was interesting to see areas where the fire burned to the ridge, but did not cross over. Mother Nature is busy restoring the burned area and i found it interesting to see the difference in areas that were burned and those that were not - the burned areas appeared open and had great views - the areas that did not burn appeared junky and cluttered. I will look forward to going back at some point to see the area as it recovers.
There are 3 photos in Album (Note: Move mouse pointer over larger pic and click on NEXT for better viewing)


Members That Participated
guest member
dnaturist
Outdoor Fitness Level: Moderate to Strenuous
Jacksonville, FL
United States
Online Status: OFFLINE
Last Login: 05/24/2018 08:27 PM
Member Since: 11/12/2013
sustaining member
edfarthing
Outdoor Fitness Level: Moderate to Strenuous
Hickory, NC
United States
Online Status: OFFLINE
Last Login: 05/21/2018 01:36 PM
Member Since: 10/20/2015
<