Mt. Garfield Hike
Hiking/Walk DATE: 02/04/2017 - 02/04/2017
Trip/Event Location: Franconia, NH
US
Trip Leader(s): Robert.L
Max # People: 8
Trip Guiding / Event Fee: No, I will not be asking participants for money
Difficulty Level: Moderate to Strenuous
February – the heart of winter - a landscape of solid snow, temps in the 20's and bright blue skies – brilliant times to be outdoors. Join Jim and I for a hike up to Mt. Gar... Driving directions to the location and spot to meet at:
Directions: From Route 93 North or South take exit 35 for route 3 towards Twin Mountain. Gale River Loop Road is .3 miles west of Trudeau Road (Five Corners) and 4.1 miles east of its junction with 141. Since we'll be hiking to the trail head, parking should be quite near the turn. I'll be driving a gray Honda CRV with Massachusetts license plates.
Trip Report/Photos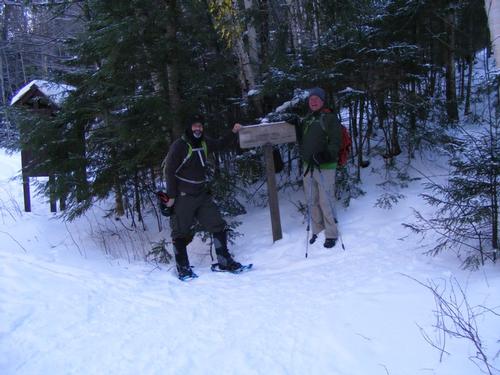 A stunning and brilliant day it was on Saturday! Jim, Jeff and I all met up at the parking lot adjacent to the gate for 8:15am to begin the trek up Mt. Garfield. The morning was brisk, the walk to the trail head equally as purposeful and the journey upward undeniably rewarding. It was a bright blue sky with periodic cloud cover – and it seemed we'd have quite the view despite the forecast of summits being in the clouds. Jeff got there a little earlier (7:00am) and Jim and I arrived at 8:15 as promised. After sporting our equipment we headed out along the road around 8:30am.
Jim and I started out in Snow shoes but the snow cover at this elevation – and beneath a canopy of very tall pine trees – was pretty thin, so thin that tree roots were exposed in many spots. Jim caved and removed his snow shoes and I caved a short time later. At this point we took a water break and we all decided to sport our micro spikes for the rest of the ascent. The temps were indeed chilly but so long as we kept moving, we stayed warm – and a little fuzzy!!
Sadly my camera failed me – AGAIN! Perhaps it's time for a new one. When I got home it worked fine so I'm not sure what the problem was but it stopped taking pictures better than two thirds the way up. It bummed me out because the snow pack was getting deep, the trees and landscaped were frozen solid with a beautiful heavy layer of white fluffy snow – the stuff of great imagination we see in cartoons and tv Christmas specials. The air was still so everything was intact. We could hear a lot of trees cracking in the forest. On our way up we passed a tree that had a deep split and Jim and I both agreed – it probably wasn't going to be standing by spring. I took as many photos as the camera allowed and shortly thereafter we reached the trail junction for the 2/10 of a mile to the summit. Jim and I arrived first with Jeff shortly thereafter. On arrival a large group with the AMC had just finished their time on the Summit and was taking a short break. Once they departed, we had a little more room and we suited up from our lighter climbing layers to full winter protection, face mask, heavy hat, puff coats and hand warmers. Off we went. The climb was short but steep and for the first time I might have preferred crampons to micro spikes but we made it up all the same. It has been a strangely icy winter and Garfield was no exception. We had modest views at the summit, most obscured by light clouds but we could see the tree tops below us. There was no big blue sky that we love, but the frozen landscape, high winds, light snow and dusty clouds made it all worthwhile. I think we all tagged the summit by 12:30pm. This was my first time on Garfield, as it was for Jim. Jeff is tackling the winter 48 and for him this was round 2, undoubtedly a bit chillier than the first time.
We didn't linger on the summit and headed back down. Jim and Jeff but slid… silly Rob… more or less skied down. He likes his rules and risking a tear in his new winter shell pants just isn't an option! Once at the trail junction Jim and Rob settled in for a quick lunch. Jeff did not want to stand too long or get cold so he started his descent right away. After a quick bite – around 1pm – Jim and I sported our snow shoes for the walk down. This hike was great – it was a mostly moderate ascent with a well packed trail and it was all downhill on the return, comfortably practicing our snow shoe skills – neither of us tripped lol.
On the way up and down we only bumped into a few folks and the large group from the AMC. The summit seemed rather busy between the Noon and 1pm hour but after that I think most everyone was making their way down. The parking lot was over flowing in the morning when we arrived, there were only 5 cars left when Jim and I emerged. We were pretty confident we'd catch up to Jeff but he too must have enjoyed the ease of the descent and he made his way out in good time. Jim and I emerged at 3pm. We were back in Spencer by 6:30pm which was pretty astounding. We hiked pretty fast this day – perhaps a little too fast – but it was cold and to stay warm we had to keep moving. I've been practicing with layers, ascending with lighter clothing and keeping the heart, head and lungs in motion. I think I've found a good formula that works – I didn't really sweat too much and was mostly dry all the way up. I know Jim and Jeff worked a little harder to keep the pace but we all hit the summit enthused and quite happy – goal achieved! On this day I was happy to be done a little sooner than later. I love a nice night hike but this night would have been a cold one.
Thank you Jeff for joining us and it was a delight catching up with you. We've not hiked since Mt. Israel in the fall – good to see you on the trail. Hopefully we'll see you on an upcoming adventure and good luck with your winter 48. Cheers – a brilliant day all around!!
There are 22 photos in Album (Note: Move mouse pointer over larger pic and click on NEXT for better viewing)
Members That Participated
sustaining member
Robert.L
Outdoor Fitness Level: Strenuous
Spencer, MA
United States
Online Status: OFFLINE
Last Login: 05/18/2018 06:29 PM
Member Since: 09/07/2014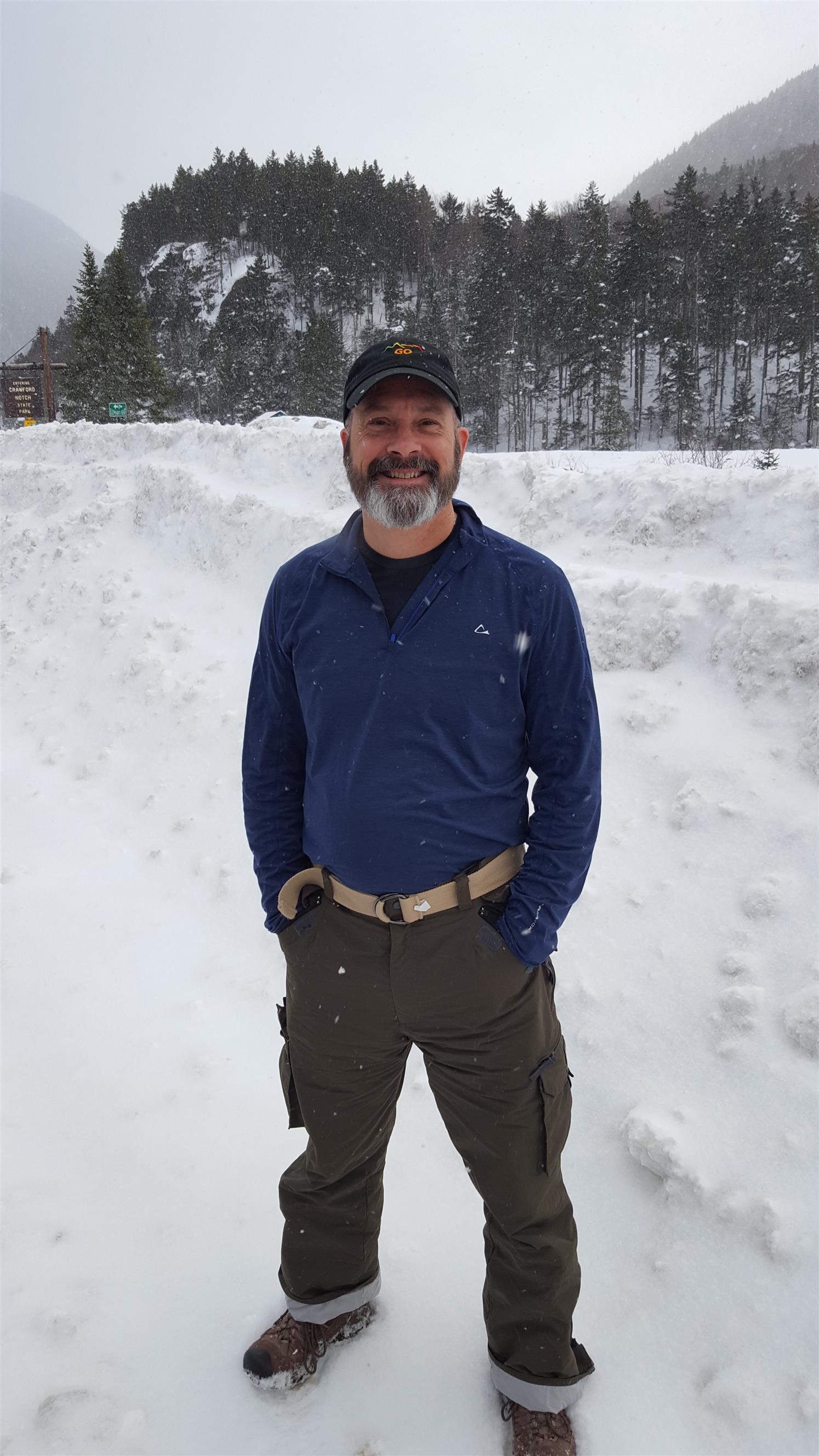 guest member
jim.mc
Outdoor Fitness Level: Strenuous
Burlington , VT
United States
Online Status: OFFLINE
Last Login: 01/08/2018 09:08 AM
Member Since: 11/12/2015
<