My first attempt on Lost River Peak
10/06/2018
Trip Report/Photos from Mountainrabbit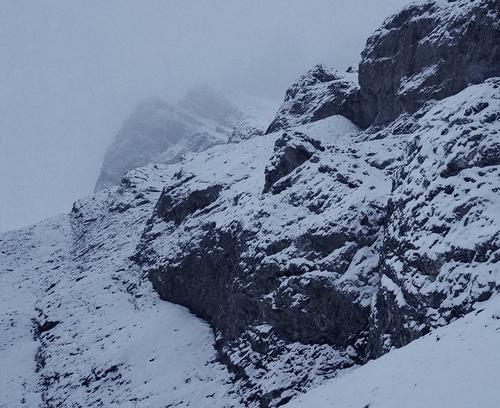 Winter has descended onto the high peaks. I've been watching the weather reports all week, wondering if I could bag Lost River Peak, the last Idaho 12,000 footer I have yet to climb. On Friday, I made the old familiar drive up to Mackay Reservoir. The big summits of the Lost River Range wore fresh white caps.
The forecast worried me a bit. The dusty back-roads in the area become hopeless mires when wet, and rain was expected to move into the area by Saturday afternoon. I can deal with heavy snow by turning back whenever the mountain becomes dangerous; if the roads are mudded over, then I'm just stuck.
I camped for the night at road's end in the shadow of Lost River Peak. Around midnight, sleet began to pelt my tent. Sometime later, I heard a mouse scurry into the vestibule, getting a bit of relief from the wintry weather during its nightly rounds.  I definitively woke up at 3:30 AM, ready to get a jump on the weather situation. There was a brisk south wind and a steady snowfall. I donned my winter gear, tossed my tent in the truck, and headed uphill, my battered ice axe in hand for the first time this season.
Lost River Peak's primary route is a huge gully that cuts through its west face. It is loaded with loose scree, and is prone to dangerous rockfalls that give it the nickname the Bowling Alley. I left the low-elevation forests and entered the gully around sunrise. The steady snow that had been falling all morning began to abate, but I had already climbed into the cloud deck, and there was little to see: enormous rock towers adjacent to the gully loomed through the mists.
I made slow progress. Whenever I am above 10,000 feet, I get a relentless cough, and the scree was icy and very loose. Fortunately, around 11,000 feet, a dense windslab had formed over the scree, stabilizing it.
I broke out of the gully and onto Lost River Peak's summit ridge at 12,000 feet, with a quarter mile and 80 feet of vertical to the top. An icy wind was blowing from the north, and a hefty cornice was already forming at the ridge crest. I stopped to don my crampons and an extra layer of fleece. I stepped out onto the knife-edged ridge, gingerly probing the snow with my ice axe at every step to ensure that there was solid rock underneath. Cornices cannot be trusted.
The weather was deteriorating. Blobs of graupel snow began to fall, and visibility had dropped to 50 feet. Despite being midmorning, It was growing darker. I looked into the sky, hoping to see a hint of blue that might signal a thinning cloud deck, but it was a uniform, ominous gunmetal gray. I sighed and pushed forward, making slow, meticulous progress.
I reached a dip in the knife-edge where two steep couloirs joined up. Here, the ridge crest was nothing but cornice; I didn't dare step out on it. I looked down both couloirs: where they led, I could only guess in the heavy cloudcover. After the dip, the ridge climbed steeply upward. The summit must have been right there, just out of view.
I sit down to tighten my crampons and assess the situation. Buried somewhere in the snow, there's probably an easy way to cross. I brush the snow off a rock next to me. It has a quarter-inch coating of ice. I think about the guy who died on Devil's Bedstead, over in the Pioneer Mountains, two years ago. He slipped and fell on an icy pitch, broke his ankle, then froze to death in the night. Of course, I have a bivy sack and a satellite beacon, neither of which he carried.
Yeah, that beacon will do you a lot of good when it takes two days for a helicopter to get up here on account of this lousy weather. God-damn it. I am nobody's fool, and I know perfectly well that I am in terrain that is too consequential to take the risk of crossing one of those couloirs. I look into the clouds, guessing where the summit must be, and tap my ice axe to my forehead in salute. You don't conquer a mountain - the mountain grants you permission to climb it. And this mountain's message is clear to me: not today.
My disappointment was tempered by being able to glissade down a fresh windslab. It was fragile enough to break up under my weight, and soon I was riding my own mini-avalanche down 1000 feet of steep mountainside. If you've never tried it, don't worry: you've only missed out on half the fun of life.
As for Lost River Peak, I'll be back.
There are 4 photos in Album (Note: Move mouse pointer over larger pic and click on NEXT for better viewing)