Climbing Diamond Peak
09/29/2018
Trip Report/Photos from Mountainrabbit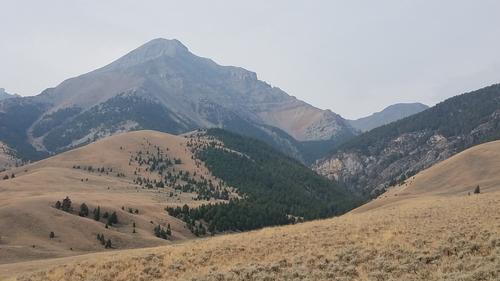 Last Sunday, a new peak joined Idaho's roll-call of killer mountains: Diamond Peak, the king of the Lemhi Range. I read the news stories about the accident, and the man's obituary. He was educated in science, like me. He was a passionate adventurer, like me. He had fallen several hundred feet off the east ridge route. His friends summoned a search and rescue helicopter crew, which pronounced him dead at the scene. I hope he didn't suffer.
As it happened, I had plans to climb Diamond, as the next entry in my quest to climb all of Idaho's 12,000 foot peaks. The news didn't discourage me; that Diamond Peak had claimed its first life made me more eager to climb it.  I left home Friday afternoon at 3PM. It was a bloody rotten long drive, concluding, at least, with a fun ride up some very steep four-wheel drive roads to the trailhead.  I spent the night sleeping beside my truck, occasionally hearing the bugling of bull elk.
I set out for the summit at 4AM. There was a trail for the two steep miles to the summit ridge. By the light of my headlamp, I studied the bootprints in the dirt, wondering which ones belonged to a dead man. It was all very eerie.
The sun hadn't risen by the time I reached the summit ridge, but there was a bright gibbous moon, so I went on the attack without waiting for daylight. I stuck to the ridgecrest and ignored the trails that snaked down couloirs to avoid rock towers; inexperienced climbers shy away from the exposed crests without realizing that these are usually the safest routes. I have heard, at any rate, that some of the couloirs on Diamond lead the unwary into treacherous terrain.
I reached the summit, at 12,202 feet, by 8AM. There was a fierce and frigid wind, and much of the view was obscured by forest fire smoke. I sat down to sign the summit register, and felt a chill as I read the last entry – a self-written epitaph. He was proud to be climbing at age 57. I examined his signature, as if I could divine something of his soul from the blue ballpoint curves.  Never would he have imagined that within an hour of writing his entry, he would be dead.
As I descended, I peered here and there over both sides of the ridge, trying to guess where he made his fatal mistake. I saw many places where a fall would be dire, but not the several hundred foot drop that the newspapers described. What the hell was he doing? He must have strayed off the ridge, wandered down a couloir, lost his footing, and slid off a cliff. I wish I could ask the authorities about the details, but that would be ghoulish of me.
I regretted not bringing an offering – a bottle of beer, a shot of whiskey, or something. But I didn't know the guy, so I had no way of knowing what would have been appropriate. I found myself wiping tears from my eyes, but maybe it was just the stinging wind. It would be silly to be crying about a dead man that I never knew, wouldn't it?
But I do know him. I know that he loved mountains. That is enough.
Rest in peace, friend. May the rock always offer a sturdy handhold, and may your vistas always be vast and lonesome.
There are 6 photos in Album (Note: Move mouse pointer over larger pic and click on NEXT for better viewing)