Climbing Mount Idaho
08/25/2018
Trip Report/Photos from Mountainrabbit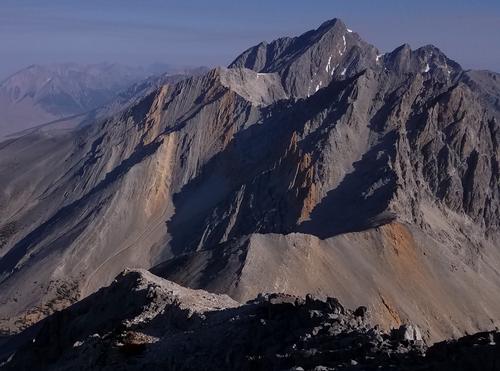 Climbing Idaho's highest peaks has become an obsession of mine.
I love the mountains of Idaho. By western standards, they are of modest height, surpassed by the highpoints in nearly every adjacent state. But what they lack in stature, they make up in elegance. Colorful, chiseled, and remote, they possess an untarnished, hostile beauty.
At 12,065 feet, Mount Idaho is the seventh highest peak in the state. I pulled into the trailhead Friday night, and looking at the barren, rocky environs, I decided that finding a comfortable spot to pitch my tent was too much of a hassle. I slept in the bed of my pickup instead.
My alarm woke me at 4:00 AM, and I hastily tossed my sleeping gear in the truck, shooing out three sparrows who had decided that my dashboard was a cozy spot to roost for the night. A bright moon lit my way as I ascended Elkhorn Creek, one of the most reliable streams in the otherwise arid Lost River Range. As I have spent the summer exploring these mountains, the sound of rushing water was strange and unexpected.
The sun had just broken over the mountain ridges to the east by the time I emerged from the low-elevation Douglas-fir forests onto the talus slopes that surround Mount Idaho. I followed a game trail up the southwest ridge, the dusty earth revealing fresh bighorn sheep tracks. The thought of bighorns always makes me grin. The rams are the gayest creatures in the Rocky Mountains: a sort of personal totem, you might say.
The ridge was blocked by several towers of crumbling, sharp-edged quartzite. Ignoring the advice in my Idaho climbing guide that suggested going around, I scrambled over their crests, blasting Marilyn Manson in my earbuds, as I usually do when I am in difficult, nerve-wracking terrain.
The southwest ridge became dangerously steep for an unbelayed climber, so I traversed onto the south face for the final push to the summit. The gentler grades were covered with deep, unstable scree, so I opted for scaling the bedrock.  The summit offered an outstanding view of Mount Borah, highest peak in the state. Being fire season, views of more distant mountains were shrouded in a smoky haze. My trip back down was much expedited by the deep scree of the south face, which made for a fun, rapid slide to the base of the mountain.
Another Idaho 12er completed: I'm well on my way to climbing them all, finishing this coveted goal of Idaho peakbagging.
There are 2 photos in Album (Note: Move mouse pointer over larger pic and click on NEXT for better viewing)