Idaho High Peak Double Header
07/26/2018
Trip Report/Photos from Mountainrabbit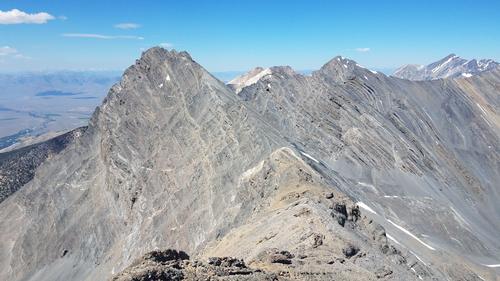 I am not a natural mountaineer. In fact, I am afraid of heights. I think my friends envision my solo mountaineering as a bold, heroic affair, but the truth is that I go it alone because I don't want people to see how scared I am.
So when I decide to tackle a peak with the reputation of Mount Church, I take it seriously. Named for Senator Frank Church, whose far-reaching vision gifted Idaho with the the largest protected wilderness in the contiguous United States, it is the third highest peak in the state, and by most accounts, the toughest of Idaho's nine 12,000+ footers. Having claimed two lives that I know of, an aura of menace hovers over this impressive summit.
One of Church's greatest challenges lies in simply finding one's way to the top. A convoluted labyrinth of cliff bands guards the summit ridge. Finding the proper route has foiled many climbing attempts. I strayed off the standard route myself, and ended up scaling the northwest face of Donaldson Peak, Church's neighbor and fellow 12,000 footer. No mind; I was planning to summit Donaldson, anyway. It may lie in the shadow of its bigger brother, but Donaldson has one thing going for it: a spectacular view of Church itself.
The ridgeline that connects Donaldson and Church features several short but steep steps and a knife-edge section with hair-raising dropoffs on either side. I work across such terrain with meticulous care, burning up precious daylight as I evaluate every obstacle. At one point, rain began hitting me from a cloud that must have been at least two miles away: rare is the day when the alpine winds aren't raging.
I thought of turning around enough times that it seems unbelievable when I reach the summit at 3:30 in the afternoon. I find myself surrounded by the barren, ominous peaks of the Lost River Range, and impossibly far below, I see the irrigated farmlands surrounding Mackay Reservoir. I don't stay long - even with gravity on my side, I know that it will be dark before I get back to my truck.
There's a big, nearly-full moon lighting my way as I emerge from the mountains. I am exhausted and ravenously hungry. It was a good day: Church is a peak that I will remember for a long time.
There are 6 photos in Album (Note: Move mouse pointer over larger pic and click on NEXT for better viewing)