Franconia Ridge Traverse
04/05/2018
Trip Report/Photos from Robert.L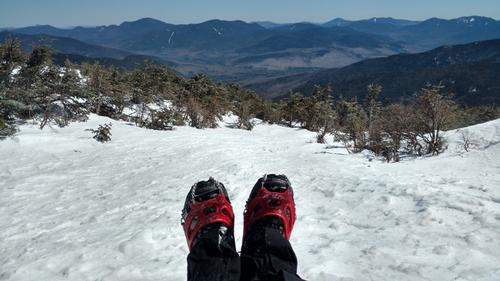 Unless you knew it was April 5th you would not be thinking "Spring". This hike was such a shock to the system after having experienced near 70 degree temps from my weekend down in Virginia.
All winter I've been watching for a big sky day to hike the Franconia Ridge. I'm off this week and looking at the forecast it seemed Thursday was the best of hiking days to score – and score I did. The forecast was clearly cold – somewhere around 10 degrees at the summits –with winds up to 50mph, gusts up to 65mph. I had put all my winter gear away only needing to pull it out – I dressed for an early February hike. I sported the wool socks with liner, base layer, pull over, shirt and medium weight hiking fleece, knit cap, fleece gloves, face mask, along with micro-spikes, snow shoes, spare gloves, socks, shirt, puff coat, wind jacket, spare hat, goggles, plenty of food and water – for those who know me you'll be shocked – I had TWO lunches today, lol.
I arrived at the Basin parking around 9am where I was greeted by one car. I quickly suited up and by 9:15 I was on the .8 mile walk to the trail head. I noticed 3 sets of prints in the snow which meant I wouldn't be alone on this hike but could not be sure. Most of the trail was a micro-spike dream. The snow was well packed, slightly frozen and the harmonious crunch-crunch-crunch from the mirco-spikes was perfect! I had a little earth to deal with but otherwise the ascent was pure snow.
Soon after where the trail splits for Flume-Liberty I caught up with three college types snacking who were on spring break. We chatted briefly and I continued ahead of them. I was planning on crossing the ridge today and I wanted to keep a healthy pace. By 11:30am I was at the base of Mt. Liberty. I scooted up, took in the views, took some photos and made my way back to the junction. It was COLD, somewhere in the 10 degree range - and it was WINDY - I believed the forecast of 50mph winds. It was here I had lunch #1 – pork meat pie – still working down those pies I was given for the holidays.
At the top of Liberty my camera began to malfunction – it just doesn't like the cold. I popped the camera inside my jacket to keep it warm and from this point forward it was a futile endeavor to ensure pictures.
The section of Franconia Ridge between Liberty and Little Haystack is a stunning 1.8 mile ridge walk just inside tree line. I honestly do not know why but it is not often hiked in the winter. I was uncertain how easy it would be to follow this path today. I wasn't interested in breaking the trail and with recent snowfalls it might just need to be. There was clear evidence of someone having snow shoed the path earlier in the season, how early I could not tell. The trail is not well blazed but easy enough to follow and mostly flat. I went for it. The trail was a mess, lol. Very shortly after hiking in the blazes all but disappeared as did the faint snow shoe path. It would re-emerge from time to time. I suspect for much of it I was not on the "official" trail. There were many blow downs – big blow downs. The fact that it is a fairly straight shot to the base of Little Haystack made the trek easy enough. There are small clearings that you emerge into and you can see your destination so I carried forward. Towards the end of the 1.8 mile stretch the snow shoe trail re-appeared but so too did the obviousness of the trail as well. I would have enjoyed a more distinct path in between!!
Coming out of the tree line at Little Haystack is magical – you look back and see Mt. Liberty and sit in awe of the 2 mile trek you just did. I was oddly protected from the winds and the snow cover was getting mushy. Knowing what lay ahead I geared up and got ready to face the winds! I got what I could of photos. I need my hands to properly work the camera and I feared losing my gloves in the gusts of wind so I rarely took them off. As far as the eye could see – I was hiking alone – just amazing to be up here in such solitude. The other beauty is I was hiking northbound – that meant route 3 was in my rear view and all of the Pemi as far as the eye could see was in front of me – awesome day. The photo of my boots is sitting atop Little Haystack overlooking the Pemi.
Between Little Haystack and Lafayette I encountered two people. They were hiking clockwise and descending Falling Waters Trail. We did not linger – the winds were ferocious. Many times I crouched down to avoid being blown over. I'm not a big guy but I am tall and when those gusts came at you – they owned you! The worst of the winds were between Mts. Lincoln and Lafayette. At the mid-point between the two I stepped behind some large rocks to get a break and have a snack. My energy was running low and I needed fuel to hike up and over Mt. Lafayette. At the top of Lafayette I tried taking photos but it was futile so I gave up. The time was now around 2:30pm, maybe a little later, and it was time to descend. As expected the winds were ridiculously harsh. With the hut in sight, big blue sky and the cairns very visible I took the shortest route down – love those spikes! There was enough snow cover to give the grip I needed. In some places it was just rock, in others ice but in many a good crunchy snow.
Going into the tree line between the hut and the base of Lafayette I passed two women hikers from Quebec, they were looping counterclockwise and were on their way down. At the hut I encountered two more hikers from Quebec; they too were on their way down. At the hut I had my second lunch – roasted honey turkey with baby Swiss on multigrain with honey Dijon mustard - yum. An apple for desert. It was plenty cold and it was time to keep moving. I scooted off the mountain in no time at all but not before scoring some sweet shots of the days efforts.
I soon found myself on the bike trail that would bring me back to the Basin where I was parked having completed a 14 miles loop - wahoo! I arrived at the car around 5:45pm and was soon headed home. This was such an amazing day and journey. To be nearly alone on some of the highest peaks in the whites was truly magical. I might have enjoyed less wind but we take what we can get. While this is a technical spring hike – I'll be looking for a big blue sky day next winter to do it all over again!! Yep – I'm already thinking of next winter and summer hasn't arrived, lol.
Cheers Gents & See you on the trails.
There are 55 photos in Album (Note: Move mouse pointer over larger pic and click on NEXT for better viewing)