Mt. Greylock
12/16/2017
Trip Report/Photos from Robert.L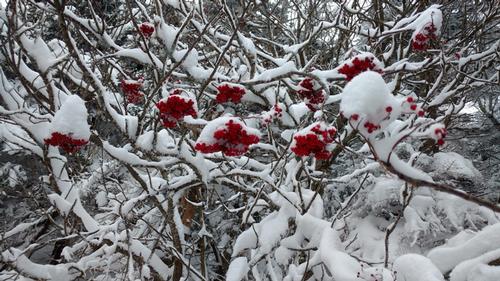 I find myself in a very reflective space these days which I find rather refreshing. A little soul searching is good – it helps with finding your authentic self. Many of you know that for me 2017 is concluding on a smashing note, pun intended! Replacing the car was easy. Repairing the heart and soul has proven to be a bit harder, especially after having touched the edges of one's mortality earlier in the year. All who know me didn't miss a beat – you quite rightly identified my strength of character, physical and emotional, coupled with my sense of spirit and determination, all while reminding me, this too shall pass. And so on this day, the 16th of December, I opted for a long walk up a small mountain in the midst of falling snow – all too beautiful – to take in some quality thinking time.
Mt. Greylock sits west of the town of Adams, and south of Williamstown, in western Massachusetts – picturesque towns on the edge of the Berkshires. On a clear day the summit and war memorial are visible from all sides. I arrived at the trail head sometime around 9:30am. There I greeted some campers who were exiting, they had stayed overnight at Pecks Brook Shelter. They left and I was the only hiker ascending to the summit via the Gould Trail.
Winter has arrived early in the Berkshires and there was more snow than I expected. I sported my micro spikes out of the gate but truly wished I had brought my snowshoes. As I progressed up the mountain, the snow got deeper and harder to trudge through so I guess it was good that I planned a slow meandering ascent. But today wasn't about mileage, it was about being outdoors, plain and simple. (but I really wished I had my snow shoes!!)
I reached the summit sometime after 12noon. I walked around a bit - the summit was quiet with little to no wind. The snow started to fall and it was all quite breathtaking. Many of you know I love cabin experiences and I could only wish they'd keep Bascom Lodge open year round – how much fun it would be to gather a group to overnight on the summit. Greylock is a tiny summit at 3,491 feet – it is the perfect place to get lost in your thoughts. I found a cozy spot, had lunch and just let the snow fall around me. The silence spoke to me – who knew mountains had a pearl of wisdom to share from time to time.
As with all adventures the time to return was soon upon me. I took a few detours around the summit. There are many trails up and around Greylock, many were snow-covered and unbroken. I remained surprised I was the sole hiker of the day – or so it seemed – some could have come after I left. Going down was quicker than going up but equally as peaceful. Moose and deer tracks were everywhere and despite my best efforts at hiking quietly, no wildlife was seen. I arrived at the car around 2:30pm having hiked approximately 6 miles.
As I enter my 49th year more than ever I am grateful for many things, but mostly life – an authentic life. To live this truth one has to always be peeling away the layers, shedding social constructs, being intentionally present and discarding what society imposes on you. Dig deep enough, and you find the best parts of who you are. Having this insight into who I am, what shapes me, and what I value and believe in, all serve as my guide. Hiking has become a real part of that for me. When hiking I am reminded that my life, while sometimes hard, is profoundly sweet and good. I hope you enjoy the photos and my nugget of wisdom. I look forward to seeing you on the trails – cheers gents!!
There are 17 photos in Album (Note: Move mouse pointer over larger pic and click on NEXT for better viewing)