Warrior Dash 2017
08/19/2017
Trip Report/Photos from gsgraham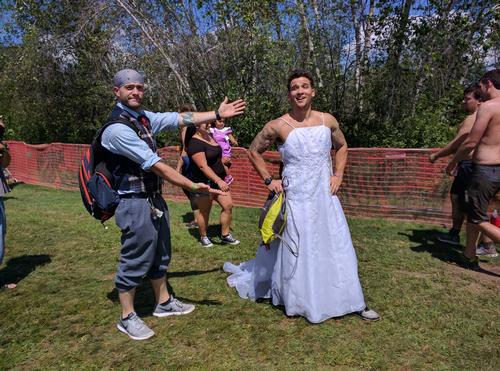 The slogan of the Warrior Dash is Mud, Sweat and Beer.
But today... today - judging from the rainbow tatoos, shirts and more that I saw over 3.1 miles it was certainly queer.
It was a hot day in Thompson Connecticut. HOT!
And the weather was warm to boot! Much warmer than last year's Warrior Dash which felt like a cold New England Spring day.
Thank goodness the organizers had lots of water elements to help keep you cool during the 3.1-mile route.
A route that we mostly walked.
One of our crew was diagnosed with Lyme Disease 5 weeks ago and was in no mood for extreme exertion. That's OK - we finished a few short minutes after those who were sprinting frantically ahead of us. Why? Throngs of people waiting in line for the obstacles. And lots of time to take int eh Hotness.
Did I say it was HOT? (Maybe it's me, but there is something really hot about two guys - one dressed as the groom and the other dressed as the bride running together through the mud. Or a crew of guys dressed like a ballerina and a super villain had a baby running through the mud?).
Warm weather + crazy male athletes = ?
OK.
Maybe surreal is a better description.
Or heat stroke.
We met a little after 10 am and even though our start time wasn't until 12:30 pm, we took off with the 10:30 am wave. The sun was incredible and while standing around observing others was fun, waiting around for two hours on the black top would have cooked us.
Just like last year, we ended up going back and forth on the race track to eat up the miles. We actually cover 1.1 miles before we got to our first obstacle. Three more obstacles before mile 2. Then 8 more obstacles crammed together in the last mile!
A great time was had by all. Lots of fun. No injuries. Good beer and cider at the finish line. And...
... lots of half naked men covered in mud.
Until next year!
- The Trip Has No Photos -