The Hancocks
05/27/2017
Trip Report/Photos from Robert.L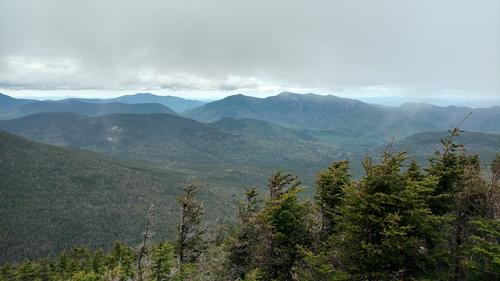 Jim and I had a low key weekend planned but needed a bit of forest time. We opted to hike the Hancocks. This was my 42nd and 43rd peaks of NH's famed 48 and Jim's 8th and 9th. The day was cool and cloudy but in many ways a perfect day for a hike. This was a 9.8 mile round trip loop. We started at 9:45am and finished at 3pm. The trails leading up to Hancock had many water crossings, all very manageable. Most of the trail was muddy and at times it was running water, most of which we could avoid by skipping rocks. We bumped into many a hiker who stated the peaks were obscured however we lucked out as the skies cleared when we peaked Hancock. We carried on the ridge ridge trail which was the most stunning 1.4 miles we've experienced in a bit. All we could dream of was rolling back the calendar to February as this would be an awesome winter snow shoe!! We arrived at south peak and enjoyed lunch in a light sunshine looking eastward. We headed down for a steep .5 miles and soon the trail leveled off, as it was the way we came in. Overall this hike was a very easy to moderate ascent until the last .7 miles up to Hancock and the .5 miles down from South Hancock. One might characterize those portions as strenuous but they are short lived and an even pace will ensure you reach the summit. The push up and dash down, howvever, just awesome. I love a good burn!! If you like very strenuous I felt this hike fell just a bit short but all in all a good day on the trail.
There are 19 photos in Album (Note: Move mouse pointer over larger pic and click on NEXT for better viewing)
Gandalf
Posted May 29, 2017 at 11:19 PM
I loved the Hancocks! The steep climb up the North Hancock slide, definitely magical.How can you not like a peak with 'cock' in its name!