Ocean to Lake Trail
04/14/2017
Trip Report/Photos from trekkr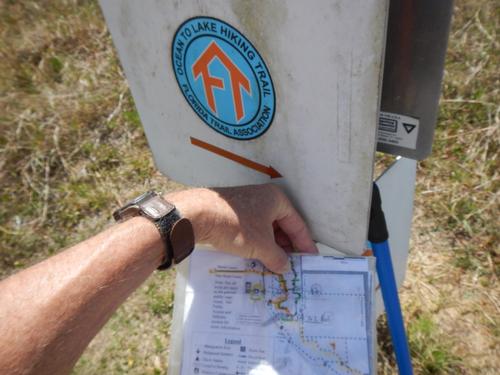 The Ocean to Lake Trail is technically a side trail for the Florida Trail, running 62 miles from Lake Okeechobee in northern Palm Beach county, on Lake Okeechobee to Hobe Sound on the Atlantic Ocean. The trail traverses many Florida ecosystems including sand dunes, cypress swamp and cypress forests - even some road walk through the town of Hobe Sound. Most of this area remains undisturbed from it's long history of thousands of years. The trail winds through Dupuis & Corbett wild life management areas, Dickinson & Riverbend parks, has several primitive campsites and ample water sources along the route.
This area is loosely known as "Hungryland". Several hundred of the hardiest Seminole Indians held out against the invading Spanish army troops; alas they could not find sufficient food & after a year or three & succumbed & were relocated to reservations.
This post is my final trek on this tail and the tenth segment. I started this Jan 2015 & again Dec 2015, with numerous segments during 2016 & culminating here April 2017. I have since got the bug for backpack camping & this hike was a practice with full backpack gear for a 1-2 night overnight - but was still only a day hike.
The numbers - approx 125 miles in total over 10 segments including round trips, getting lost, & detours. Averaging 12.5 miles - some segments 15-20 miles. Pack weighed in at 38 lbs - and that's with 8 lbs for 4 liters water; the other weight major factor was the pack itself, sleeping bag, air mattress & hammock 14 lbs; so that's 22 lbs just for water and a night's sleep! Am working on weight lessening gear as my new journey.
This journey involved 2 overnights - one planned - one UN-planned! Spent the night on palm fronds & under the stars - but prepared with water purification, fire & dry socks!
May come back some day and do a thru hike of all 62 miles. Will forever relish the opportunity & experience to enjoy the great unspoiled outdoors.
There are 44 photos in Album (Note: Move mouse pointer over larger pic and click on NEXT for better viewing)
Gandalf
Posted Apr 16, 2017 at 7:21 PM
Sounds like a hard to beat day!

Mrwritenow
Posted Apr 16, 2017 at 4:05 PM
Wonderful!!